Many people feedback they don't know how to resize partition and extend system C: drive in Windows 2008 Server, especially for Server 2008 R2, so I decide to write this article and give some hints.
When extending C drive on Windows 2008 Server (r2), the common questions include:
Is it safe to resize Windows 2008 partitions?
Which tool is better, Partition Magic?
Is it required to break array when extending C drive in a raid virtual disk?
Is there any difference extend C drive in VMware virtual machine?
How to resize volumes and extend system C partition?
About question 1: I have to say there is risk when resizing partitions either in a PC or Windows Server, because disk partition parameters will be changed, so select a reliable partitioning software and backup before any operations to a server.
About question 2: Norton Partition Magic isn't compatible with Windows Server 2008 and R2, but there similar tools such as Acronis DDS, Paragon PM, Aomei Partition Assistant. Here I recommend the last one and I'll explain later.
About questions 3: To Windows operating system and applications, a hardware RAID virtual disk is same as a physical drive, in fact, they don't know the storage device is physical disk or raid virtual drive after you building the raid array, so don't break the array. The steps to resize partitions and extend system C drive in any types of hardware RAID are same with physical disk partitions.
About question 4: No differences, of course you need to install the program to VMware/Hyper-V virtual machines, or boot from an ISO file.
About question 5: It is very easy to resize partitions and extend C drive in Windows 2008 Server (r2).
How to extend C drive on Windows 2008 Server?
First thing you need to do is opening Server 2008 disk management to find out the disk partition layout, which partitions are in the same disk of system C: drive. Note, no partitioning software is able to extend C drive by taking free space from another single disk or raid array (don't worry, there is still solution).
To better explain, I took a screenshot of my Windows 2008 Server: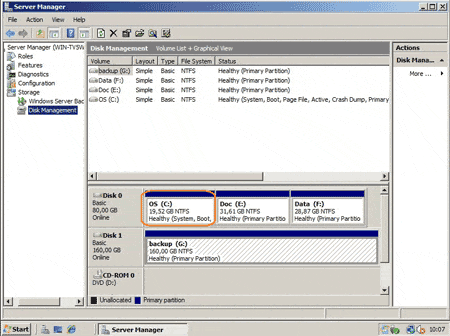 In my server, there are 2 data volumes in same Disk 0 of C drive. As long as there is a data drive in the same disk, you can shrink it to release free space and extend system C: drive.
Steps to extend C drive on Windows Server 2008
Step1, launch Partition Assistant, right click the next contiguous partition E: and select "Resize Partition".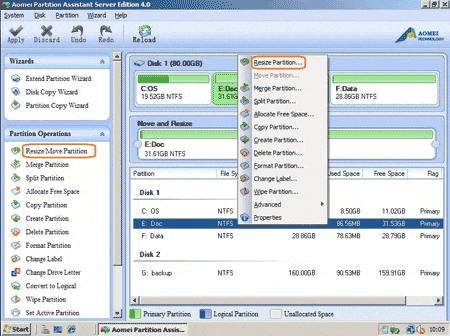 In the pop-up window, drag the left border rightwards to shrink this partition and release free space.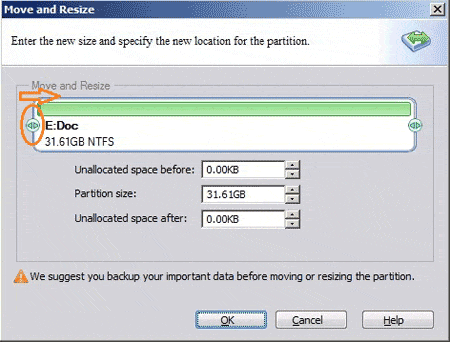 Click OK and back to main window, where you'll find some free "Unallocated" space create behind the system C drive. (If you drag right border leftwards, the free space is behind partition E:)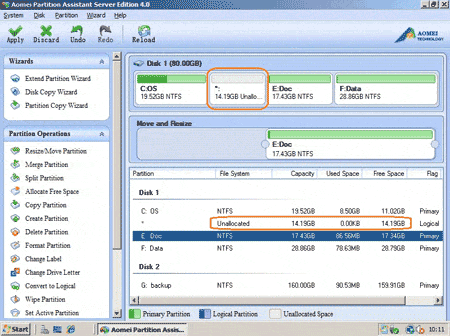 Step 2, right click partition C and select "Resize Partition", in the pop-up window, drag right border rightwards to hold the free Unallocated space.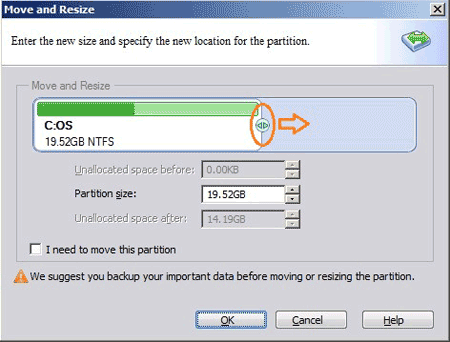 Click OK and back to main window, where you'll find the partition resized and C drive space increased.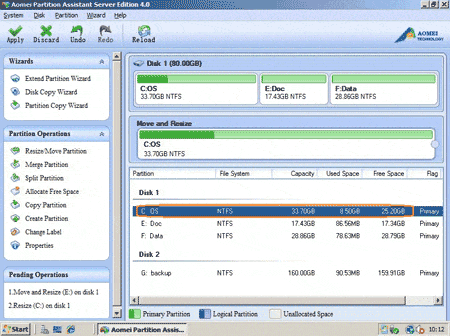 Step 3, press "Apply" button on top left corner to proceed, very quickly partition resized, check in disk management.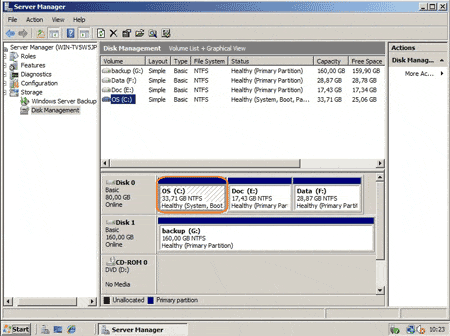 C drive extended to 33.71GB.
If you want to take free space from partition F (a non-contiguous partition), no problem, but the common partition resizing method above is complicated in this situation, because you have to shrink, move and extend partitions one by one. Try another easier feature "Allocated Free Space", you just need to select which drives to shrink and extend without resizing manually by yourself, no matter the data partition is contiguous or not.
If there is not enough free space in either data volumes, you may consider shrinking both partitions to extend C drive with "Extend Partition Wizard" feature.
If the disk (or raid) is too small and you cannot get large amount of free space in all data partitions, or there is no other data volume, it doesn't matter, just copy this disk to another larger one and extend system c drive with extra disk space in the larger one. See "Disk Copy Wizard" feature.
I always recommend this partition magic server software to resize server partitions, because it is safe and easy. To keep data intact, Partition Assistant integrates unique data protecting technology and provides "Disk/partition Copy Wizard", "Partition Recovery Wizard" feature to ensure data safety.
To resize partition easier, it provides multiple and corresponding method fitting for different disk partition configurations.
Download trial and check how easy it is to resize partition and extend system C drive in Windows 2008 Server (r2).