Many users encountered the problem that the system C drive running out of space, especially after upgrade to Windows 7. Before Partition Magic, you have to backup, delete all partitions and recreate the partitions, and then restore again. It is time – consuming, especially for Windows Servers, longer downtime means larger lose.
To extend system C drive, you may consider resizing partition one by one or mege partitions directly. In this article, I'll introduce how to merge partitions in Windows Server 2008/2003 and Windows 7/Vista/XP.
Two kinds of tools to merge partitions
1. For Windows Vista, Windows 7 or Windows Server 2008, you can merge partitions in Disk Management indirectly without any other partitioning software. (delete the data partition and extend system or another data partition by Extend feature)
2. For Windows XP, Server 2003, you need third party partitioning software to merge partitions, but before merging partitions, you'd better backup files, as no partition magic software is 100% secure.
How merge partitions under Disk Management?
1. Right 'My Computer' and select 'Manage'
2. Click 'Disk Management' under 'Storage'.
3. Delete partition D or other partition that you want to merge.
4. Right click C drive or other partition you want to increase and select 'Extend Volume'. After these operations you can merge partitions and increase the system partition.
The disadvantages of Disk Management to merge partitions:
1. There is no such extend feature in old Windows Disk Management.
2. You cannot undo the partioning.
3. You cannot merge partitions with C and E if partition D is behind C drive.
How to merge partitions with partition software?
Launch Partition Assistant, you'll see all disks and partitions that connected your computer.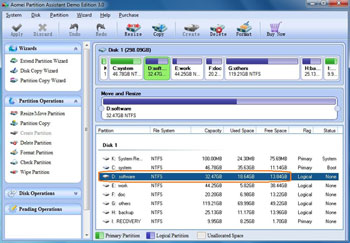 Step 1: Backup the files of drive D to other partitions and delete it.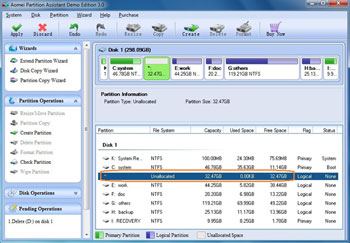 Step 2: Select drive C, drag the right border rightwards to hold the Unallocated space that deleted from Partition D.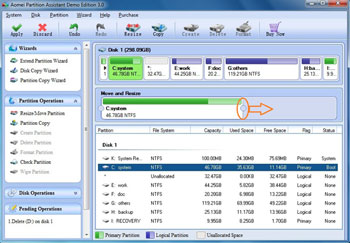 Step 3: You'll find that the space of Partition D is added to drive C, click Apply button to proceed.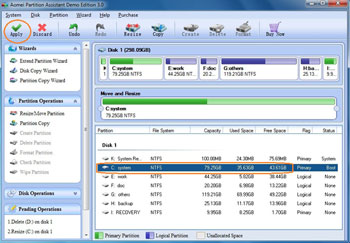 Want to merge partitions directly easier and faster? Check the video how to merge partitions.
The advantages:
Enhanced data protection technology helps you resize, merge partition without data loss, even when power off or hardware problem occurred.
Hot Resize feature helps you extend NTFS partition without reboot.
Disk and partition copy feature helps you backup or migrate data to another disk without reinstalling Windows.
Changes made on partitions can be previewed before applying to avoid incorrect operations.
With user-friendly interface, no professional assistance or experience in using Partition Magic is required.