It is not an easy task for many people to resize partition in Windows 2003 Server, so in this article, I want to give some hints how to resize Server 2003 partitions and extend the system C drive.
Why resize Windows Server 2003 partition
The common disk space problem in Windows 2003 Server is that system C drive running out of space. If there is no free space on system C drive, you cannot install Windows updates and any applications. In this situation, operating system runs extremely slow, even reboot unexpectedly or crash.
Backup and restore is not a good idea to solve this problem, because costs a long time and there is potential risk of losing data when you delete and recreate partitions. The fastest way is by resizing the Server 2003 partitions. Extend the c drive by taking free space other data volumes.
Chief point when resizing Windows 2003 partitions

Network administrators need to take good care of these Server computers. That's why the software installed on Server computers are strictly chosen by administrator. Data protecting ability is the first aspect when you selecting a server partitioning software.
Here I recommend a partition magic server software – partition assistant. It is similar with Norton Partition Magic but provides more features. To help you resize partition easier, it provides multiple ways corresponding to different disk partition configurations.
How to resize partition in Windows 2003 server
Step 1, launch partition assistant and then you can see the disk partitions connected to the server, the disk partition layout is similar with Disk Management.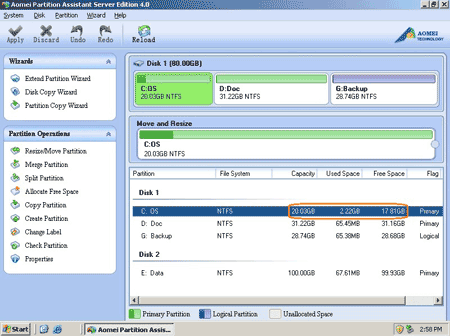 Right click any data drive and select "Allocate Free Space", here I want to take free space from drive G: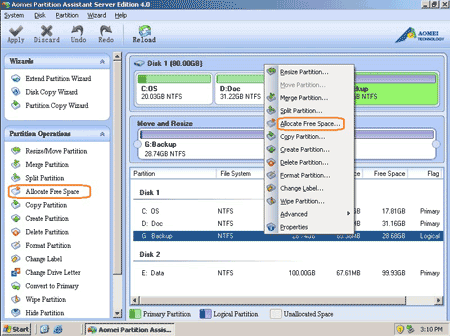 Step 2, in the pop up window, specify the amount of free space to rob from G: and add to system C: drive.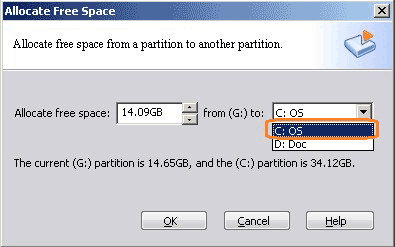 Step 3, click OK and back to main window, press "Apply" button on top left to proceed resizing.

In a short time partition resizing complete, check in disk management. 14.09GB free space added to C drive.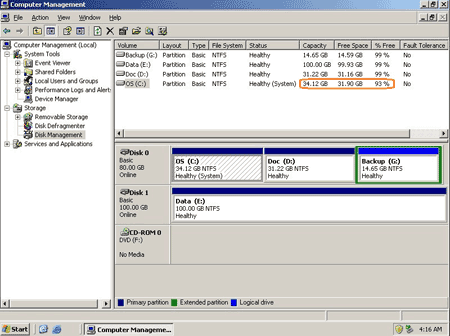 With other partition programs, you have to shrink partition G, move volume D and extend drive C, while with partition assistant you resize the server 2003 partitions within few steps.
Check the video how to resize partition in Windows 2003 Server.