Do you come across the situation that the system partition C: drive is running out of space on the created RAID Array? Under this condition, the best solution is to resize raid partition rather than to recreate a RAID. This article will introduce the easiest method to resize RAID 0, RAID 1, and RAID 5 partition on Windows Server 2000/2003/2008.
What is RAID?
Generally, RAID we mentioned is hardware RAID, which stands for Redundant Array of Inexpensive Disks, or sometimes alternatively Redundant Array of Independent Disk – is a technology that employs the simultaneous use of two or more hard disk drives to achieve greater levels of performance, reliability, and/or larger data volume sizes. It is used for computer data storage schemes that can divide and replicate data among multiple hard disk drives. Two major design goals of RAID are: increased data reliability and increased input/output performance.
Some people call dynamic volumes as software RAID, if you cannot tell from the difference, please refer hardware RAID VS software RAID.
There are various combinations of these approaches giving different trade-offs of protection against data loss, capacity, and speed. Among them, RAID 0, RAID 1, and RAID 5 are the most commonly used, and cover most requirements.
Low disk space on RAID
After searching by Google or in many forums, you'll find that so many people encountered the problem that system c drive on a RAID is running out of space and need to resize RAID partition, for example:
I have a Dell Poweredge 4300 that I setup using a RAID 5 config. The C:\ drive has little space left (<750Mb) and I would like to find something that can successfully re-size the partition without losing data as this is a production server.
I have a Windows 2003 server with a single raid 1. System partition C is running out of space and low disk space warning jumped out. Is there any way to resize partition on raid 1 without reformatting or loss data?
I added another 500GB drive to my raid 5 array and did an online expansion so I have space free now on the array. How do I just resize my partition now to use this additional space? any free tools?
Resize RAID with partition magic server
Generally, RAID is configured with Windows Server, so to resize RAID partition you need to take care. If system partition is out of space but there is free space on other partitions, you can simply shrink other virtual partitions and then extend the system partition with partition magic server.
If there is no free space on all virtual partition on the RAID, you have to add another disk to the RAID array. After that the new disk space will be displayed as unallocated at the end of the virtual disk, an then you can resize partition with partition magic server.
Please note:
Don't break the RAID array if you need to resize partition on RAID, just operate like resizing partition on physical hard disk.
If you need to add new disk before resizing RAID partition, you have to make sure the RAID controller has the feature to re-configure RAID without data losing.
Backup the important files, as no partitioning software can guarantee the security 100%.
RAID partition resizing tutorial
1. Launch Partition Wizard Server, right click the data partition that behind the system partition, and then choose Resize/Move.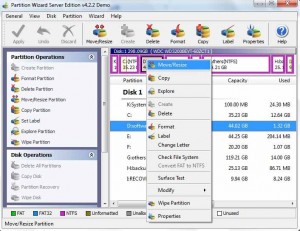 2. In the pop up window, drag the partition rightwards, after that, this partition will be shrinked.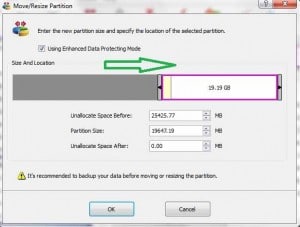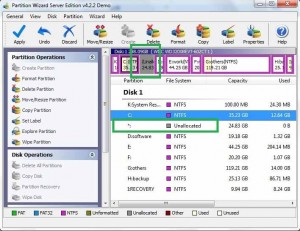 3. Right click the system partition and choose Resize/Move. In the pop up window, drag the right boderline of the system partition, after that, this system partition will be extended.
Related Pages
How to resize RAID 1 virtual partitions?