Partition Manager Server Overview
Partition Magic Server Edition is a Server partition manager specially designed for Windows Server 2000/2003/2008. This partition manager Server edition is designed for system administrators and advanced users to manage both Server and non-server disk partitions.
This partition manager Server can perform basic to advanced partition operations on your servers without data loss, such as Resize/Move partitions, Merge Partition without deleting or reformatting partitions, Copy Disk/Partition, Hide/Unhide, Set Active partition, Change drive letter, etc.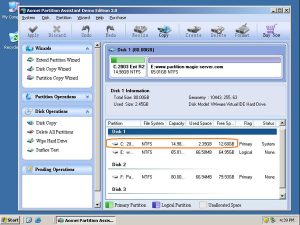 Partition Manager Server Features
The most common partition problem for computer users is that the Windows system partition runs out of space, the Windows system partition needs to be expanded. But for most users, changing partition structure requires Windows operating system reinstallation and format. The built-in partition manager function is right to meet the need. It can extand the Widnows system partition without Windows reinstallation and data loss.
Partition Manager Server Key Features
Extend system partition to solve "c drive is out of space" issue. (Without rebooting if it is NTFS)
Resize & Change existing partition size to optimize disk space without deleting or formatting.
Merge partitions into a bigger one when one of them runs out of space.
Split partition for different usage, one for system and another for data.
Create partitions for different usage.
Format Partition to reuse as a new one.
Hide Partitions – protect important data from unauthorized or casual access.
Set Active partition – specify one partition to be the boot partition.
Change drive letter.
Disk/Partition Surface Test to check and find bad sectors.
Delet single or all partitions with simple steps.
Label Partition – assign a name to partition for easier recognition.
View Disk/Partition property.
Check file system and fix errors if exists.
Wipe data on entire disk/partition/ completely and ensure that the data can not be recovered by any data recovery solution.
Partition Manager Server Additional Features:
Powerful safety features protect you against system failures while partitioning.
Drag and move partition on disk map to repartition.
Virtual pre-execution, preview any operation tasks before apply to the disk.
User-friendly interface & easy to use, no professional assistance or experience in using Partition Magic required.
Undo feature allows you to undo any partition step.
Support Windows Windows 2008/2003/2000 and Windows 7/Vista/XP (32 bit and 64 bit).
Hard Disk/VHD/VMware virtual disk/RAID virtual disk all supported.
How to resize/extend partition with this Partition Manager Server?
– It is extremely easy to resize partition on Windows Server. With the absolutely user-friendly interface, the functions of the Partition Manager Server are easy to get access to, no prfessional assistance required.
You just need to drag and move on the disk map to repartition disk drive.
– Any operations you do on the Server will be listed in the "Operations Pending" column for you to preview.
– With the enhanced data protection technology, you don't need to worry about data security.
– With Hot Resize feature, you can extend NTFS system partition without rebooting to avoid Server downtime.
Download this full featured partition manager Server freely and check how it works.