It is a troublesome issue for many people to resize partition in Windows 2008 Server, especially Server 2008 R2, because it is first 64-bit only Windows Server edition. In this article, I want to share some experience resizing Windows 2008 disk partitions.
When talking about resizing partition on Windows 2008 Server (r2), many people ask the same questions:
Is it safe to resize Windows 2008 partitions?
Any differences in Server 2008 R2?
Is it required to break array when reszing raid virtual partitions?
What to do if the Windows Server 2008 is in VMware or Hyper-V virtual machine?
How to resize partitions in Windows 2008 Server, install or via boot disc?
Take it easy, after reading this article, you'll know the answers and how easy it is to resize disk partitions in Win 2K8.
About question 1: Unlike the read-only programs, to change partition size, the partitioning software should modify disk partition parameters in MBR, DBR, FAT, MFT, etc, so there is potential risk when resizing partitions both in a PC and Windows Server, thus, so backup before any operations to a server and select a reliable partitioning software, such as partition magic server software.
About question 2: No difference, though 2K8 Server r2 have advantages than normal editions, file system and disk partition structures keep the same.
About questions 3: Don't break the raid array, because to both Windows operating system and applications, a hardware RAID virtual disk is same as a physical drive, in fact, they don't know the storage device is physical disk or raid virtual drive after you building the raid array. The steps to resize Windows 2008 partitions in any types of hardware RAID are same with physical disk partitions.
About question 4: No differences, but you need to install the program to VMware/Hyper-V virtual machines, or boot from an ISO file.
About question 5: It is very easy to resize partition in Windows 2008 Server (r2). You may either install in Windows or boot from CD/DVD/USB disk. If you want to resize a raid partition, don't use Linux based bootable disc, because there is compatibility issue and drive letters (such as C: D:) won't be shown.
Steps to resize partition in Windows 2008 Server
The first thing you should know is that no partitioning software is able to extend a partition by taking free space from another physical hard disk. It is better to find out disk partition layout in Win2008 disk management before resizing.
In most cases, people want to resize partitions and increase C drive space, if there is no data drive in the disk or raid array, you need to copy this disk to another larger one and then extend system C drive with extra space in larger disk.
In my server disk management, there are 3 drives in Disk 0.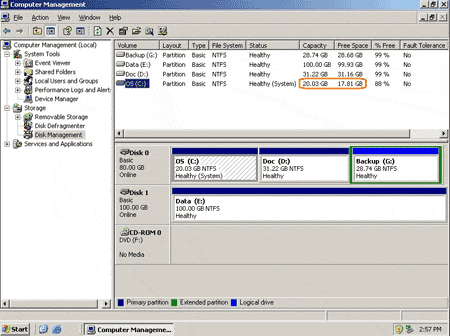 Step 1, launch partition assistant and then you can see the disk partitions connected to the server, the disk partition layout is similar with Disk Management.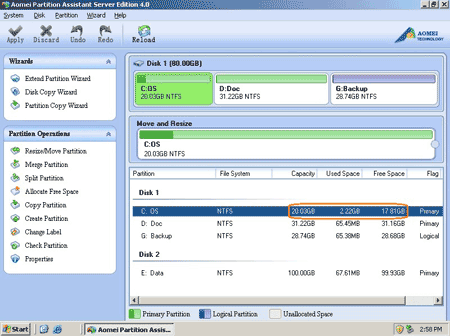 Right click any data drive and select "Allocate Free Space", here I want to shrink the second data drive G: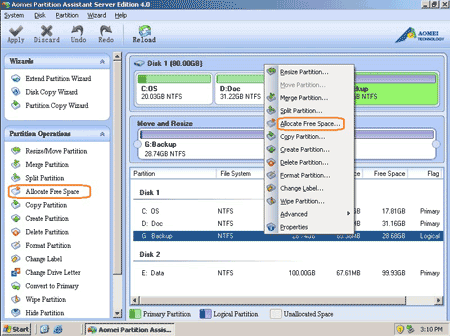 Step 2, in the pop up window, specify the amount of free space to rob from G: and add to system C: drive.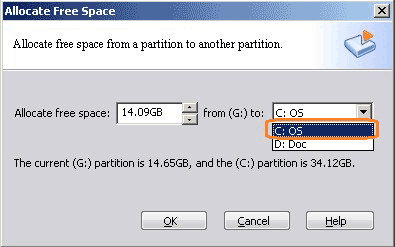 Step 3, click OK and back to main window, press "Apply" button on top left to proceed resizing.

In a short time partition resizing complete, check in disk management. 14.09GB free space added to C drive.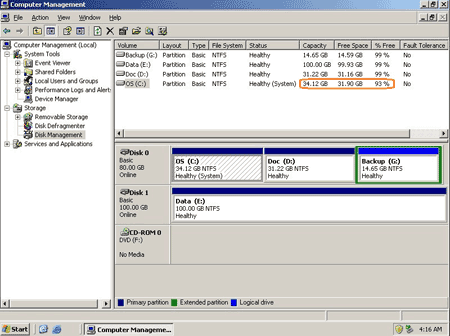 Unlike other partition program manually resize partitions one by one, this partition magic server software is much easier. You just need to SELECT which drives to shrink and extend no matter the data drive is next contiguous or not.
In some servers, the disk partition configuration are more complicated, for example:
No data drive in the same disk.
You cannot get enough free space from all data drives.
No problem, as I said above, just copy this disk to another larger one with "Disk Copy Wizard" feature.
Besides easy to use and fast, another reason I like to use this program is because its data protecting ability. As we know, stability and data security is most important for a server, to protect data intact, this magic partition software provides unique data protecting and hot resize technology, Disk/partition Copy Wizard, Partition Recovery Wizard features. All files, shortcuts keep the same and no other operations are required.
Download trial version to check how easy it is to resize partition in Windows 2008 Server (r2).