نورتون Partition Magic does not support Windows 10 (XNUMX and XNUMX bit). This article introduces free alternative of Partition Magic لل Windows 10.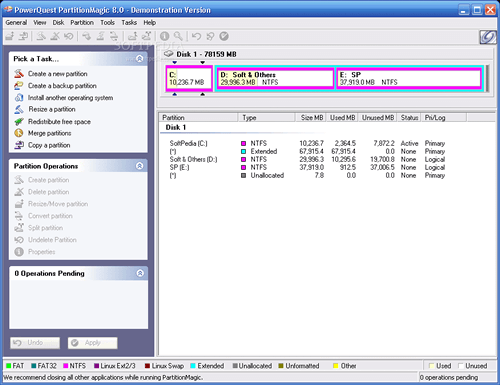 ننسى Partition Magic لل Windows 10
نورتون Partition Magic, originally called as Powerquest لل Partition Magic is a very famous disk partition management software. Before acquired by Symantec, the manufacturer PowerQuest is a Fortune XNUMX company. This shows that, so many people use this software in the age of Windows XNUMX and XP.
يستطيع Partition Magic يتم التثبيت على Windows 10? Yes, I've tried installing to my Windows 10 desktop successfully.
But after starting it, I received error:
It reports error XNUMX and saying that the length of the partition table is incorrect. After clicking Yes, it reports more similar errors.
Finally it reports error XNUMX saying that Partition's drive letter cannot be identified. After clicking OK, it disappeared. If restart, it reports same error.
I've tried to change drive letter and made other efforts without success. In fact, it is not a real issue of drive letter, it is because Partition Magic cannot read the parameters of disk partition with the same way in Windows XNUMX and XP.
PartitionMagic XNUMX is the last version released under Symantec. On December XNUMX, XNUMX the Symantec website states: "Sorry, we no longer offer Norton Partition Magic."
Symantec has stopped updating and selling Partition Magic for such as long time, so, it's really time to say goodbye.
Partition Magic portable for Windows 10?
I can't believe so many people still finding a way to run Partition Magic on Windows 10. Nowadays, many people like to use portable media such as USB disc. Then is it possible to create USB portable version of Partition Magic لل Windows 10?
I've tried many methods but failed. Searching by Google completely and I found no successful case.
Even if anyone can create Partition Magic portable USB, I don't suggest running on Windows 10 computer. Yes, portable method does not rely on Operating System, but as I tried Partition Magic even cannot read drive letter. Can it guarantee system, partition, files and everything intact?
Boot manager is changed, new disk and partition type are added in Windows 10, XNUMX, XNUMX, so obviously, Partition Magic cannot handle everything on Windows 10. You'd better find out some alternatives.
مجاني Windows 10 Partition Magic البديل
In fact, there are many Partition Magic alternatives for Windows 10 in the market, including free and commercial. Among these tools, NIUBI Partition Editor is recommended by many people, because it has some advantages such as:
طبعته المجانية هي 100% مجانًا للمستخدمين المنزليين دون أي إعلان أو مكونات إضافية مجمعة.
فريدة من نوعها 1 ثانية استرجاع تقنية - يعيد الكمبيوتر تلقائيًا إلى الحالة الأصلية في ومضة إذا واجهت أي خطأ.
الوضع الافتراضي - تجنب العمليات غير الصحيحة من خلال سرد كل ما هو معلق للمعاينة ، لن يتم تعديل أقسام القرص الحقيقي حتى النقر Apply للتأكيد.
فريدة من نوعها الإلغاء في حالة جيدة التكنولوجيا - قم بإلغاء العمليات غير الصحيحة ولكن تنفيذ دون التسبب في أضرار.
فريدة من نوعها تغيير الحجم الساخن technology - shrink and extend most of partitions without rebooting computer.
متقدم خوارزمية نقل الملفات - XNUMX% to XNUMX% faster when moving and resizing disk partitions.
تحميل وسترى النافذة الرئيسية.
Single partitions are listed on top right with detailed parameters. All hard disks are listed on bottom right with partition layout. Available operations to selected disk or partition are listed on the left. (Unavailable operations will be hidden automatically.)
NIUBI Partition Editor helps you shrink, extend, move, merge, copy, convert, defrag, check, hide, wipe, create, delete, format partition, etc. The limitation of free edition is that it allows home usage only and cannot build bootable CD/DVD/USB disc.
It is XNUMX% clean and only XNUMXMB in size, why not download to try.