Why backup files?
If you spend great amounts of time on your computer and/or use your computer for important personal or business dealings, backup should be an essential part of your computing experience. Don't fall into the old paradigm of "it will never happen to me." While there is certainly a chance that you will never have a need for the backups you make of your files, if something does happen to your computer you will certainly be glad that you have them. There are too many stories of people who have lost all of their files due to system crashes or computer viruses to ignore. Backup can be divided into file backup and partition backup, system backup is part of partition backup. Generally, you do not need to backup entire partitions, as it will back up unnecessary files, so it costs longer time and more disk space.
How to backup files?
There are many possible methods for you to backup files.
Floppy diskette is the old way to backup files, but this is somewhat falling by the wayside as computers are using floppy drives less and less.
Backup to local computer disk. Along with CD-R/DVD-R, this is the common method to backup files.
CD-Rs are an excellent method for backing up files. CD-Rs and CD-RWs allow hundreds of times more storage space than a floppy disk and with increasingly faster CD burners they are becoming faster and easier.
Online backup is another excellent method to backup files. This allows you to store your files online, where there is no need for disks or CDs, and you can simply download your files back onto your computer whenever you want.
Backup files with best Windows backup utility
Different users have different choices, but Acronis True Image is the best Windows backup utility in my eye. It has won over 100 awards and reviews by the famous website or professionals.
How to backup files with Acronis True Image
1. Run Acronis True Image 2010, if you first run this software, it will prompts to backup the system partition. You'd better press proceed to backup the system partition.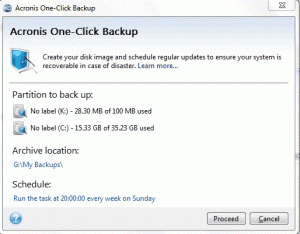 2. After that, click "Backup" on the left and choose "File Backup".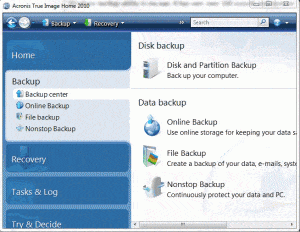 3. Acronis will ask you to choose the file types, in the article, I choose to backup "My data".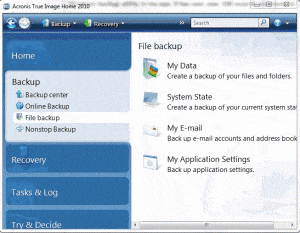 4. You'll find the file types, if you have some special file types, you can create new files types yourself.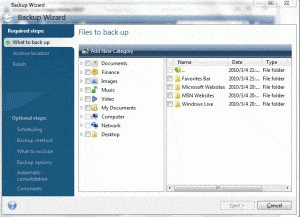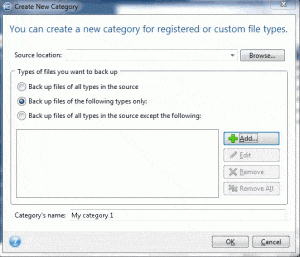 5. Choose the backup method and location. If you want to schedule the backup or exclude some files, you may choose the options on the left corner.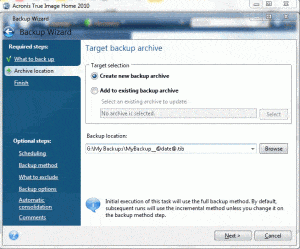 6. Check the backup summary again.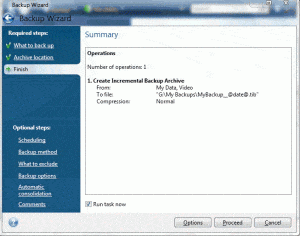 Acronis True Image Advantages:
This is part of the information, if you need more details, please refer Acronis Official Website.