There are so many kinds of backup software in the market, for example, Norton Ghost, Acronis True Image, etc. These backup software could backup your system or any kinds of files. But to SQL Server backup, the normal backup software is insufficient, as SQL server database is changing all the time, normal backup software cannot dynamically backup the new table records.
To backup SQL server, normal backup software could only backup the entire database partition or all the database files. If you incremental backup or differential backup every minutes, there is no enough space to store so many backup files. If you do not backup every minutes, you may loss so much information in the database, so you need a professional SQL server backup software.
Professional SQL Server backup software
Acronis MS SQL Server backup provides proven database backup technology to significantly reduce disaster recovery time so organizations can be up and running again in minutes instead of hours. One-step recovery and automated recovery to point-of-failure reduces downtime in order to meet Recovery Time Objectives (RTO). The rolling snapshot feature enables near-instantaneous recovery in cases where a database is damaged due to human error or logical data corruption.
Comprehensive recovery requires more than just data backup. Your MS SQL database contains tables, logs, and other components that structure the data. Using Acronis MS SQL Server backup, a unified and intuitive backup solution, is critical to create a secure live database backup that can be recovered successfully.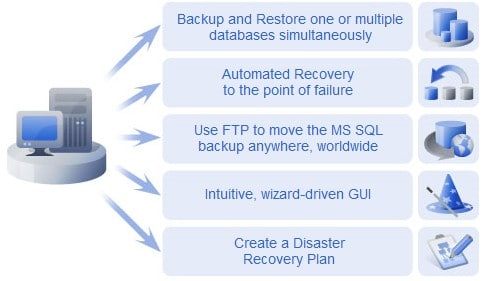 Main features of Acronis MS SQL Server Backup software
Smaller, more manageable archives
Award-winning Acronis technology provides superior backup optimization. Customizable compression rates reduce the amount of data to store and transfer, leading to direct cost savings in infrastructure costs and labor.
Resource Management
CPU and bandwidth throttling let you allocate resources during the backup process to ensure users remain productive.
Centralized Management
The Management Console auto-discovers all database servers on the network. The servers are displayed clearly with status information making it easy to manage enterprise-wide installations.
Easy Administration
An intuitive, wizard-driven GUI allows even non-database administrators to configure and implement professional backup strategies confidently and effectively. Acronis MS SQL Server backup even lets you import an existing SQL Server Maintenance Plan with just a few clicks.
Guided Disaster Recovery
Acronis database backup also provides you with a Disaster Recovery Plan, detailing step-by-step instructions to guide you or your team through a fast and complete recovery. Again, even non-technical staff can follow these simple instructions to restore even the most sophisticated SQL server.
Encryption for Security
Protect your company's most valuable data with strong, industry-standard encryption.
Acronis MS SQL Server backup also provides SQL Server Management Console and MS SQL Server Agent. SQL Server Management Console is a tool for managing data backup/restore on the local network from a single location. Using it you can install agents remotely, schedule tasks, recover data remotely, set backup/restore options on remote database servers, and import a preexisting maintenance plan.
MS SQL Server Agent is an application, enabling local and remote management from Acronis MS SQL Server backup Management Console of data backup/restore on a networked computer, on which it is installed.
With this SQL Server backup software, you can safely backup your SQL server with ease.
More info about this SQL Server backup software, you may refer to Acronis Recovery for MS SQL Server.
More Acronis coupon code.