Why do computer users need to clone RAID array, especially Windows server users need to do RAID cloning? Generally speaking, they need to clone RAID array regularly in order to upgrade disk or migrate data from small disk to a larger one. A typical example is that when the partitions on the hardware RAID runs out of space, you may prefer to rebuild the hardware RAID with larger hard disks. Then, you need to backup the data to another place, rebuild the hardware RAID and restore data again. What a time-consuming task! And you might lose your valued data in this process.
Is it possible to clone RAID array in a safe and easy way? The answer is yes and this article will introduce a free RAID cloning software.
Brief Introduction of RAID
RAID stands for Redundant Array of Independent Disks which is the organization of multiple disks into a large, high performance logical disk. Disk arrays stripe data across multiple disks and access them in parallel to achieve higher data transfer rates on large data accesses and higher I/O rates on small data accesses.
According to various combinations of approaches giving different levels of protection against data loss, capacity, and speed, several levels of RAID are available, including RAID 0, RAID 1, RAID 2, RAID 3, RAID 4, RAID 5 and RAID 10 (1+0), etc.
How to clone RAID array in an easy way?
In fact, EASEUS provides several ways of disk cloning.
Disk copy freeware – Disk Copy, sector-by-sector clone by Linux bootable CD/DVD, it does not support hardware RAID array.
Free partition manager – EASEUS Partition Master, free for home users, file-by-file disk cloning, only Windows application support RAID array.
Raid cloning freeware – EASEUS Todo Backup, file-by-file disk cloning, both Windows application and WinPE bootable disk support RAID array. Besides RAID cloning, it can backup the RAID disk including all files to an image file.
To clone RAID array, Launch EASEUS Todo Backup and locate the "Clone Disk" in the main board or toolbar.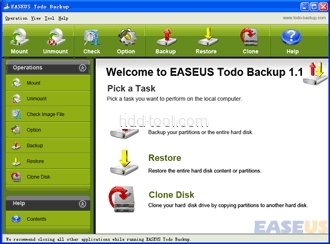 Select the source disk, in fact, the RAID array is detected as a physical hard disk both by Windows and EASEUS Todo Backup, and then choose the target disk. Before this, you'd better build the new RAID array by large disks. When selecting the target disk, please select this array and other operations are quite easy to be completed. If you need step by step instructions, please refer disk clone guide
Generally, every Windows software supports hardware RAID array, but little bootable disk of these software support RAID array, so if you need to restore or clone by bootable disk, these products are useless. Fortunately, EASEUS Todo Backup provides, WinPE bootable disk, with which you can backup/restore or clone RAID array easily without entering Windows.