WinZip and WinRAR is the most popular software that used to compress the files. For data security, you may compress the files with a password, but many people may encounter the problem that you forgot the zip password. If you lost the zip password, of course you cannot uncompress it again. In this condition, a zip password recovery cracker is helpful, as a password compressed file is very important to you, you cannot lost it.
ZIP password recovery cracker
Zip Password Tool is an easy and effective utility, designed to recover lost or forgotten passwords for encrypted ZIP archives created using WinZip, PKZip or any other ZIP-compatible software.
Main feature of ZIP password recovery tool
Accept Zip-archives created using WinZip, PKZip, WinRAR or any other ZIP-compatible software
Self-extracting Zip-archives (SFX) are also accepted
Supported Zip archives encryped using following methods:

Standard Zip 2.0 encryption
128-, 196- and 256-bit AES encryption

Supported following password search methods:

Brute-force attack
Dictionary based attack

Custom charset support for Brute-force attack (special characters and national symbols are also supported)
Additional case changes for dictionary passwords
Assignment of Min and Max password length
Password recovery progress bar
Convenient user interface
Full install/uninstall support
How to recover password with ZIP password recovery cracker?
1. Launch ZIP Password Tool and select the zip file.
2. Select the zip password length and characters if you remember. The more information you remember, the easier to recover the zip password.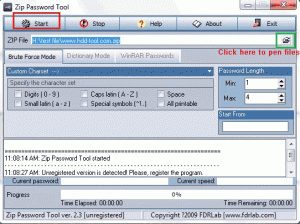 3. Click Start to crack.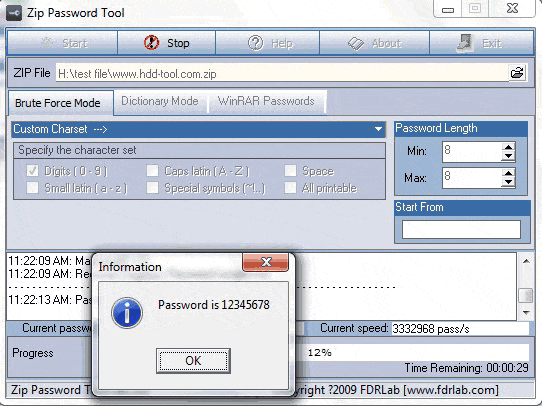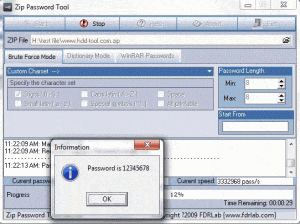 Remember that just use this tool to recover zip password of your own files.


with 10% discount off coupon code: HDDT-EILS
Visual Zip Password Recovery
Visual Zip Password Recovery Processor is an advanced zip password recovery utility. It features a nice GUI interface and a number of exclusive attacks to beat zip passwords. Real zip password cracker. Undocumented features of ZIP files provide you with a great time reduction while searching, the program possessing a smart heuristic. It is 90% passwords that fall within an hour with right settings. It is an amazing result!