Data losing is common problem for all of us, for example, you may deleted files mistakenly and need to recover the deleted files. You may also format a partition and forgot to backup some important files, so you have to recover files from the formatted partition. There are so many data recovery software in the market and this problem is easy to solve if you have not written new files to the partitions, but few data recovery software has this ability to recover NTFS encrypted files, you need professional EFS data recovery software.
What is EFS?
The Encrypting File System (EFS) is a component of the NTFS file system on Windows 2000, Windows XP Professional/Windows Vista/Windows 7, and Windows Server 2003/2008. (Windows XP Home doesn't include EFS.) EFS enables transparent encryption and decryption of files by using advanced, standard cryptographic algorithms. Any individual or program that doesn't possess the appropriate cryptographic key cannot read the encrypted data. Encrypted files can be protected even from those who gain physical possession of the computer that the files reside on. Even persons who are authorized to access the computer and its file system cannot view the data. While other defensive strategies should be used, and encryption isn't the correct countermeasure for every threat, encryption is a powerful addition to any defensive strategy. EFS is the built-in file encryption tool for Windows file systems.
Please refer another article for How to use EFS to encrypted NTFS partition?
Recover encrypted files with efs recovery software
Encrypting File System Recovery (EFS Recovery)
EFS Recovery lets you quickly and easily recover encrypted files and folders from NTFS disk drives and RAID arrays. No matter whether you moved a disk containing encrypted files to another computer, deleted an encrypted file or folder, formatted a partition or experienced a hard disk error, Diskinternals EFS Recovery makes recovering encrypted files a breeze.
EFS Recovery makes it possible for any computer user with no technical knowledge to recover encrypted files. The EFS Import Wizard makes the recovery process virtually automatic. It can scan your hard drives to find EFS system files and exported certificates. A quick scan to locate lost or accidentally deleted files takes just a minute or two. But EFS Recovery can also do a full scan to locate encrypted files and folders on drives that have been corrupted, repartitioned or reformatted.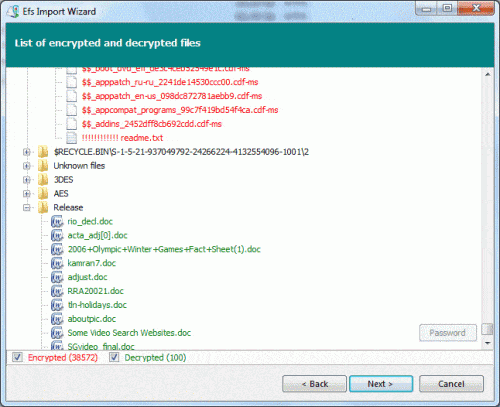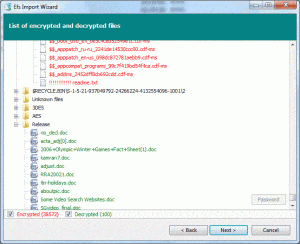 To ensure the data security, You must enter the account password in order to gain access to data stored on a recovered encrypted volume.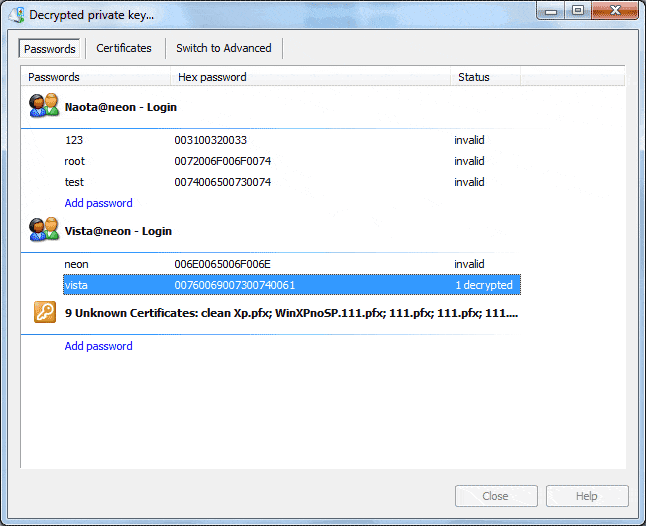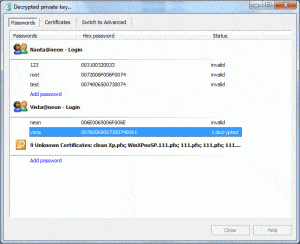 Advanced EFS Data Recovery
Advanced EFS Data Recovery decrypts the protected files, and works in all versions of Windows 2000, XP, 2003, Vista, Windows Server 2008 and Windows 7. The recovery is still possible even when the system damaged, is not bootable, or when some encryption keys have been tampered with.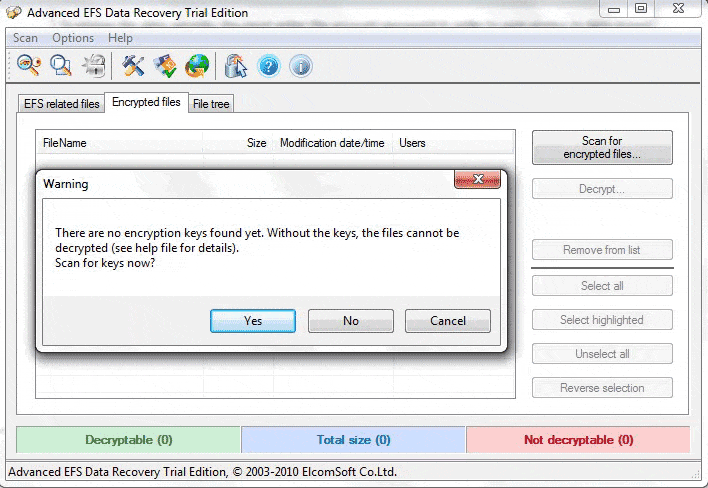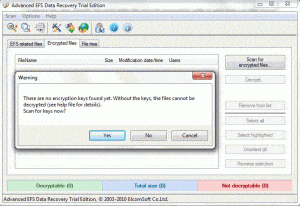 Advanced EFS Data Recovery recovers EFS-encrypted data that becomes inaccessible because of system administration errors such as removing users and user profiles, misconfiguring data recovery authorities, transferring users between domains, or moving hard disks to a different PC.