Data loss risk in Windows 7
Microsoft Windows 7 Operating System provides more advanced & large number of new features and covers with very strong security, but there is no built-in Windows 7 data recovery utility. File corruption is the situation to get lost valuable and informative data from computer. Many other common situations will cause data losing, too, for example, delete files carelessly, partitions cannot be accessed, partition lost, files covered by the ones with same file name, etc.
Common data losing situation
Hard Drives that have been formatted.
Corrupted or missing critical file system structures.
Accidental file deletion.
File loss without reason.
Unexpected system shutdown or application failure.
Computer viruses and worms infection or corruption.
Boot-up problems.
Partition structures are damaged or deleted.
Damage due to a power failure or surge.
Various kinds of file system corruption.
Recover files from devices with unknown file systems including Hard Disk, external ZIP/USB drive, removable SmartMedia, MemoryStick, SD cards, etc.
What you should do to prevent from data losing in Windows 7?
Remember that recovering data is the remedies and you should backup the system and files regularly. You may use Windows 7 built-in backup & recovery feature or third party free backup software. But if you have not backed up and the files have been lost, you'd better stop writing files again and use Windows 7 data recovery software to recover the valuable information.
How to use Windows 7 data recovery software?
Though there are many reasons that may cause data lost, we can divide them into three types.
1. Accidental file deletion from an existing partition.
2. Partition reformatted of partition inaccessible of an existing partition.
3. Partition deleted of lost.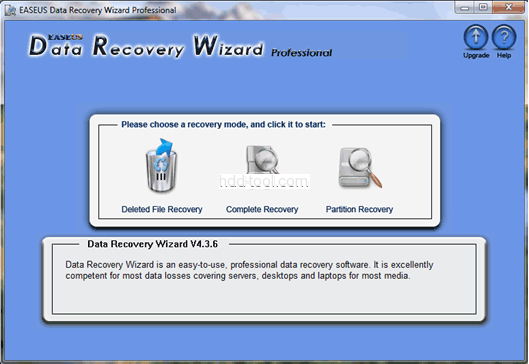 From Data Recovery Wizard main window, you'll find three data recovery modes that fit for the data losing types.
Firstly, choose the right data recovery mode and follow the Windows 7 data recovery software wizard you'll find the lost files easily.
Secondly, tick the folders and files you want to recover, and then choose a location to save the files, which is different with the partition or disk that you want to recover files from.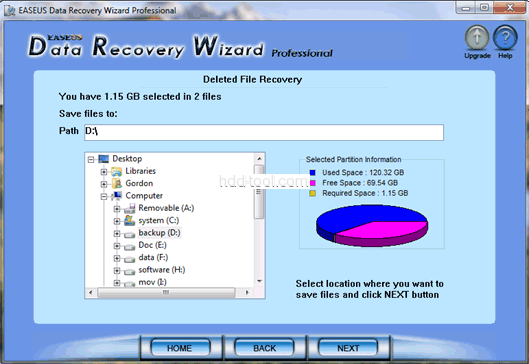 You may save the files to another local disk partition, external hard disk, external USB drive and network sharing.
Remember that do not write file again or save the files to the original place, otherwise, the files maybe covered and cannot be recovered again.