Today's hard drives feature jaw-dropping amounts of space, but no matter how big your drive, you'll be amazed at how quickly application/Windows update installs, browser caches, and temporary files can eat up your free space and clutter your system.
After running Windows 2003 Server for a period, the system C drive runs out of space. If there is no free space on the system partition, Operating System runs much slower immediately and you cannot install any updates or other applications. The worst, system may crash if extremely low free space remains.
The easy and fast way to solve this problem permanently is extending the system C drive. Fortunately, nowadays you can extend C drive in Windows 2003 Server ohne Löschen oder Formatieren.
How to extend C drive in Windows 2003 Server?
Different with Windows 2008 Server, there is no shrink and extend feature under Server 2003 Disk Management. In fact, you cannot extend C drive by shrinking other data partition under Server 2008, I don't know why Microsoft add a semi-finished tool. So to extend C drive in Windows 2003 Server, you need third party Server partition software, such as Partition Magic Server.
In technical forums, many professionals recommend Partition Magic Server. Based on the enhanced data protection technology and copy wizard built in, you don't need to worry about the data security. Besides, It is able to extend NTFS C drive without reboot to maximize the server performance and minimize the downtime.
How to extend Server 2003 C drive with Partition Magic Server?
- Es ist extrem einfach, die resize Windows 2003 Server partition. You just need to drag and move on the disk map to shrink an existing data partition to get some Unallocated space, and then extend the system partition with this space, no need to delete or reformat partitions.
– Any operations you do on the Server will be listed in the "Operations Pending" column for you to preview.
– If the 2003 Server system partition is NTFS, you can extend it witout rebooting.
Steps to extend Windows 2003 C drive without deleting or formatting:
Überprüfen Sie das Layout der Festplattenpartition unter Festplattenverwaltung. (Klicken Sie mit der rechten Maustaste auf "Arbeitsplatz" > "Verwalten" > "Speicher" > "Festplattenverwaltung".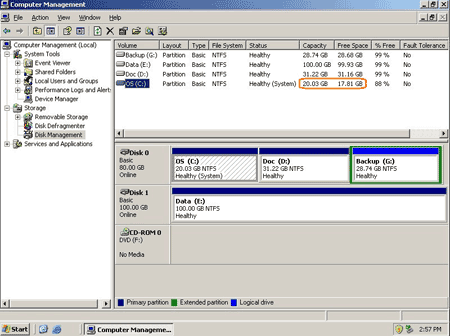 Schritt 1: Start Partitionsassistent Serversehen Sie alle Laufwerke und Partitionen, die mit Ihrem Server verbunden sind, sowie den freien Speicherplatz, den belegten Speicherplatz und andere Eigenschaften jeder Partition.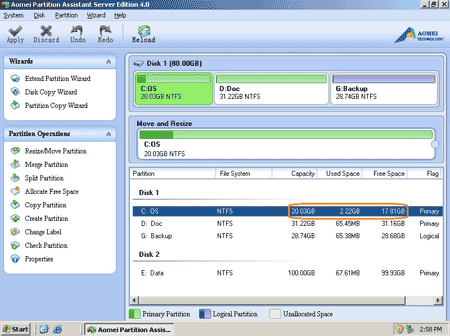 Klicken Sie mit der rechten Maustaste auf die Partition, die Sie verkleinern möchten, und wählen Sie "Freien Speicherplatz zuweisen", oder klicken Sie auf die Funktionstaste links im Fenster "Partitionsbetrieb".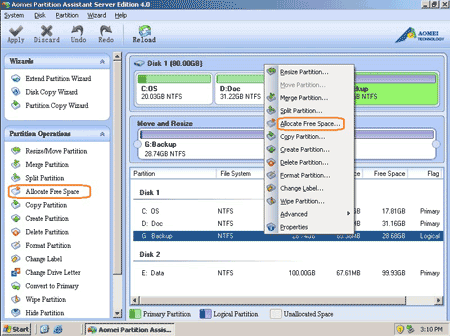 Schritt 2: Wählen Sie im Popup-Fenster aus, wie viel freier Speicherplatz verkleinert werden soll und zu welchem Laufwerk der freie Speicherplatz hinzugefügt werden soll.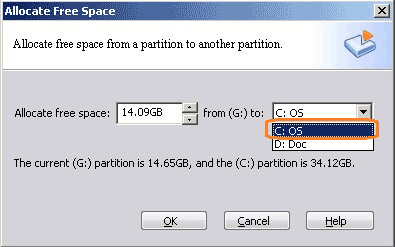 Nachdem Sie auf OK geklickt haben, ist der freie Speicherplatz von 14,09 GB gegenüber G: geschrumpft und dem Laufwerk C hinzugefügt worden.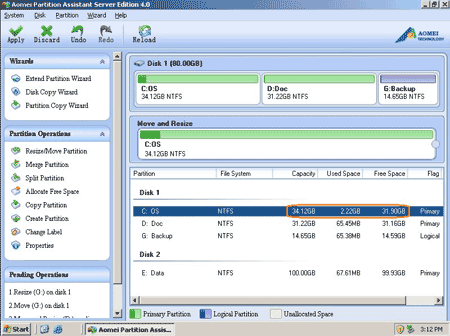 Click 'Apply' on top left to proceed resizing operation.

Im Popup-Fenster sehen Sie alle anstehenden Aktionen.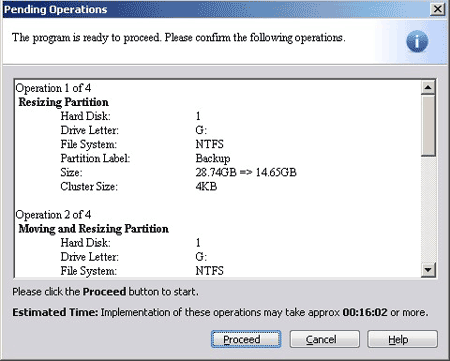 Wenn kein Fehler vorliegt, klicken Sie nach einigen Minuten auf'Fortfahren', um die Größenänderung der Partition abzuschließen. Überprüfen Sie die Festplattenverwaltung.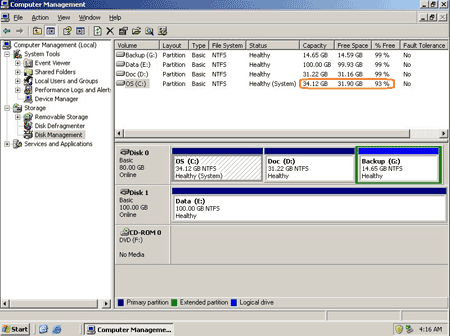 Jetzt haben Sie einen "neuen" Server, der wieder lange genutzt werden kann.
Note: This software is commercial. Learn more about Partition Magic Server from the vendor's website.