More and more Windows updates and applications installed to the system boot partition, when the boot partition running out of space, the Server computer will be fighting for the precious space and will run much slowly. System maybe crash if there is no free space.
What will you do in this situation? No one would like to waste the happy weekend to start over. It may also lead to data loss when rebuilding the Server. The most time-saving and easiest way is to resize Windows 2003 Server boot partition with reliable Server partition software.
That is to say, shrink other data partition and get some free space and then extend the system boot partition with the Unallocated space, so there is no need to start over again to save time.
Ensure data security when resizing boot partition on Windows 2003 Server
The security and stability are undoubtedly the most significant aspect for Server computers since a Server computer usually stores the most important classified and daily-used files. However, even a slight error on Server computer might directly leads to boot failure. So you must select the right partition software to resize boot partition on your Windows 2003 Server.
With the unique Verbesserte Datenschutztechnologie und dem eingebauten Partition Magic Server, müssen Sie sich beim Ändern der Größe Ihrer Server-Festplattenpartitionen keine Sorgen um die Datensicherheit machen. 
How to resize Windows 2003 boot partition
- Es ist extrem einfach, die resize boot partition in Windows 2003 Server. You just need to drag and move on the disk map to shrink an existing data partition to get some Unallocated space, and then you can extend the boot partition with this space. There is no need to delete, format partitions or rebuild the Server.
– Any operations you do on the Server will be listed in the "Operations Pending" column and no changes will take place on your partitions before you click "Apply".
– If the system boot partition is NTFS, you can extend it without rebooting Server.
Schritt-für-Schritt-Anleitung zu resize Server 2003 boot partition
Schritt 1, Start Partitionsassistent Serversehen Sie alle Laufwerke und Partitionen, die mit Ihrem Server verbunden sind, sowie den freien Speicherplatz, den belegten Speicherplatz und andere Eigenschaften jeder Partition.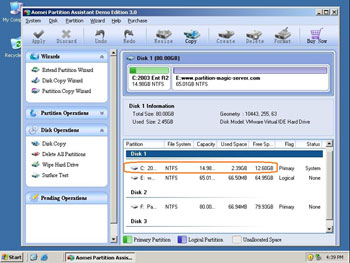 Klicken Sie mit der rechten Maustaste auf die Datenpartition und wählen Sie "Größe ändern", ziehen Sie im Popup-Fenster den linken Rand nach rechts, um ihn zu verkleinern.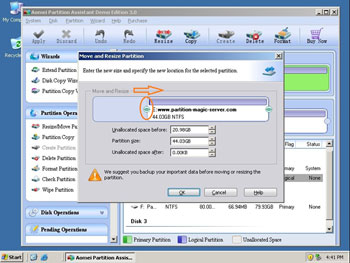 Es wird etwas nicht zugeordneter Speicherplatz hinter der Systempartition vorhanden sein.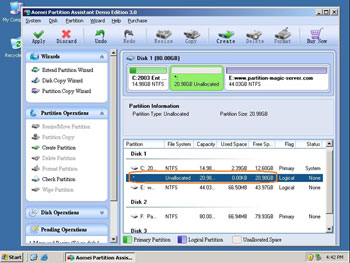 Schritt 2, Rechtsklick auf die Systempartition und Auswahl von "Größe ändern", im Popup-Fenster den rechten Rand nach rechts ziehen, um den nicht zugeordneten Speicherplatz zu halten.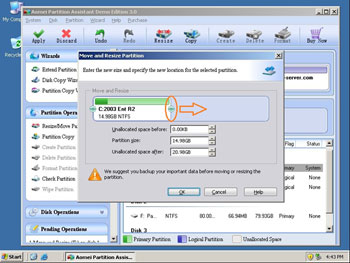 Klicken Sie auf "Apply" ", um fortzufahren, fertig.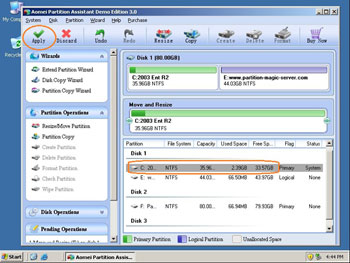 Jetzt haben Sie einen "neuen" Server, der wieder lange genutzt werden kann.
Benefits to resize boot partition on Server 2003 with this Partition Magic Server
Die verbesserte Datenschutztechnologie hilft Ihnen, die Größe zu ändern und die Partition ohne Datenverlust zusammenzuführen.
Mit der Hot Resize-Funktion können Sie die NTFS-Systempartition ohne Neustart des Servers erweitern.
Mit Disk/Partition Copy können Sie Daten sichern oder auf eine andere Festplatte migrieren, ohne Windows neu zu installieren.
Änderungen an Partitionen können vor dem Anwenden in der Vorschau angezeigt werden, um Fehlbedienungen zu vermeiden.
Einfach zu bedienen, indem Sie einfach die Festplattenzuordnung ziehen und zeichnen, um die Größe der Partitionen zu ändern.
Viele nützliche Funktionen helfen Ihnen, Ihren Server besser zu warten und seine Leistung zu verbessern.
Laden Sie die kostenlose Testversion herunter and check how easy it is to resize Windows 2003 boot partition.