Partition manager for Windows Server 2012
The same with Windows laptop or desktop, low disk space is the most common issue on Windows Server 2012. It is not difficult to transfer files or change settings for the volumes that are used for backup or other services. But to the system C: drive, you cannot solve the problem by transferring files, instead, you have to increase its free space.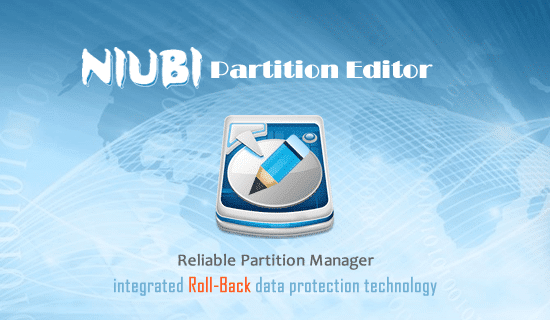 In this situation, the server partition manager software can help you. On the other hand, data corruption could occur while repartitioning disk drives with third party partition software. In this article, I'll show you the safest partition manager for Windows Server 2012 (R2). One such famous Partition Manager is NIUBI Partition Editor which is now leading the partition management industry.
First Impressions
The entire process from downloading the software to install and finally using it is super easy and fast. After running it, you'll see a neat and clean interface with 5 blocks: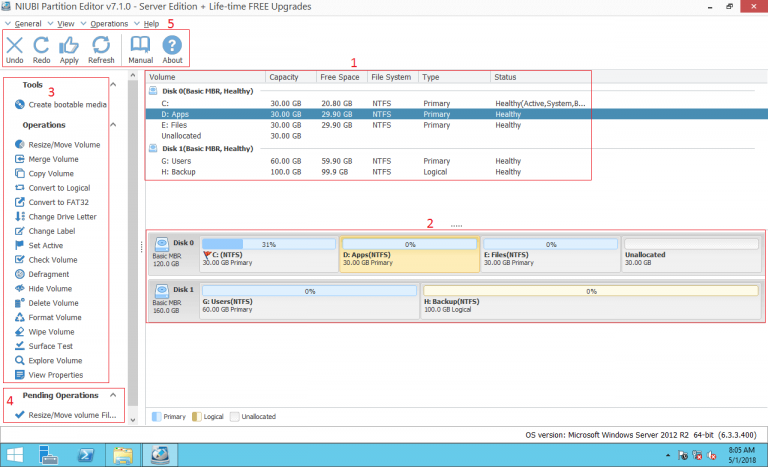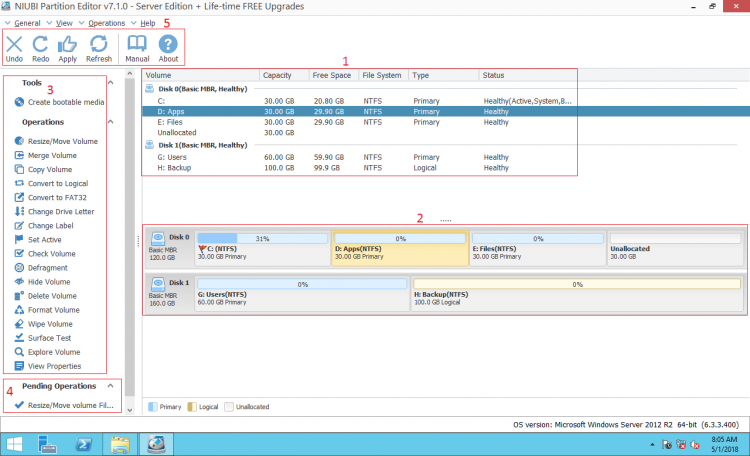 From Block 1, you'll see all disk partitions as well as the detailed info of each partition.
From Block 2, you'll see disk partition layout, from where you'll know which volumes are in the same disk clearly.
From Block 3, you'll see the available operations of the clicked partition. The features are hidden cleverly inside, as opposed to throwing everything at your face.
From Block 4, you'll see the pending operations and I'll explain later.
From Block 5, you can undo, redo or apply the changes to disk volumes. Refresh button can reload the disk partition parameters.
Key Features
NIUBI Partition Editor comes with lots of features that some are similar with other tools, while some are unique and you will never get in any other partition managers.
Have you experienced or heard about power goes off or some unexpected error occurs while you are resizing your disk partitions? In most of these cases, the hard drive gets corrupted and you'll lose data in single or entire hard drive. Operating System may be damaged, too, so you have to restore or completely reinstall. But NIUBI comes with its unique 1 Second Rollback technology which automatically rolls back the server to the status before resizing in ONE second. So, if any error occurs during the modifications, your server could back online without damage in a flash.
Cancel-at-will technology
What if you have initiated an operation and then you realize that you have done a mistake? Or the process is taking too much time and you need to shut down the computer. With NIUBI Partition Editor you can easily cancel any ongoing operations without the fear of data loss. Unlike other partition managers that once you confirm the operations you lose control over your system, NIUBI Partition Editor retains the control in your hands, allowing you to cancel the operations at any time. As such, it proves that NIUBI Partition Editor is not only a fast partition manager but also one that is safe and reliable.
NIUBI Partition Editor comes with Hot Resize Technology, that allows you to extend NTFS partition in Windows without the need of rebooting server. As such, you can continue to carry out your operations without any hindrance.
Mistakes happen and NIUBI Partition Editor knows this. So all the changes that you are performing are in virtual mode, every action is listed in the Pending Operations (Block 4)  and physical disk volumes won't be changed until you press Apply button to confirm. Before Applying, you can undo or redo the operations without the fear of losing your data or corrupting your hard drive.
You can also create a Bootable Media using this server partition manager in simple 2 steps. You just need to specify the location where you want your ISO file to be saved and that's all. A bootable ISO file of your current Operating System will be created in just a few minutes.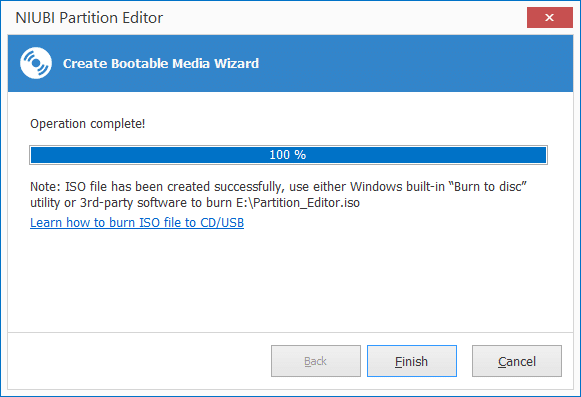 Apart from managing your partitions, NIUBI also takes care and optimizes your system for better performance. This partition manager can easily perform optimizing operations like fixing File system error, scan bad sectors in hard disk, initialize new disk, defrage partition and view disk/partition properties.
As I said in the beginning, the most common issue in Windows Server 2012 is low disk space of C drive. Before extending it, you should shrink the adjacent drive D to get Unallocated space. During this process, all files in D should be moved to new locations, so a good algorithm makes file moving much faster. After a full set of testing, NIUBI is 30% to 300% faster than any other partition manager for Windows Server.
Best Windows Server 2012 partition manager
Speed and reliability are the biggest factors that one looks forward to in choosing the right partition manager for server, because of the full set of features, data protecting and fast recovering ability, fast resizing and moving ability, easy to use with clean interface, together with 90day money back guarantee and 24/7 online support, NIUBI Partition Editor is the best partition manager for Windows Server 2012 and other Servers.