How to extend system C: drive on Windows Server 2003?
The most common disk partition issue in Windows Server 2003 is "Low Disk Space". After running this server for a period of time, you'll find that the system C: drive is running out of space. In this situation, there is no free space to install Windows Updates and applications. It may cause worse issue if C drive becomes full, such as server runs slower, stuck, reboot unexpectedly or even crash. The fastest way to solve this problem is resizing existing partitions. Extend C drive with free space in other volumes. Many people ask the same questions for example: is it safe to extend C drive on Windows Server 2003, which is best server partition software to complete this task, how to resize Server 2003 volume in an easy way, etc. After reading this article, you'll know to extend C: drive on Windows Server 2003 safely and easily.

Ensure 100% data safety
Data is absolutely the most important to a server, any partition software that cannot ensure data safety is useless, even if it is 'easy' and 'powerful'. Different with read-only program, the partition software will move files, modify the parameters of partitions and files, such as capacity, start and end position. A slight error if cannot handled by the software will cause data damage. Actually, besides software related error, hardware issue such as power failure, low RAM memory, high CPU usage rate could cause data loss, too.
NIUBI Partition Editor is ONLY software that can ensure 100% system and data safety. The built-in Roll-Back Protection technology can roll back the server to the right status before resizing automatically and in a flash, if any software or hardware issue occurred during resizing. Don't worry about data safety even if power failure or other hardware issue occur. Besides, the unique file-moving algorithm helps resize partition at least 30% faster than ANY other tools.
How to extend C drive on Windows Server 2003?
To resize partition and extend C: drive on Server 2003, there are two choice: Windows Diskpart command and 3rd-party partitioning software. Because of the limitations of diskpart command, it is not the best choice. However, some people still like to use Windows built-in tool. I don't know whether because it is 'free' or 'safe'. Here I also introduce how to extend C drive with diskpart command.
Steps to extend C drive with Server 2003 diskpart command:
Backup or transfer all files in the volume that is behind C, usually D.
Right click My Computer > Manage > Storage > Disk Management, delete the volume D.
Boot from Windows installation CD to run command prompt, type diskpart.exe.
Type "list volume" to display the existing volumes in this computer.
Type "select volume X", X is the number or drive letter of the partition that you want to extend.
Type extend [size=n] [disk=n] [noerr].
size=n
The space, in megabytes (MB), to add to the current partition. If you do not specify a size, the disk will be extended using all the next contiguous unallocated space.
disk=n
The dynamic disk on which to extend the volume. Space equal to size=n is allocated on the disk. If no disk is specified, the volume is extended on the current disk.
noerr
For scripting only. When an error is thrown, this parameter specifies that Diskpart continue to process commands as if the error did not occur. Without the noerr parameter, an error causes Diskpart to exit with an error code.
Limitations of Diskpart command
System C drive can only be extended by running Diskpart from bootable CD.
Only when you delete the adjacent volume to get Unallocated space on the right side, you can extend C drive.
Incorrect operations lead to data loss and the operations cannot be undone.
It is too difficult to most the computer users.
Why not use an easy tool with simple GUI? You can expand C drive by shrinking other volumes without deleting.
Expand Server 2003 C drive with software
Step 1: Download NIUBI Partition Editor Server, right click drive D and select "Resize/Move Volume".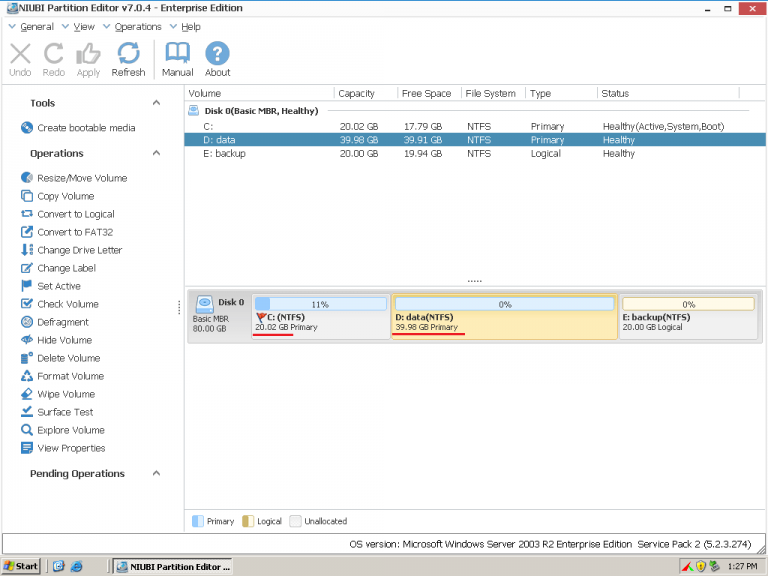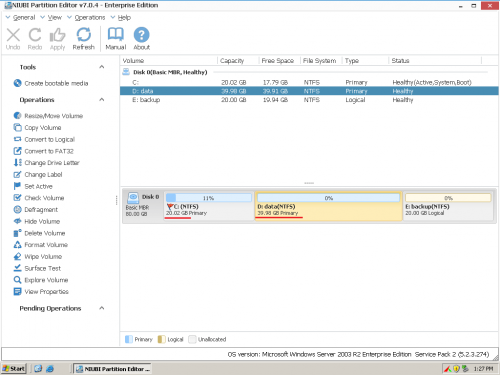 In the pop-up window, drag the left border rightwards to take free space out from it.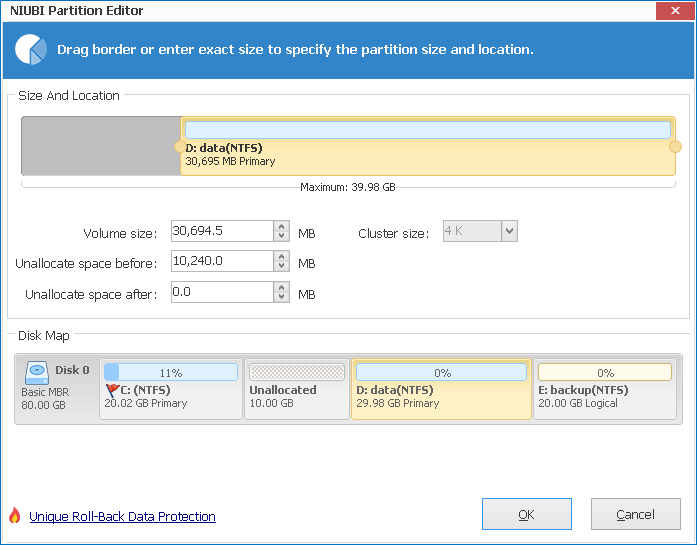 Click OK and back to the main window. 10GB Unallocated space generated behind C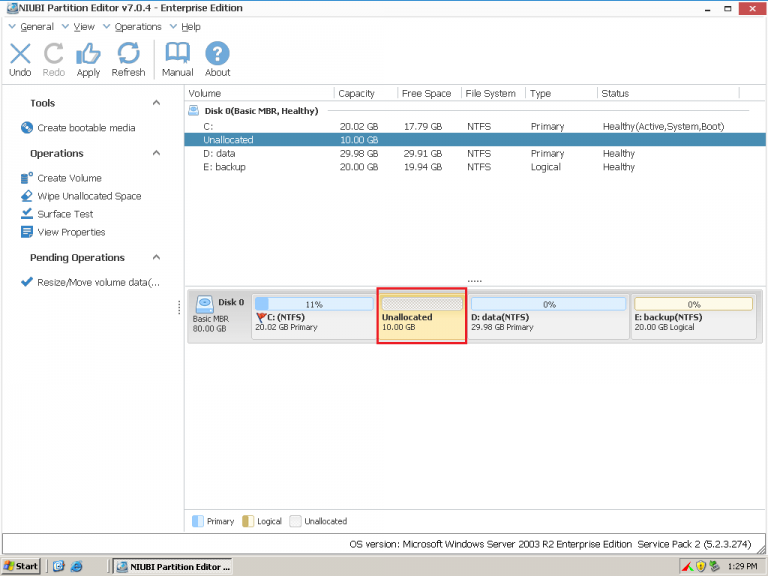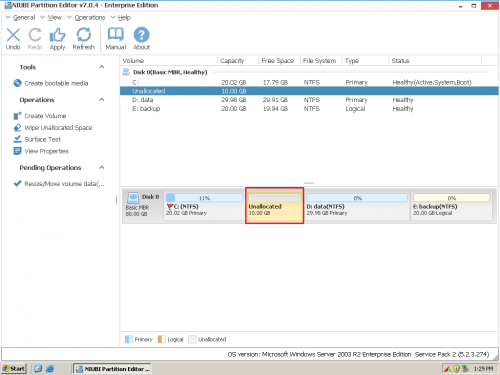 Step 2: Right click C and select "Resize/Move Volume" again. In the pop-up window, drag the right border rightwards to hold the Unallocated space.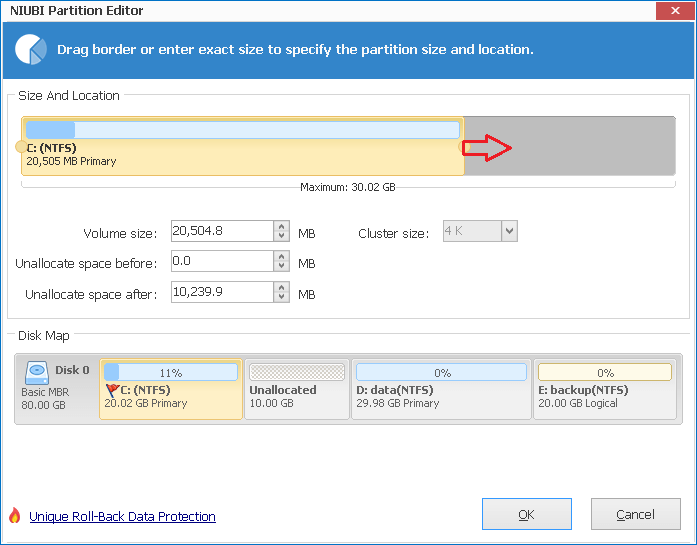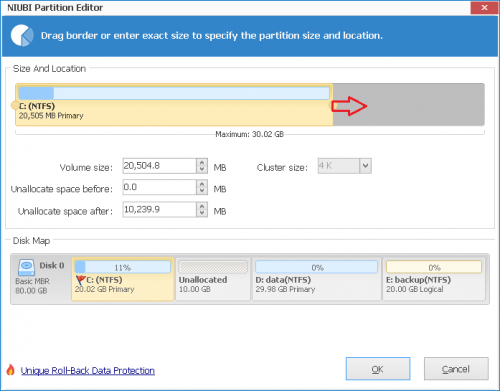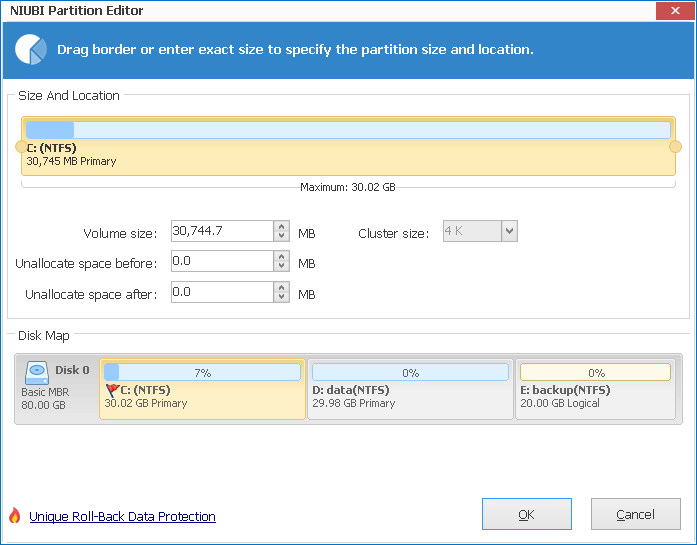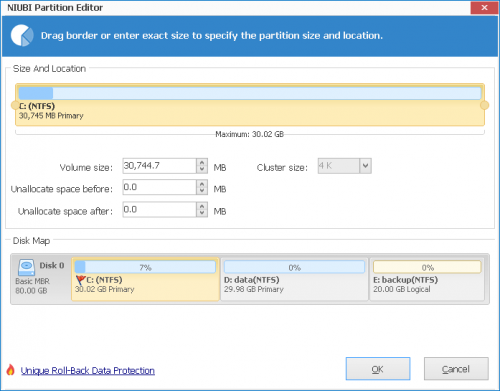 Step 3: Click OK and back to the main window, 10GB free space took from D added into C, click Apply on top left to execute, done.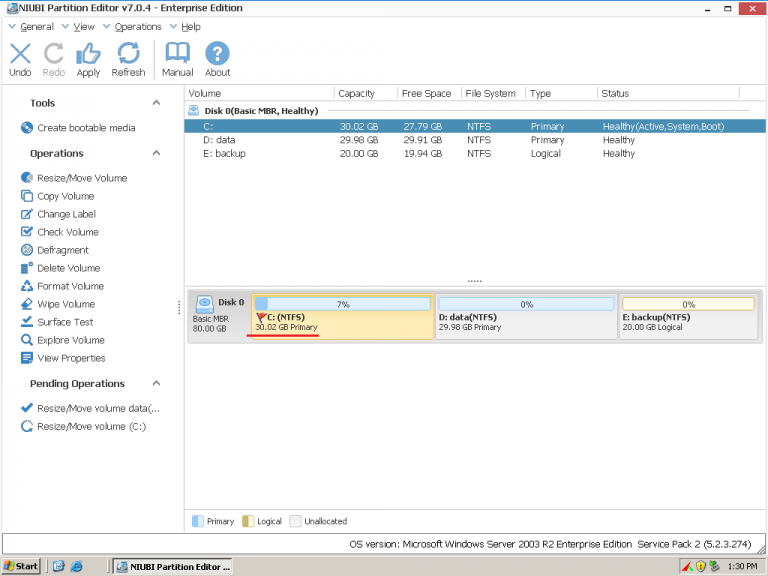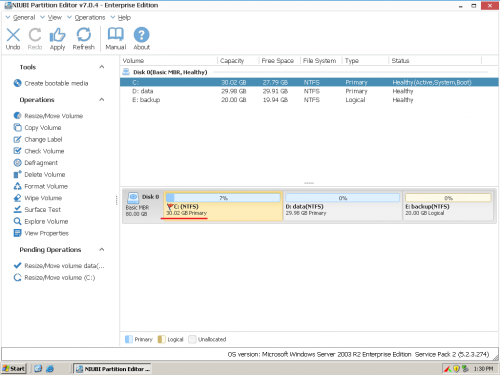 If there is not enough free space in adjacent D drive, simply get free space from other volumes in the same disk.
In Summary
To extend C drive on Windows Server 2003, it is better to use professional partition software, it is not suggested to resize partition in destructive way. NIUBI Partition Editor can ensure 100% safety to resize and extend system C drive. Learn More