All the size of the hard disk partitions are carefully allocated while building the Windows 2003 Server. However, things are changing and the scheduled size may not always meet your needs, especially for the System partition, no matter how big your drive is, you'll be amazed at how quickly application/Windows update installs, browser caches, and temporary files can eat up your free space and clutter your system.
Originally, you have to backup the system and all files, delete partitions, recreate larger system partition and restore. What a time-consuming work. Your whole happy weekend will be wasted to install Windows updates and large amount of applications.
New computer technology make things much easier, nowadays, you can extend Server 2003 system partition directly, without so much annoying works, much faster and easier.
Which tool to extend Server 2003 partition
Many people know the famous partition software – Partition Magic, but it only works on Windows PC and it is no longer for selling, so to resize and extend Server 2003 partition, you have to search other tools.
Diskpart command line is another choice, it is a free and good utility to extend data partition, but for Server system partition, you need third party partition software, as Diskpart cannot extend system partition under Windows. It is also too hard for most of the users and the operations cannot be undone, so it may cause data loss.
For Windows Server, the data security is most important, to better resize or extend Server 2003 partition, I suggest running reliable Server partition software.
Partition Magic Server software for Windows 2003
Partition Magic Server is not only a magic Server Partition Manager but also an ALL-IN-ONE server disk management toolkit for Windows Server 2000, 2003, 2008 and Windows XP, Vista, 7 (32 and 64 bit).
It performs basic and advanced hard disk partition maintenance. This flawless hard disk management functions are brought together: Partition Manager, Disk & Partition Copy and Extend Partition Wizard. It allows user to Resize, Merge, Shrink, Extend system and data partition. Create, Delete, Format, Copy, Repair, Hide, Active partition, etc.
Ensure data security when repartition Windows 2003 Server
The security and stability are undoubtedly the most significant aspects for Server computers since a Server computer usually stores the most important classified and daily-used files. However, even a slight error on server computer might directly leads to boot failure or data loss.
Based on the unique enhanced data protection technology and Copy Wizard built in Partition Magic Server, it is highly recommended by many professionals and editors, besides, many Fortune 500, Governments, Universities select it to manage their Servers, so you don't need to worry about the data safety.
Steps to resize and extend Server 2003 system partition
Step 1, Launch Partition Magic Server, you'll see all disks and partitions that connected to your Server and free space, used space and other properties of each partition.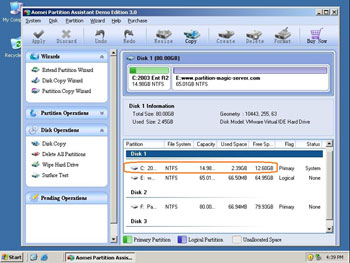 Right-click the data partition and select "Resize", in the pop-up window, drag the left border rightwards to shrink it.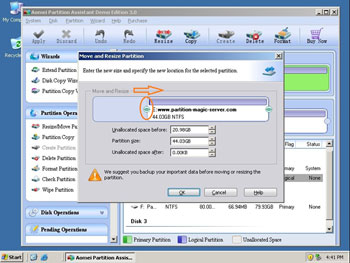 There will be some Unallocated space behind the system partition.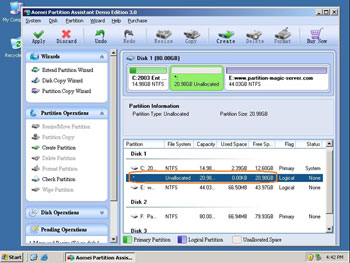 Step 2, Right-click the system partition and select "Resize", in the pop-up window, drag the right border rightwards to hold the Unallocated space.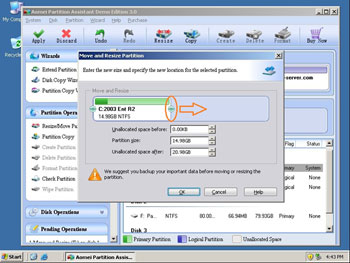 Click "Apply" to proceed, done.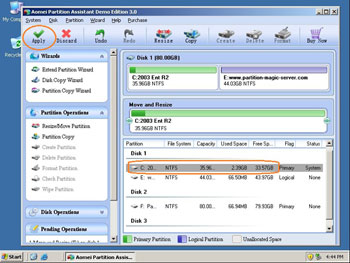 Now you have a "new" Server that can be used for a long time again.
For enterprise users, Unlimited Edition allows unlimited usage within your company to save time and money.
Download this server magic trial and check how easy it is to extend 2003 server partitions without data loss.