How to fix C drive running out of space in Windows PC and Server?
Many Windows computer users have the experience that system C drive suddenly out of space without reasons. Some people did something to fix this issue, but C drive runs out of space again shortly. It is annoying! Actually, there must be some reasons if C drive running out of space. Find out the reasons and then you can use the right method. In this article, I'll show you two useful methods to solve C drive out of space problem, which are valid for Windows 10/8/7/Vista/XP (32 & 64 bit) and Windows Server 2016/2012/2008/2003 (R2).
Symptom of C drive suddenly out of space
In fact, you can see the total size and free space of each volume in either Windows Explorer or Disk Management console, for example: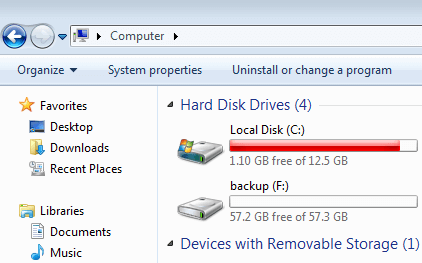 However, few people will notice this issue if C drive suddenly runs out of space, especially in the old Windows XP and Server 2003. Rather than the red bar in Windows 7 or Windows 10, there is no much difference in Windows XP if C drive is full. So Windows create the "Low Disk Space" alert on bottom right corner to warn the people whose C drive is running low on disk space, for example: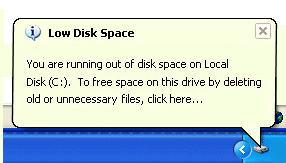 To many of the people that are not familiar with computer usage, it is too late to get the Low Disk Space warning. Many types of files continue writing into C drive, so there is not enough time for these people to find some workable methods.
In Windows 10/8/7/Vista and Server 2016/2012/2008, Microsoft changes the default blue bar to red when C drive is running low on space, for example in Windows 10:

In addition, Low Disk Space warning still pops up, it means C drive is running very low and you should do something as fast as possible. For example in Windows Server 2008:

Why C drive running low on space
There are 3 possible reasons why C drive becomes full:
Virus attach
Windows calculate the disk space incorrectly
C drive is filling up by files
If there is large amount of free space in C drive, but it runs out of memory suddenly and in a short time, your computer may be attached by virus. In this situation, you'd better completely scan your computer with antivirus software.
It is a small probability that Windows calculate the disk space incorrectly, but there are some people feedback such issue indeed. Open Disk Management to find out the partition details, you may disable Low Disk Space alert if everything seems normally in Disk Management.
Most of the cases of C drive running out of room is caused by files filling up. It is easy to understand: Windows download and install Updates frequently, programs and many other kinds of files write into C drive continuously, so C drive becomes full sooner or later.
Influence of C drive out of space/memory
Why Microsoft creates the Low Disk Space warning and change C drive from default blue to striking red? The aim is to warn the people pay attention to insufficient disk space, because it cause many problem such as:
There is no disk space to install significant Windows Updates.
You'll suffer from computer performance down.
Your computer may stuck, reboot unexpectedly or even crash.
It is too late if your computer cannot boot because of no free space in C drive. So hurry up if your C drive is running almost full.
2 ways to fix C drive running out of space
You may be scared in this situation, but it doesn't matter if you follow the right method. To fix the issue of C drive out of space, there are two common and useful methods:
Regain disk space – delete the unused or unnecessary files to release free space.
Increase C drive size –  if there is plenty of free space in other volumes of the same disk, you may consider transferring the free space to C drive, so there will be enough free space in C drive again.
Regain disk space
To delete unnecessary files to release free space, I do not suggest do it by yourself manually, instead, you'd better use some tools. Among these tools, I always suggest Windows built-in Disk Cleanup, because it is able to delete many types of files, safe and fast, too.
Windows Disk Cleanup is installed by default except Windows Server 2012 and some editions of Server 2008. If you use these Operating System, refer how to enable/install Disk Cleanup. There is no difference running Disk Cleanup from Windows XP to Windows 10 or Server 2003 to 2016. Below is an example in Windows 7.
Steps to free up space in Windows Server and PC:
Step 1: Open Windows Explorer, right click C drive and click Properties: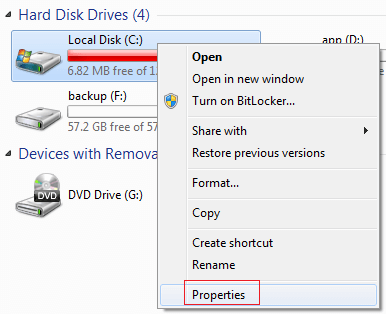 Step 2: Click Disk Cleanup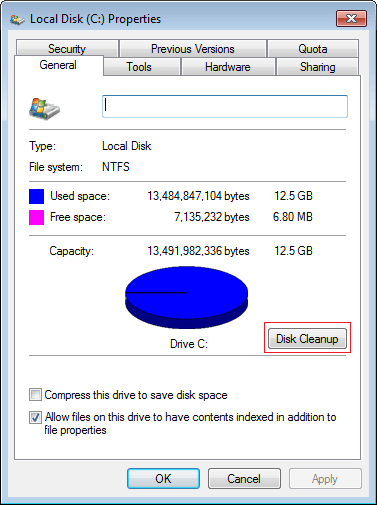 Disk Cleanup will calculate how much space you'll be able to clear up.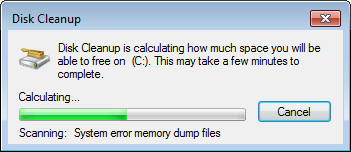 Step 3: Click the check-box to select the files you want to delete. Before clicking OK to proceed, you may highlight each option to view the corresponding description on the bottom.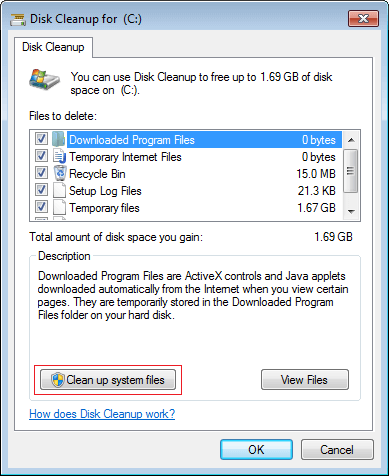 Step 4: Clean up system files in the same window. Within a minute or two, the same Disk cleanup menu will appear with additional types of files to delete.
Step 5: To get more free space, you may switch to More Options tab, where you can clean up installed programs and System Restore points.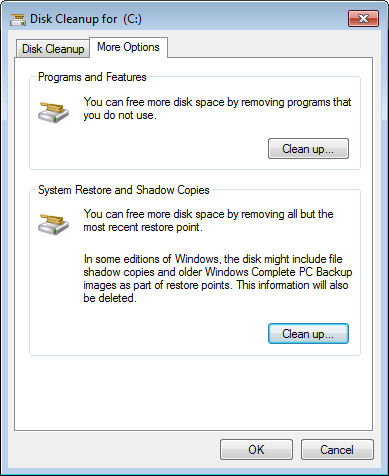 After these steps you can regain free space more or less. Disk Cleanup is very useful for the computers that never or have not free up disk space for a long time.
However, in some situations you cannot solve C drive out of space problem by freeing up space, especially for the computer that C drive was created too small.
Increase C partition size
If you cannot reclaim plenty of free disk space, or C drive is too small, you'll face to the same issue in near future, so you'd better extend C drive. To do this, no Windows built-in utility can help you, you need 3rd-party program. Windows Disk Management has the ability to change partition size, but it cannot extend C drive by shrinking D or other volumes.
For Windows 10/8/7/Vista/XP (both 32 and 64 bit), there is free partition software that can help you well. Watch the video in Windows 10 and the steps are the same in other Windows OS.
Change the way running your computer
To ensure completely solve C drive out of space problem, you may consider the options below:
Change default program installation path to separate volume such as D, do not put everything into C drive.
Change default file output path to other large volumes of the programs for Games, Videos, Pictures and Projects. These kinds of programs generate many large files.
Run Windows Disk Cleanup as your monthly computer maintenance tool.
Expand C drive as large as possible.
Is this article helpful? Rate it below.