3 ways to extend C drive in Windows PC and Server
To Windows computer users, the most common and annoying computer issue is low disk space. Many people have the experience that Le lecteur C est à court d'espace Et Alerte d'espace disque faible pops up. Besides freeing up disk space, the most useful method is extending C drive with Unallocated space or free space in other drives. To extend C drive, there are 3 tools: DiskPart command prompt, Windows Disk Management and 3rd-party program. In this article, I'll show you how to extend C drive in Windows 10/8/7/Vista/XP and Server 2016/2012/2008/2003 with these tools.

Extend C drive with Disk Management
In Disk Management of Windows 10/8/7/Vista and Server 2016/2012/2008, there is built-in Extend Volume functionality, which can be used to extend C drive. However, there are some limitations and here I listed the precondition to extend C drive with Extend Volume in Disk Management:
C drive should be NTFS. (FAT32 partition is not supported)
In MBR disk, C drive should be Primaire Partition.
There should be Adjacent Espace non alloué sur le Oui côté du lecteur C.
Meet these conditions and C drive can be extended easily, otherwise, Étendre le volume est grisé and disabled.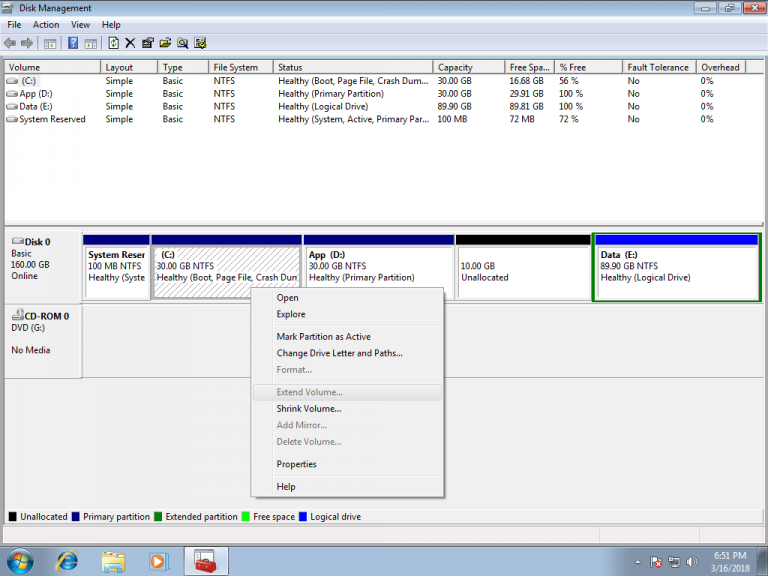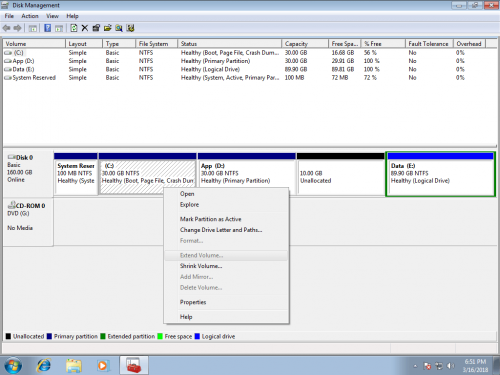 Steps to extend C drive with Disk Management:
Étape 1: Clic droit Windows on bottom left corner of the screen and select Gestion des disques: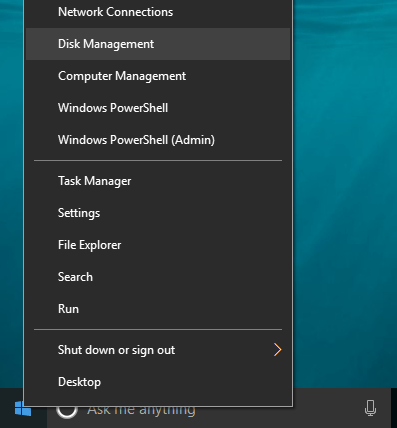 Étape 2: Faites un clic droit sur le lecteur C et sélectionnez Prolonger le volume: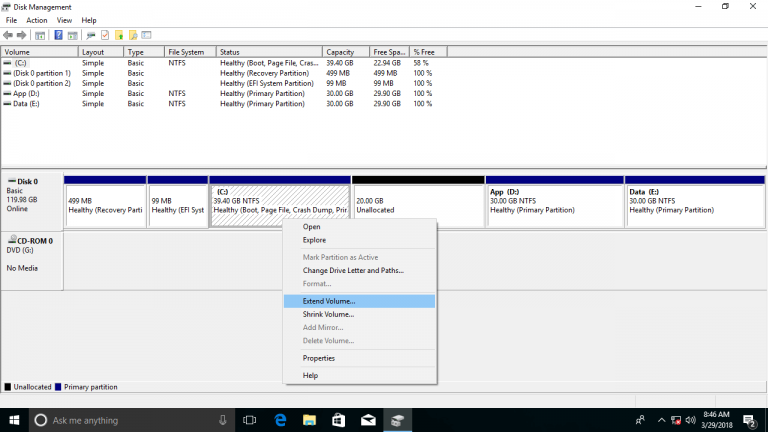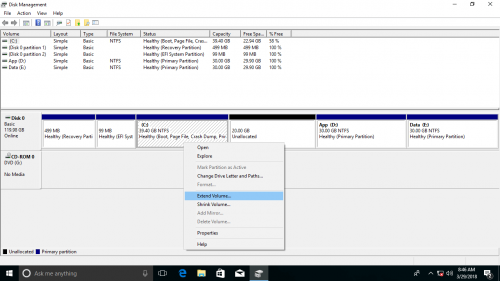 Étape 3: Cliquez sur prochain in the Assistant extension de volume Fenêtre.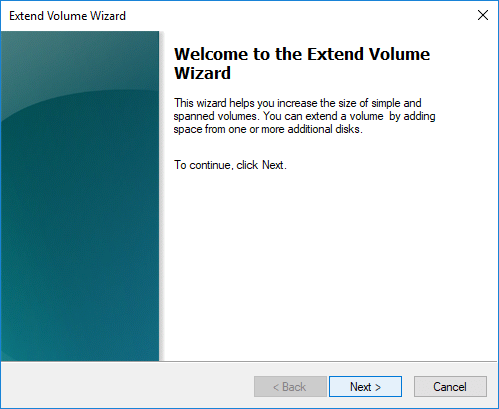 Étape 4: Available disk and space is selected by default, click prochain pour continuer.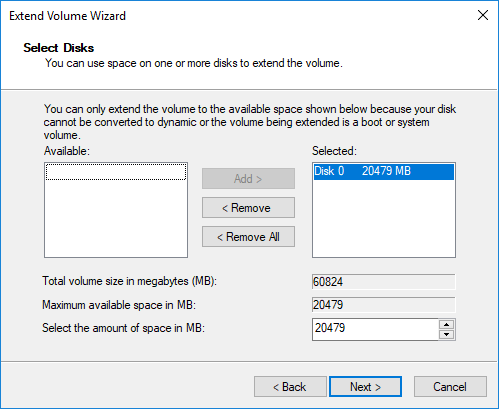 Étape 5: Confirm and click Finir pour procéder.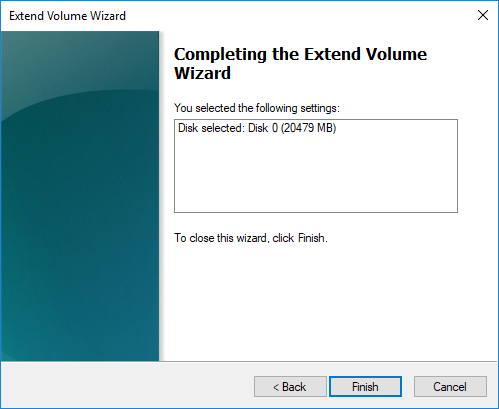 In a while, C drive is extended.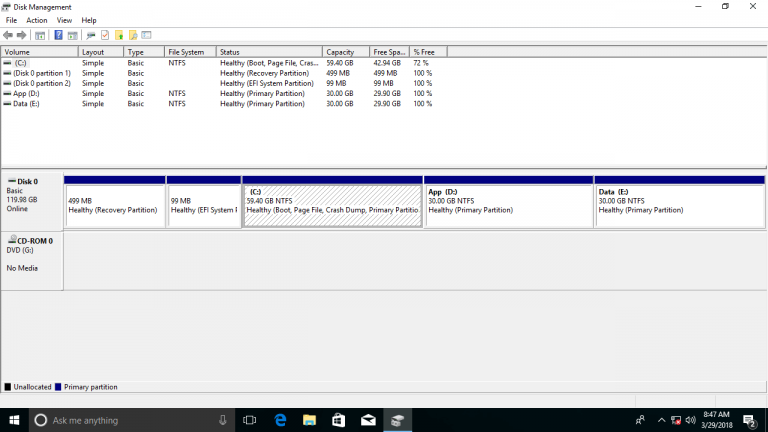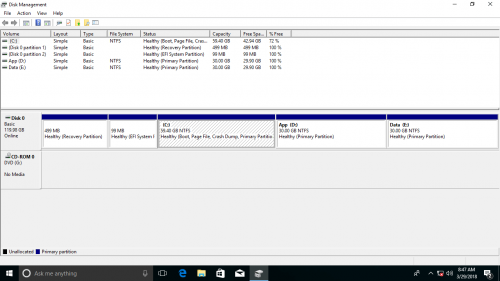 Note: as I said above, meet the conditions and you can enlarge C drive, otherwise, you need partition software.
Expand C drive with DiskPart command
DiskPart is working from command prompt, which is more difficult comparing with GUI Disk Management. To extend C drive with DiskPart, you should meet the Même 3 conditions, too. in addition, in Windows XP and Server 2003, you ne peut pas prolonger C: lecteur via cmd from Windows, instead, you have to reboot and start from bootable disc. So DiskPart is the worst tool and it is not suggested. Here I just introduce the steps to the people who are interested with DiskPart.
Étape 1: Insert your Windows XP or Server 2003 installation disc and boot into command mode.
Étape 2: Type Diskpart et appuyez sur Entrer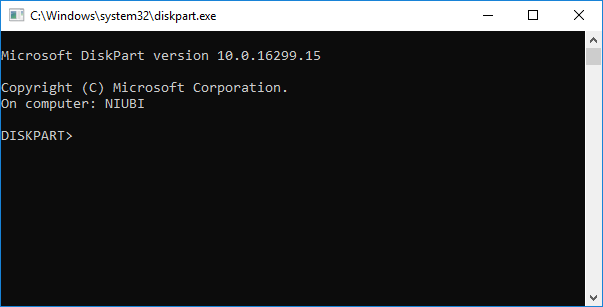 Étape 3: Type volume de la liste et vous verrez toutes les partitions, mais NON Espace non alloué.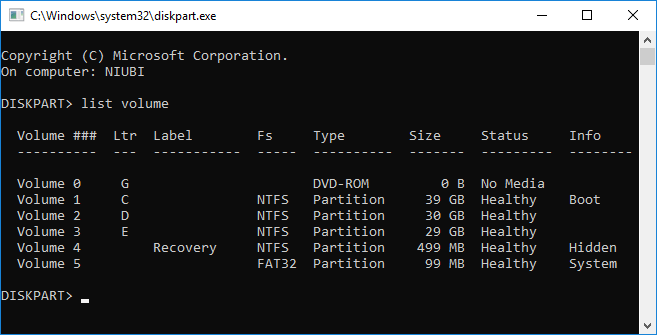 Étape 4: Type sélectionner le volume 1 pour donner le focus au système C: Drive.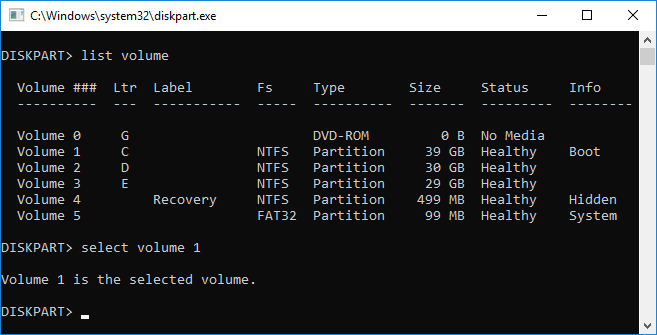 Étape 5: Type Étendre continuer à s'étendre.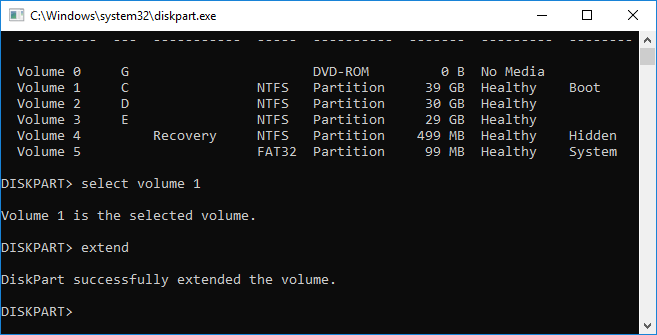 To resize volume and extend C drive in Windows, partition software is much faster and easier.
Enlarge C drive with free partition software
If you are running Windows 10, 8, 7, Vista or XP (both 32 & 64 bit), you may use logiciel de partition libre to expand C drive.
No matter with Disk Management or DiskPart command, to extend C: drive should be adjacent Unallocated space on the right side. There is no such limitation with partition software.
Étape 1: Télécharger NIUBI Partition Editor, right click D drive and select Resize/Move Volume.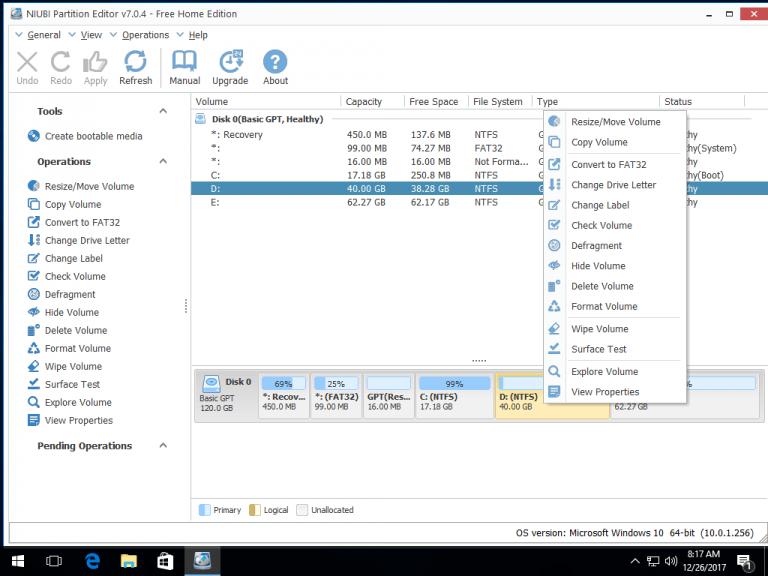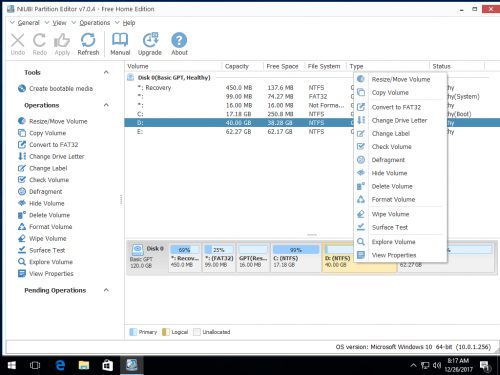 Dans la fenêtre contextuelle, faites glisser Gauche Frontière droite pour réduire D.

There is 20GB Unallocated space generated behind C drive.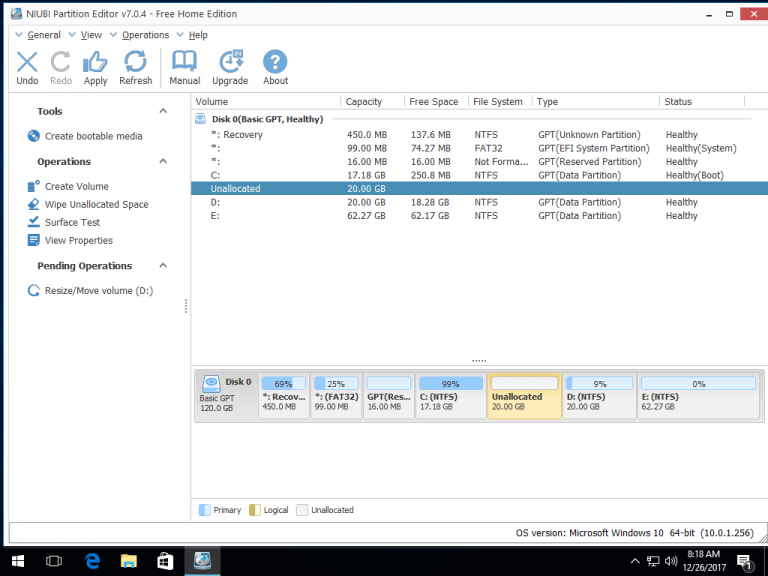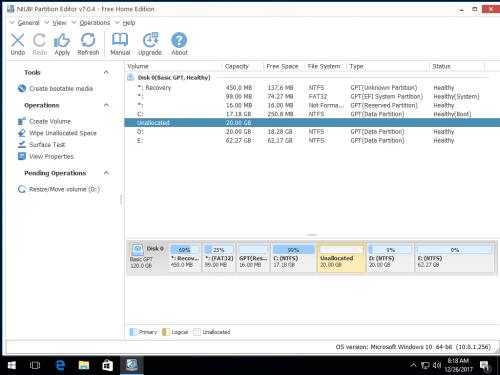 Étape 2: Clic droit C lecteur et sélectionnez "Resize/Move Volumenouveau. Dans la fenêtre contextuelle, faites glisser le Oui Frontière droite pour conserver l'espace non alloué.

Étape 3: Cliquez sur D'ACCORD, C drive is extended to 37.18GB by combining the 20GB Unallocated space. Click Apply en haut à gauche pour exécuter, fait.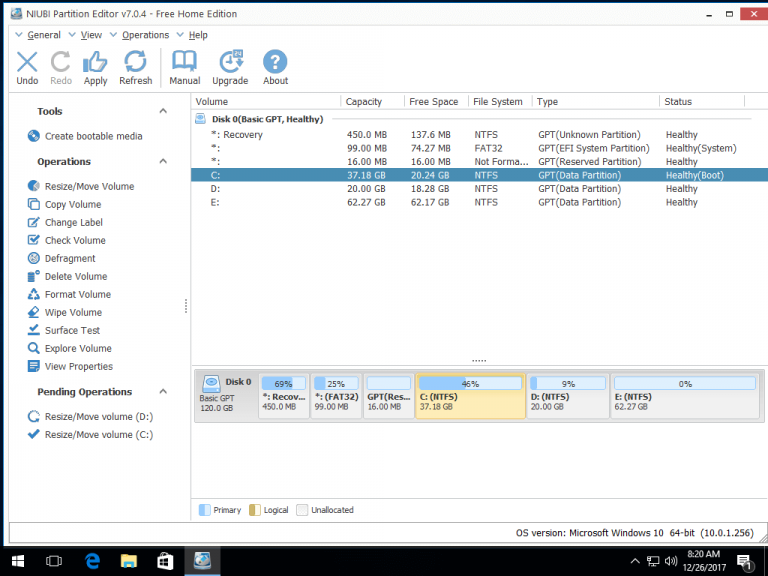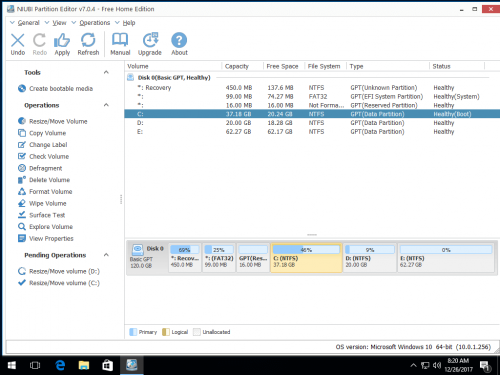 What to do if there is not enough free space in the adjacent drive D? Simply resize other volume to get free space, only one addition step to move partition is needed. Watch the video:
In this article, I introduces 3 ways to extend C: drive in Windows PC and Server. As you see, Windows DiskPart command and GUI Disk Management have many limitations, they cannot help you in most conditions. The best choice is 3rd-party partition software.
Windows built-in tools have many limitations, but they are safe if you use correctly. 3rd-party programs are easier without limitations, but NOT every program is safe. All parameters of related disk, volume and files should be modified correctly while resizing and extending. If any software error or hardware issue such as power failure occur during this operation, these parameters may not be updated or modified incorrectly, of course you'll lose data in this case.
NIUBI Partition Editor est intégré unique 1 seconde technologie de restauration which can ensure 100% system and data intact while re-partitioning. If any software or hardware issue occur, it can automatically roll back the computer/server to the status before resizing. In that case, nothing will be changed or damaged. So it is the first choice to resize and extend Windows partitions.