How to increase c drive space without data loss
Got in trouble of C drive running out of space? Worry about C drive full and Low Disk Space alert? If yes, this article will help you. With partition software, you can decrease drive D or any other data volumes to increase C drive space, without reinstalling Operating System or reformatting. However, if you can increase C drive free space without losing data, it depends on the reliability of the tool you are using. In this article, I'll show you how to increase size of C: drive safely in Windows 10/8/7/Vista/XP and Server 2016/2012/2008/2003 (R2).

Which tool to increase C drive space
Different with the read-only program, to decrease or increase partition size, all partition software will modify the parameters of related disk, drive and files in MBR, DBR and other place. So there is risk of system damage and/or data loss while repartitioning hard disk. The first and most important step is selecting a reliable and safe partition tool.
In all later versions from Windows Server 2003, Microsoft adds advanced Shrink Volume and Extend Volume functionalities in Disk Management to resize partitioned drives. Because Disk Management is Windows built-in utility, it is safe in most conditions. However, it can only help shrink or extend a separate volume. That means, if you want to shrink D to extend C, IMPOSSIBLE except that you can move Unallocated space next to C drive, otherwise, Extend Volume is disabled for C drive.
To achieve, you need 3rd-party partition software. There are many choices in the market, including free and commercial, Windows based and Linux based. The ways to resize partition are similar, but the GUI and performance are different. Above all, the data protection ability are different. Data safety is most important to both personal computer and Windows servers.
Here I recommend NIUBI Partition Editor. As the safest partition software, it can ensure 100% system and data safe while re-partitioning. Thanks to its unique 1 Second Rollback Protection technology, if any software error or hardware issue such as power failure occur, it can automatically roll back the computer/server to the status before repartitioning in ONE second.
You'll be disappointed if you think that the backup software can avoid all disaster. Imagine what you have to do if damage happens. It may costs several hours to a whole day to restore and verify data. In addition, you'll lose part of data if the backup software is not working in real time. With the help of 1 Second Rollback Protection of NIUBI, nothing will be changed or lost even if it failed to repartition due to some error. Another benefit is that the laptop, desktop or server can be back online without damage immediately.
Increase C drive free space by merging partitions
Understand the importance of data protection, it's time to start. To increase C drive free space, there are two choices: occupy free space from adjacent volume by merging C and D drive together, or shrink a volume to release free space and then add the free space to C drive.
Note: only when there is NO Windows service or programs running from volume D, you can merge the two drives. Otherwise, jump to the second method. The reason is because: all files in drive D will be moved into C drive automatically, but the services and programs in D will stop working after merging.
Steps to increase C drive space by merging volumes:
Step 1: Download NIUBI Partition Editor, right click drive D and select Merge Volume.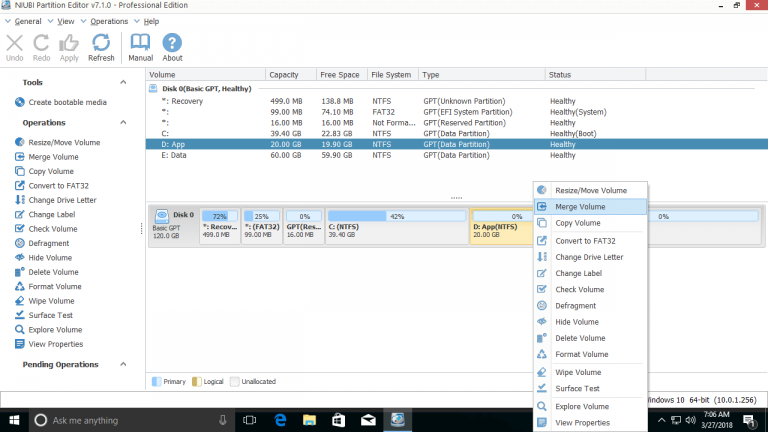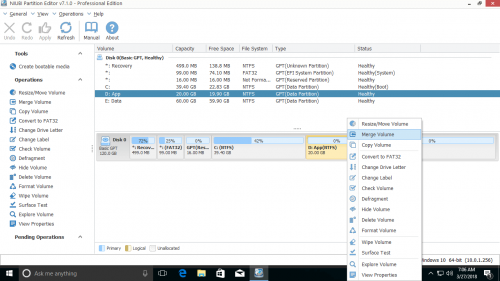 Step 2: In the pop-up window, select both drive C and D, and then click OK. (To avoid computer unbootable, merging system C drive into D is disabled by default. You can only merge D into C.)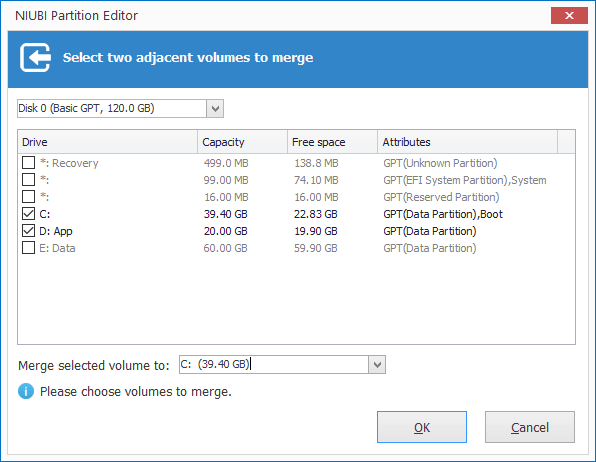 Press Apply button on top left to execute. (All pending operations listed on bottom left corner only work in virtual mode before clicking Apply).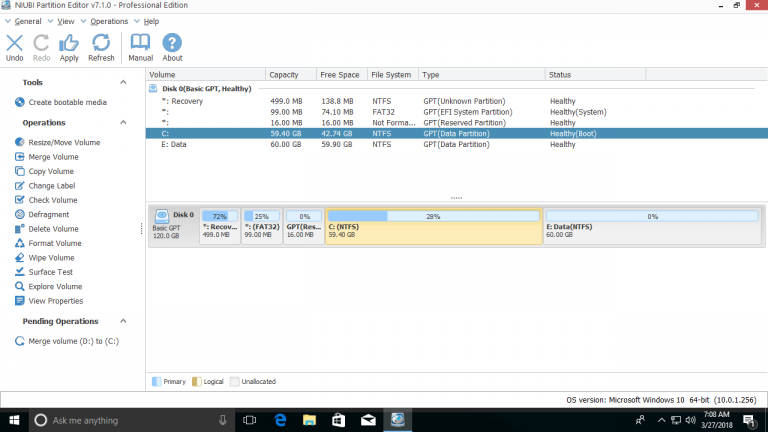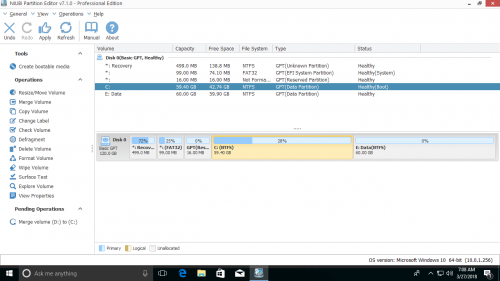 Increase size of C drive by resizing volumes
To increase C drive space, I recommend to resize volumes. As I explained above, you may transfer free space from any volumes in the same disk into C drive. You can complete this task without losing D or other volume. By this way, everything keeps the same after resizing, except that the partition size changed.
Watch the video how to increase C drive free space by resizing:
Tips: if you use Windows 10/8/7/Vista/XP (32 and 64 bit), you can decrease and increase partition size with free partition software. For Windows Server 2016/2012/2008/2003 or Small Business Servers, you need server partition software.