How to resize partition in Windows Server 2012
No matter you use Windows laptop, desktop or server, you'll encounter the annoying problem that C drive is running low on space. Windows Updates and many other kinds of files write into C drive every day, C drive will be full sooner or later. Luckily, you can resize the partitioned drive without starting from scratch. However, there are still many questions asked by the server administrators, such as: is it safe to resize server partitions, which is the right tool to resize partition on Server 2012, what is the best way to resize disk volumes. In this page, I'll show you how to resize partition on Windows Server 2012 without losing data, fast and easily.

Which tool to resize Server partition
There are two choices: Windows built-in Disk Management and 3rd-party partition software.
The benefits of Server 2012 Disk Management to resize volume is safe and fast. Meanwhile, there are many limitations that lead to third party software is still required. The typical example and most common issue of Disk Management is that Extend Volume Grayed out. To extend a volume such as C, there must be adjacent Unallocated space on the right side. However, after shrinking drive D, Unallocated space is next to D rather than C, so Extend Volume is disabled for C drive.
Third party software is much easier and without these limitations. However, you should pay attention to data safety while using partition software. Some unreliable software is data killer.
To resize volume on Windows Server 2012, for example shrinking D to extend C, the parameters of drive C and D should be modified correctly. Additionally, all files in drive D should be moved to new locations. That means, all parameters of these files should be changed, too. Any software related error or hardware issue happen while resizing volumes would cause disaster. Some parameters cannot be updated correctly, of course you'll lose data.
Search by Google or in technical forums, many people feedback damage caused by partition software, for example: system boot failure with error of missing or damaged files. Partition changed to be RAW, you cannot open it and Windows ask you to reformat.
There are large amount important files that can't be lost in the server, so back up before any operations to the server. On the other hand, because there is backup, some server administrators select partition tool casually. If damage happen, they have to waste a long time to restore everything.
To completely eradicate system damage and data loss risk, NIUBI Partition Editor brings 1 Second Rollback technology. During partition resizing, if it detects error that it cannot handle, it will cancel resizing and automatically roll back to original status in ONE second. Everything is protected and the server could back online without damage rapidly if any software related error or hardware issue occur.
To resize partition on Windows Server 2012 or 2016/2008/2003, NIUBI Partition Editor is no doubt the best choice.
How to resize Server 2012 volume
Actually, it is very easy and you just need click and drag to resize disk drives. In most of the server machines, there is another drive D behind C, so you can decrease D to release some free space and add into C drive. If you want to resize other volumes, the steps are similar.
Step 1: Download NIUBI Partition Editor Server, right click drive D and select Resize/Move Volume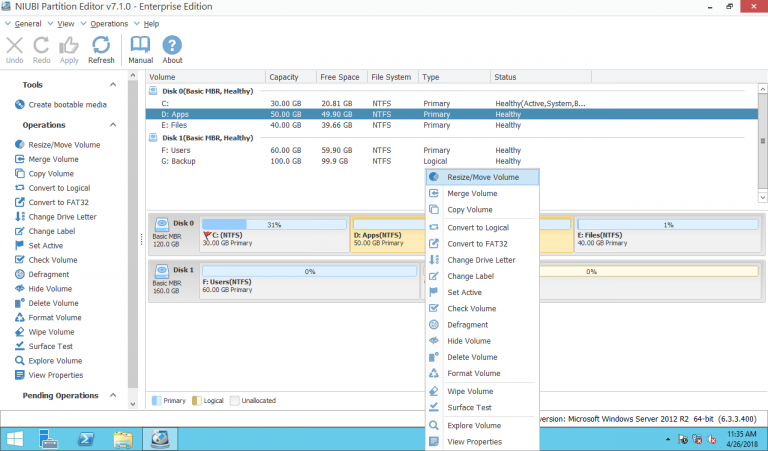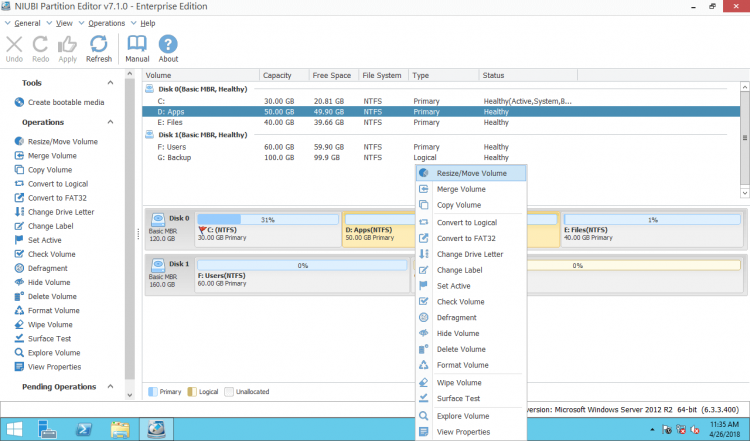 In the pop-up window, drag left border rightwards to shrink D.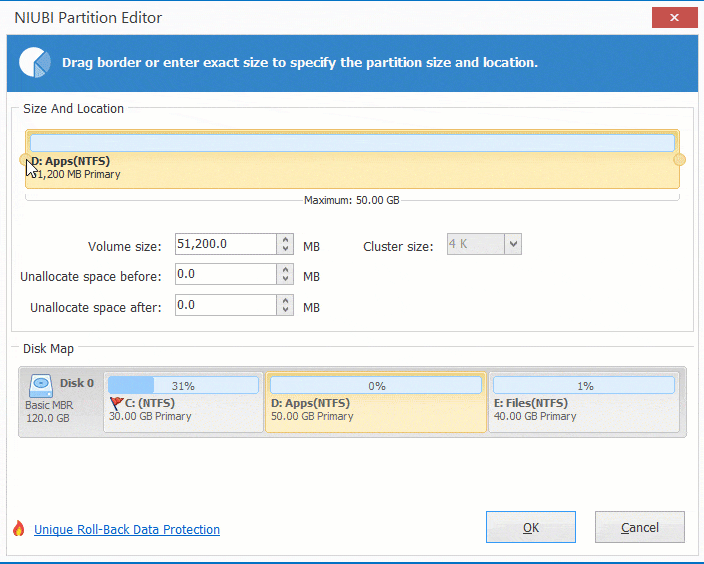 Step 2: 20GB Unallocated space is generated behind C: drive. Right click C drive and select Resize/Move Volume again.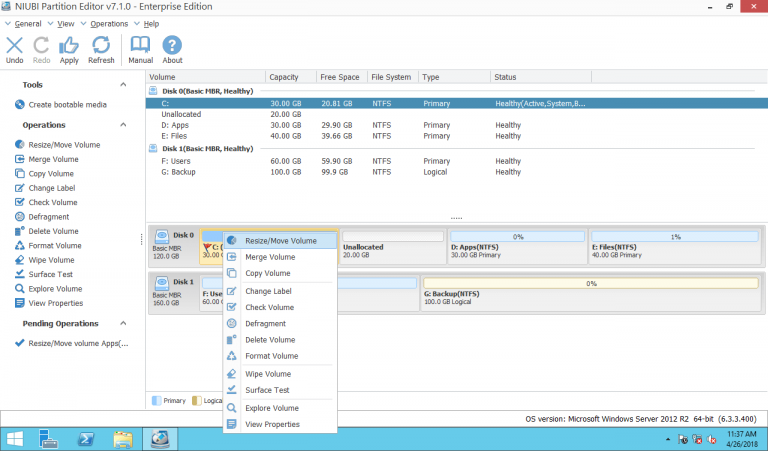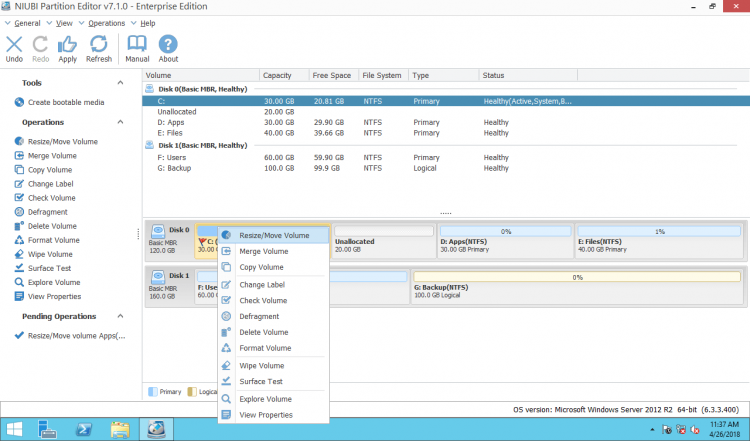 In the pop-up window, drag right border rightwards to combine the Unallocated space.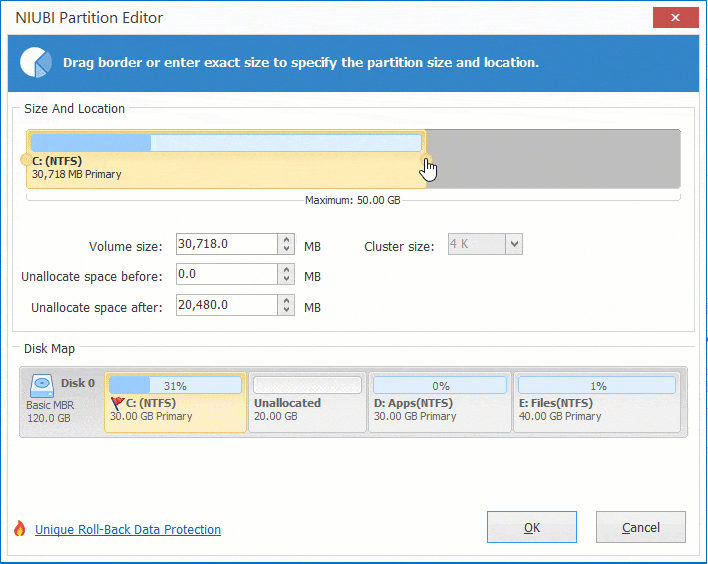 Step 3: C drive is resized to 50GB by adding the 20GB Unallocated space. Click Apply button on top left to execute, done.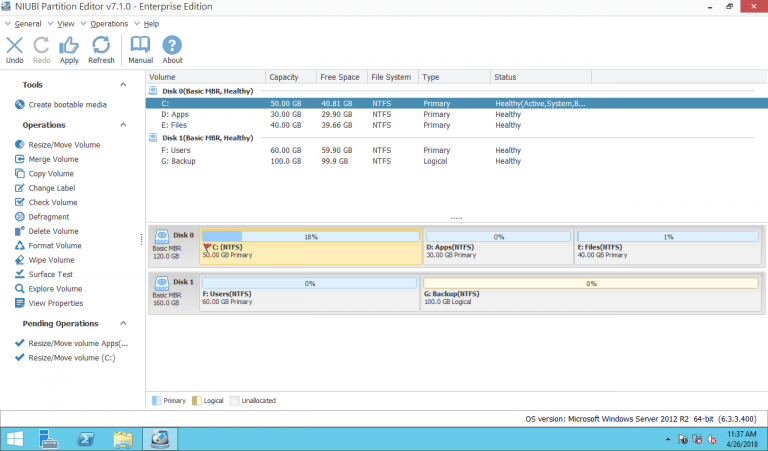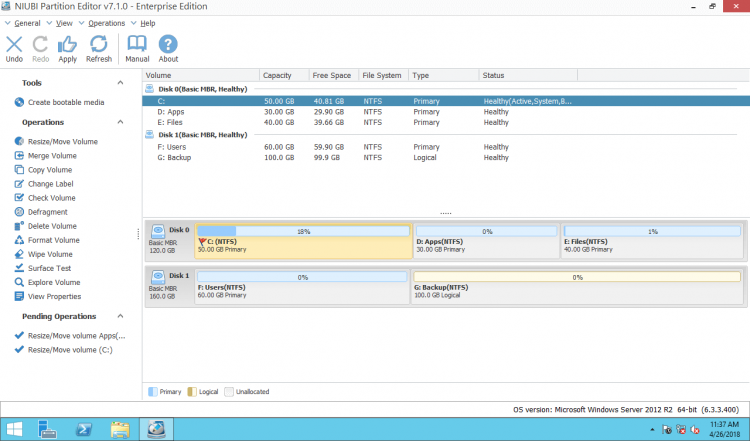 Tips:
To avoid mistake, the operations won't be done immediately. To resize physical disk partition, you should click Apply to confirm.
You can cancel and redo the pending operations before clicking Apply.
The pending operations with  can be done in Windows without rebooting server.
Video guide of resizing partition on Server 2012
If there is not plenty of free space in adjacent drive D, you can get from any other volumes in the same disk, just additional step to move partition is needed.
If you use hardware RAID such as RAID 0, 1, 5, 10, do NOT break the RAID array or do other operations on the raid controller, just follow the steps above.
Besides resizing and moving disk drives, NIUBI Partition Editor can merge, convert, copy, defrag, wipe, active, label, scan disk partitions and much more.