Combine disk partitions in Windows Server 2019
If you created too many drives when installing Operating System, you can merge partitions together without reinstalling. When some drives are getting full, you can merge them with other drives to increase free space, however, it is not suggested to merge C and D drive. In this article, I'll show you two methods to combine partitions in Windows Server 2019.

Merge partitions with Disk Management
In Windows Server 2019, you can merge disk partitions without software. The native Disk Management has Extend Volume function which can be used to merge volumes easily.
Note: When merging 2 drives, one of the drive will be deleted, so remember to transfer or back up files before this operation.
Steps to merge partitions in Server 2019 Disk Management:
Right click Windows flag on bottom left and select Disk Management.
Right click drive F and select Delete Volume.
Click Yes to confirm this deleting operation.
Right click drive E and select Extend Volume.
Click Next in the Extend Volume Wizard.
Select available disk space and click Next.
Click Finish to start merging.
In a short time, the disk space of drive F is combined to E.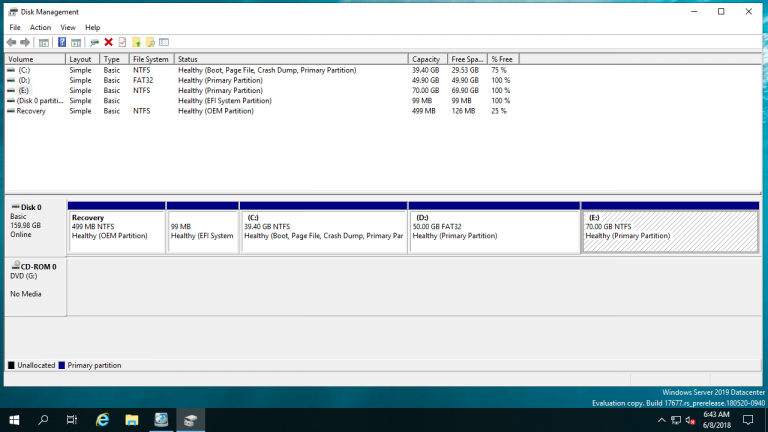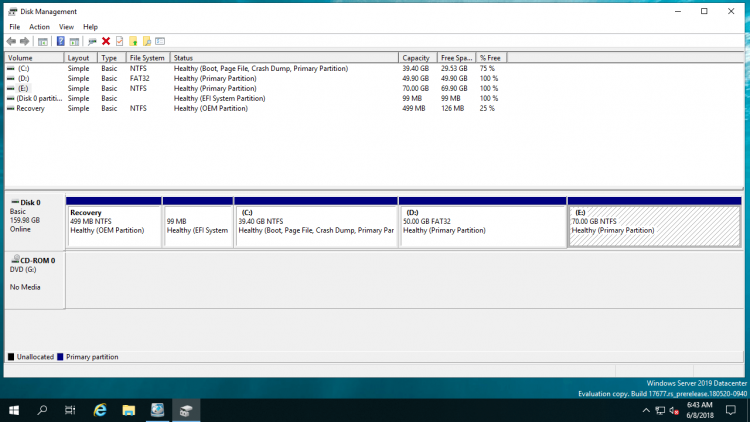 It is not difficult to merge Server 2019 partitions, but there are many steps. Furthermore, you can merge drive F into E, or E to D, but you cannot merge drive D to E, or E to F in Disk Management.
Merge volumes with partition software
As the most popular Windows partition software, NIUBI Partition Editor helps you merge partitions, resize and manage disk drives easily. Comparing with Disk Management, NIUBI Partition Editor has advantages while merging disk partitions:
Much easier and only several clicks are required.
All files in the partition can be moving to the other one automatically.
Two adjacent partitions can be combined to each other.
Steps to combine partitions in Server 2019 with NIUBI:
Download
NIUBI Partition Editor, right click
either
drive F or E and select
Merge Volume
.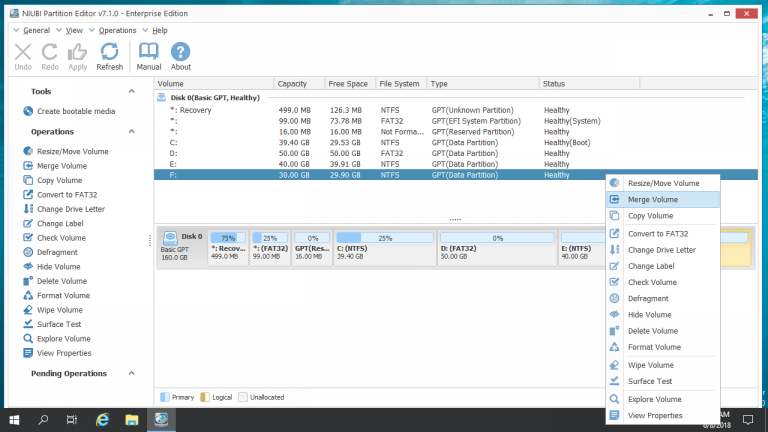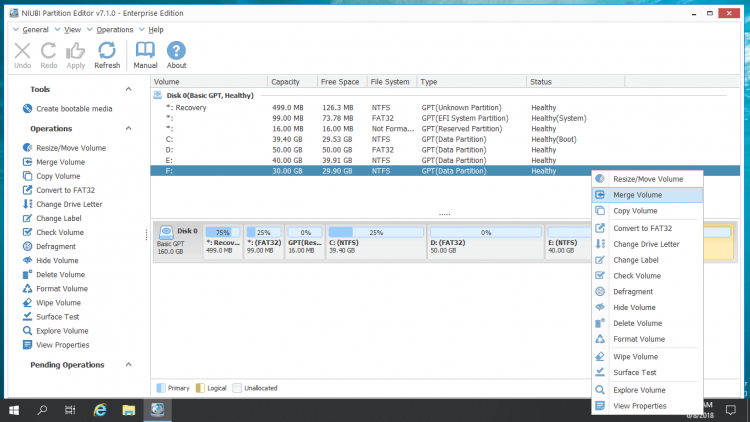 In the pop-up window, click the check-box in front of both drive F and E, and then select the destination.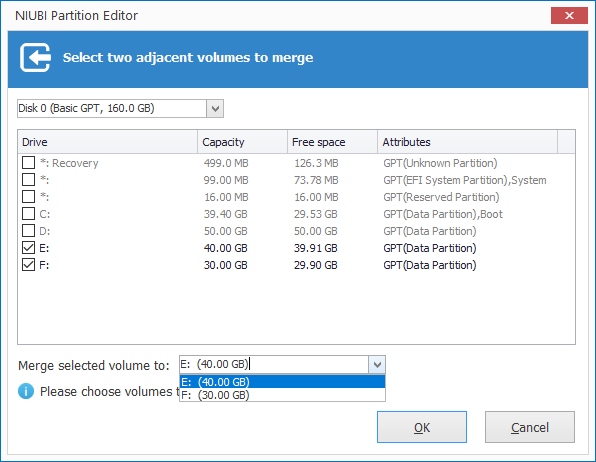 Click OK and back to the main window, there is a pending operation (Merge volume F: to E:) created on bottom left, click Apply on top left to execute.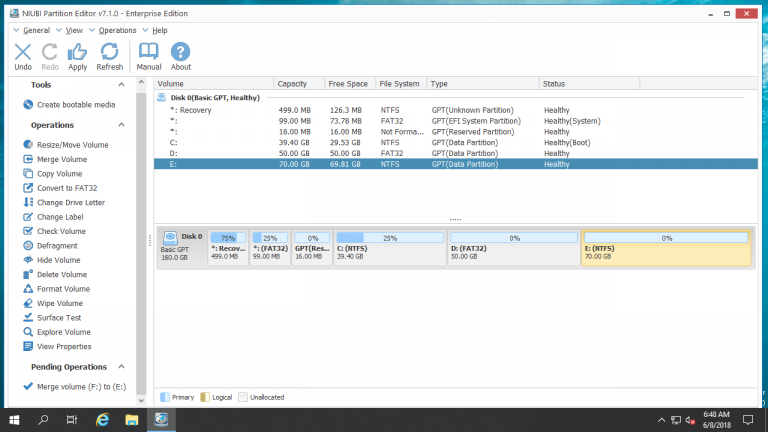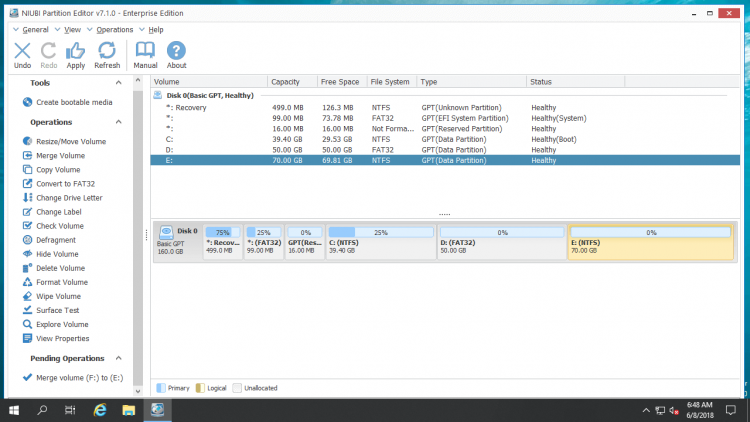 Open drive E after merging operation complete, there is a folder named as "F to E(date and time)", all files in original drive F are moved to this folder automatically.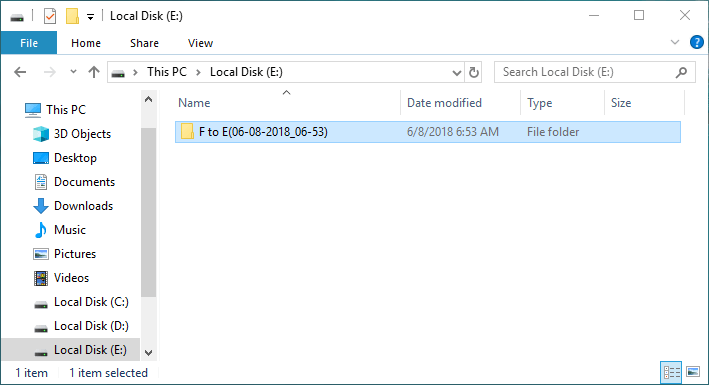 Better idea than merging disk drives
No matter you use Windows Disk Management, NIUBI Partition Editor or any other tools to merge partitions in Windows Server 2019, there is a disadvantage: one of the drives will be deleted. It is okay to merge two data volumes, but it is not a good idea to merge D to C drive. All programs or some Windows services are installed to drive D, so these programs or services stop working after deleting this partition.
If you want to extend C drive, you can shrink D or other drive without deleting, so everything keeps the same. Watch the video how to do this:
All files of the server are stored in the hard disk or virtual disk with RAID array, so you should take care of the disks and files. Though all servers are equipped with backup software, you'd better use safe partition software to merge, resize partition or do other modification, because it costs a long time to restore if any damage occur.
As the safest partition manager software, NIUBI Partition Editor is integrated with unique 1 Second Rollback technology to ensure system and data intact. If any software error or hardware issue occur, the server could roll back to original status and back online without damage automatically and rapidly.