Hard drive clone software is very useful if you want to replace the old hard disk or transfer file to another hard disk. Some users clone hard drive as backup, if the original disk crashed, they can replace the disk and restore back entire PC, including the OS plus the data, applications, pictures, video, financial documents, settings and everything like the old hard disk data very fast. Do you need drive clone software, do you know the difference among disk clone software?
Two types of drive clone software
Sector by sector clone software
This is the traditional disk clone software, but it is still useful nowadays. By sector to sector drive clone software, you can copy every sector from the old disk drive to the new one. After clone, the sectors on the target disk are absolutely the same as the source drive.
Advantage of sector by sector drive clone software
This disk clone software is most useful if you want to recover files, especially when the old disk has bad sector or other problem. If you try to recover file or read from the old disk frequently, it may cause more bad sectors.
Disadvantage of sector by sector clone software
The disadvantage is that the cloning will cost longer time, as there are so many sectors on a hard disk drive. Another problem is, if you clone a smaller disk to a larger one, the remaining space on the target disk will be unallocated.
File by file drive clone software
Different with sector by sector drive clone software, file by file clone software will collect all files information through file system, and then write the files to the target drive, after that, update the file system. To the single file, it may stores in different space on the target drive.
The advantage is that the cloning is much faster, but it cannot be used to help recovering files.
To a computer user, you cannot see the difference visually, but you need to figure out the difference and choose right drive clone software when you need it. There are many free drive clone software and I collected some below.
Free drive clone software – sector by sector
EASEUS Disk Copy is a cross platform disk cloning software that creates sector by sector clones of partitions or hard disks, independent of operating system, file systems or partition scheme. This free disk copy software can run as bootable CD or DVD. Plus more, the backup and restore data process is pretty straightforward including a very detailed help section that will walk you through every aspect of the program.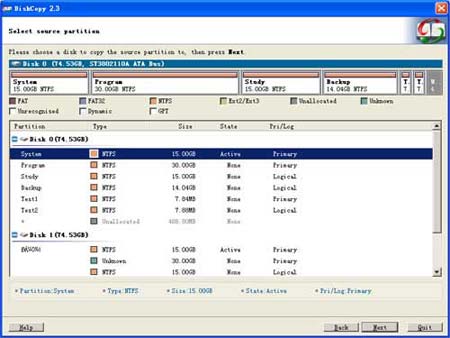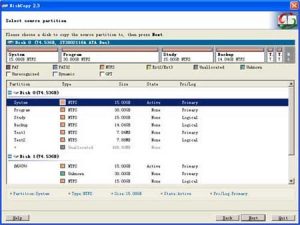 Open source clone hard disk software that able to clone and restore hard disk completely either run as bootable disk cloning CD or network edition. It has a simple interface to initiate or restore a backup. Plus more, it can support for a multitude of file systems such as ext2, ext3, xfs, FAT, NTFS, and HFS+, ensuring you'll be able to back up any Windows, Linux, or Mac systems you have.
Meanwhile, the data backup can store on remote storage or internal storage with compression option to compress the size of the data images.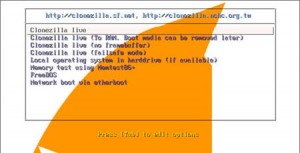 Free drive clone software – file by file
XXCLONE is Windows disk cloning software that able to copy the whole Windows NT, 2000, or XP system volume to another disk that will be ready to boot without a restoration step. Plus more, it can perform full backups on non-system volumes.
XXClone interface is basic and clear. When started, the tool scans for available volumes and you can then choose a source and target volume from these.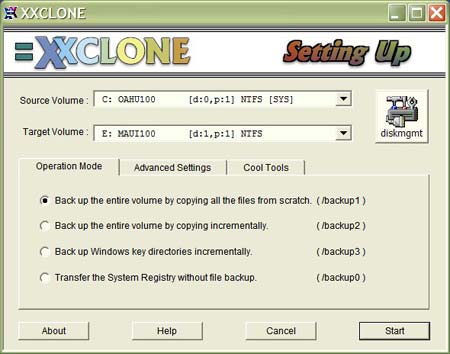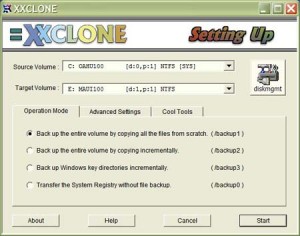 HDClone Free Edition is a free disk cloning software that supports IDE/ATA/SATA hard disks only. The disadvantages of HDClone Free edition is limited 300 MB per minute restriction and use for home user only. Besides copying complete drives, it is also possible to apply it to certain partitions only.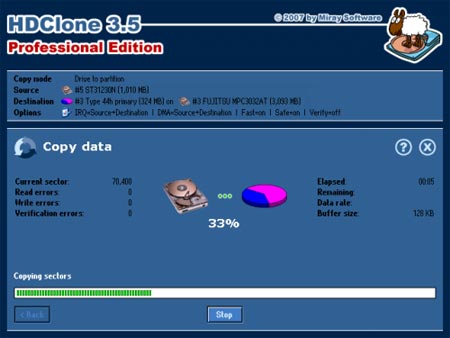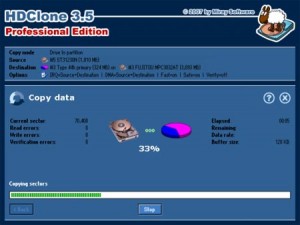 Some disk partitioning software provides drive and partition copy feature, for example EASEUS Partition Master Home edition, Partition Wizard Home edition.
I hope the above free disk cloning software can assist you cloning and restore your hard drive easily. If you having using other disk cloning software to clone and copy your hard drive and should include on the disk cloning list. Let us know in the comments.