Short introduction about RAID
RAID, short for Redundant Array of Independent (or Inexpensive) Disks, a category of disk drives that employ two or more drives in combination for fault tolerance and performance. RAID disk drives are used frequently on servers but aren't generally necessary for personal computers. RAID allows you to store the same data redundantly (in multiple paces) in a balanced way to improve overall performance which offers superior performance, storage capacity and reliability over older storage solutions. There are numbers of different RAID levels and RAID 0, RAID 1, RAID 5, RAID 10 are common.
Choose right RAID Clone software to clone RAID virtual drive
There are many kinds of raid clone software, including free and commercial software. On the vendors' site, they may list so many features even for a free raid cloning software. You'd better consider whether this RAID cloning software is fit for your needs. Especially for Servers, a bad raid clone software may cause problem worse. Then how to choose the correct raid cloning software? If you use Windows operating system, to clone raid virtual drive, you need to operate in Windows or by WinPE bootable CD/DVD. Many DOS or Linux-based cloning software doesn't support RAID.
RAID cloning software with multiple cloning methods
Among the Windows-based raid cloning software, you'd better choose the one which provides multiple cloning methods, such as partition resizing feature, because the target physical hard disk or raid virtual drive capacity is always different with the source.
How to clone RAID array virtual drive on Windows Server 2008/2003/2000?
Please note, to Windows Operating System, the RAID array virtual drives are the same with physical hard disks after building the RAID array. It is also the same to clone RAID drive as physical disk. The difference is, if you want to clone to a RAID array, no matter from a hard disk or another RAID array, you should config the targe RAID array before cloning. No matter you use RAID 0, RAID 1, RAID 5, RAID 10 or other types on Windows Server 2008, or 2003, the operations to clone RAID array virtual drives are similar.
Steps to clone RAID array.
Step 1. Check under Disk Management which RAID array virtual drive you want to clone.
Please note: A RAID virtual drive is displayed as Disk (X), which is the same as a physical hard disk drive. You'd better run your RAID utilities from BIOS or in Windows to check more detials. From the parameters such as the disk capacity, you'll know which Disk is your RAID 1, RAID 5 or other types.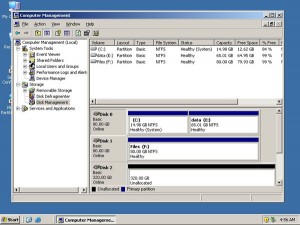 Step 1, Launch disk copy feature of Partition Magic Server from menu "Wizard" > "Disk Copy Wizard", Select a copy method and click "Next".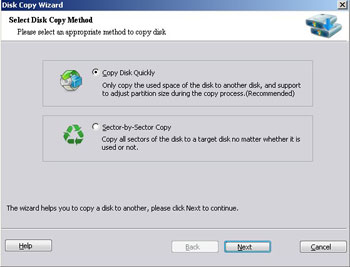 Step 2, Select source disk to copy from.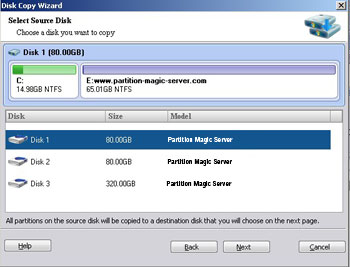 Step 3, Select targe disk to copy to.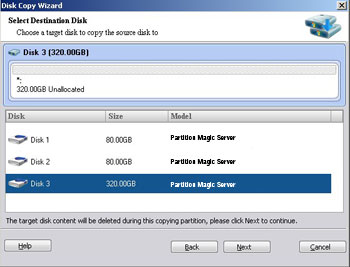 Step 4, select a way how to copy the disk layout.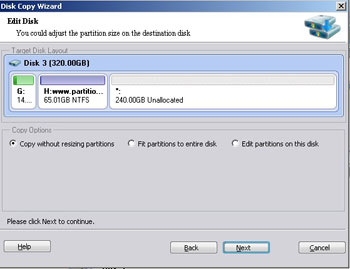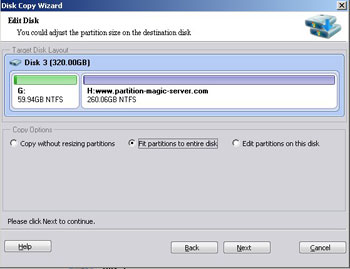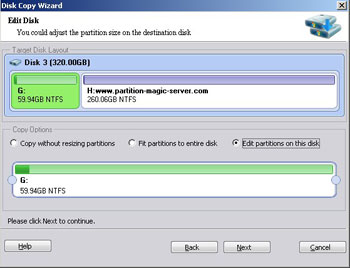 If you need to change the partition size on target disk, you may select either partition to edition (Drag left or right border).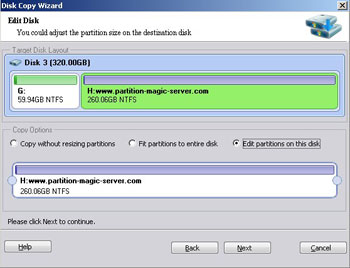 Some people have special requirement to copy RAID array or physical disk drive sector by sector. (more about disk sectors) They may consider Windows boot or data integrity, yes, by this way, both the target and original are absolutely the same, but it costs a long time, as there are so many sectors in a disk partition.

The fast clone is recommended, which is based on file system and that is file to file, it is much faster and also guarantee successfully boot to desktop and ensure data integrity.
RAID cloning is just one small feature of Partition Magic Server, it also helps you resize, move, merge, extend system or data partition without deleting or formatting. Please note: This product is commercial, if you need it, you have to pay, but you may download this server magic free to try.