A disk defragmenter is a key toolkit element for keeping your PC running optimally. Disk fragmentation occurs through normal everyday use of your PC; over time your system becomes unable to store related data on your disk in a sequential (contiguous) manner, and must "fragment" files across different physical locations on your hard drive. This increases the number of times your hard drive must spin (or "seek"), which slows down the process of reading and writing files. Defragmentation software compresses files and free space back into contiguous blocks.
We have introduced two free defragment software before.
Top 5 HDD defragment software – part1
Top 5 HDD Defragment Software – Part2
Today we'll introduce the rest of the top hard drive defragment software.
A great free program here is MyDefrag, which is actually the successor to a very popular program called JkDefrag. JkDefrag has been a favorite among many computer users for years. It provides stability and performance within a very lightweight package. I've been folowing MyDefrag since its beta, and I have been very impressed with the software.  Aside from the Slow Optimize, all the processes run very fast. With other defragmenters, I was always irritated because no matter how many times I would defragment, upon analyzing afterwards, I would still have fragmented files that refused to defragment. MyDefrag completely solved the problem for me. Those stubborn files were ironed out and in my testing I personally saw increases in disk performance.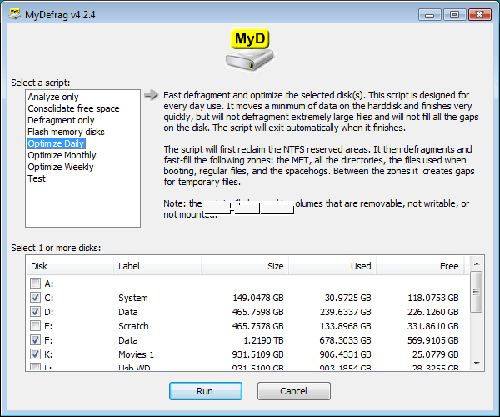 To go along with MyDefrag, there is an excellent addon dubbed "MyDefragGUI." MyDefragGUI provides an enhanced graphical user interface for MyDefrag. It allows the user to access all the advanced features of MyDefrag in one easy console. If you use MyDefrag, then you know that instead of a GUI (graphical user interface) MyDefrag instead uses a series of start menue entries. For those of us who feel uncomfortable with that method, MyDefragGUI provides an excellent alternative.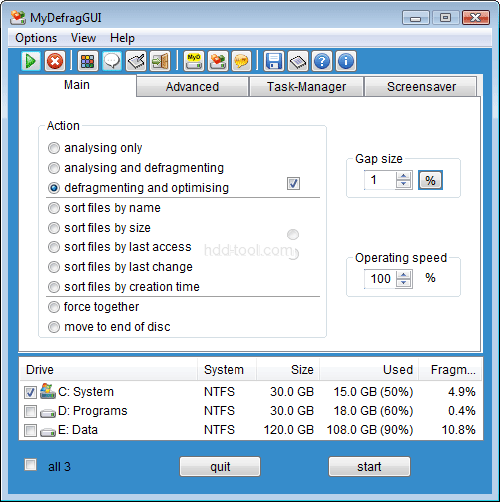 Auslogics Disk Defrag is not just a defragmenter any more, but a fully featured disk optimizer. And with all the advanced techniques of disk optimization it has, Disk Defrag 3 remains extremely compact and even easier to use!
Auslogics Disk Defrag features:
Free space consolidation
System files smart placement
Keeping the MFT Reserved Zone Clear
Enhanced user interface
List of fragmented files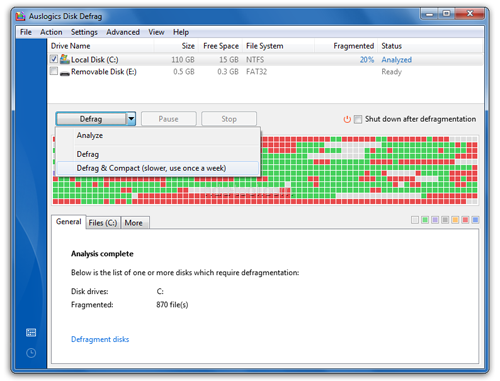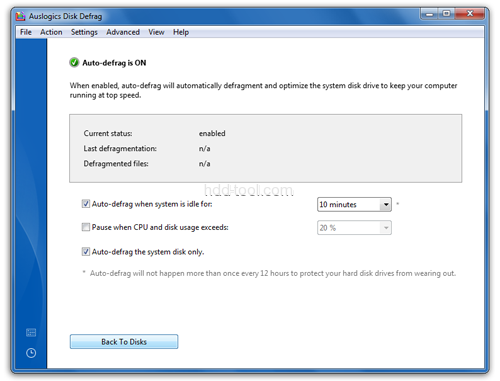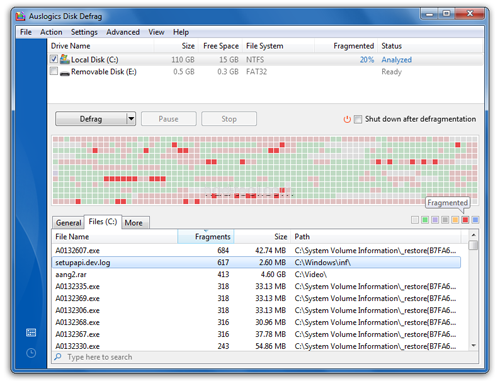 Get what you need about hdd tool, pc utilities