Modern hard drives are much more reliable than the disks of yesterday. However, they still are extremely complex electronic devices with moving parts that are subject to amortization. The high density of data storage provided by the modern disks allows for greater storage capacities and higher access speeds. However, with densities and capacities pushed to the extreme you have much more to lose should the drive fail. The hard drive is the most important component in your entire PC because it holds all that is of real value: your documents, digital pictures, email messages, your work and private data.
Can You See the Warning Sign?
Luckily, today's hard drives rarely fail without a warning given well in advance. All modern disks are equipped with a feature called S.M.A.R.T. that allows real-time analysis and reporting of any developing problems and potential issues. The big question is: can you read the warnings?
Microsoft Windows, including the new Windows 7, does not bundle any tools that can access this data. It's been long ago since hard disk manufacturers offered software with their drives that could warn you of a developing problem; but not anymore.
Best HDD monitor software
HDDlife Pro is a hard drive monitor that gives users warning disk failure. HDDlife reads S.M.A.R.T. data from all of your hard drives and allows you to see clearly the health and resources of your disks.
No need for lengthy surface scans! The trademarked JustNow™ technology will detect the health of your drives immediately after you run HDDlife for the very first time.
HHDDlife has a highly customizable list of warnings. When your hard drive's reliability degrades to a certain level, HDDlife will promptly display a warning message. A tool tip near the system clock usually works best, but you can choose among several types of warnings.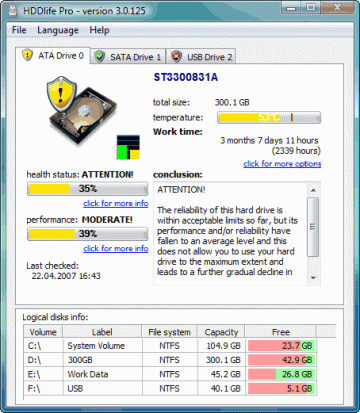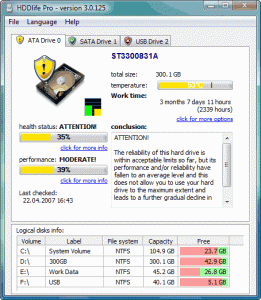 What does HDDlife do?
Control the health of your hard drives with the S.M.A.R.T. technology and warn you about potential problems the moment they start developing
Monitor all your hard drives in the background – all the time!
Support external USB disks.
Display the drive's health, temperature, resources and free space.
Display hard disk activities in the system tray, Windows Vista Sidebar and Google Desktop.
Stellar Smart is an application which acts as an "Early Warning System" for forthcoming hard drive problems. This software is based on SMART or Self-Monitoring Analysis and Reporting Technology.
The integrated controllers of the hard drive works with several sensors for monitoring different aspects of the hard drive performance and determines determine whether the drive is working properly or not.
This influential hard drive monitoring software provides the current statistics of several hard drive parameters like hard drive temperature, spin-up time, head flying height etc. and compares these data with the threshold value below/above which the hard drive is likely to fail.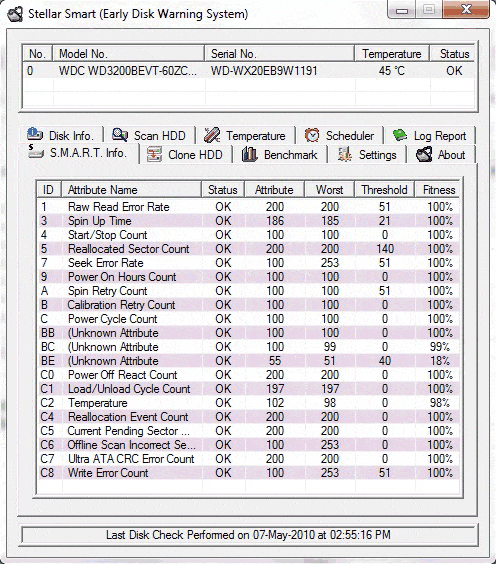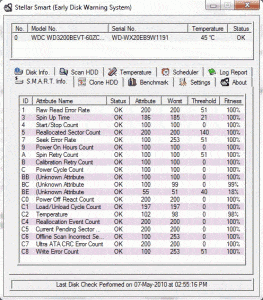 If, at any moment, one or more of the current values equals or exceeds the threshold value, the software shows the warning messages of forthcoming problems with the hard drive.
The primary principle of SMART is that several hard drive problems do not happen suddenly. They result from a slow filth of several electronic or mechanical components. The hard drive parameters generally exhibit a gradual, detectable refuse in performance and it is when the parameter's value approaches its security limit then the Stellar Smart issues a warning.
Key Features
Runs constantly in the background, thereby providing real-time information about the condition of the hard drive / disk(s)
Provides standard hard disk information such as Serial/Model Number, Number of cylinders, and so on
Provides information on various hard disk attributes and also displays their fitness level
Able to scan and display bad sectors on hard disk(s)
Scheduler to configure software parameters such as Temperature Warning, Temperature Update, and Log Scheduling
Maintains log reports of disk scans, disk status and so on
Can clone hard disks (that is, it can paste the contents of a potentially fatal disk onto a healthy disk)
Provides graphical comparison of temperature fluctuations in relation to warning / shutdown levels
Displays real time 'Benchmark' graph showing the Hard Disk data transfer rate and CPU usage
Can test any IDE/SATA disk
Simple and easy to use, with no loss in system performance