OCZ has a sub-$100 SSD offered as a netbook, laptop and desktop hard drive replacement.
It only comes in a 32GB capacity for now, using multi-level cell (MLC) NAND, and has a SATA II interface, TRIM support so it works better with Windows, and poor-to-respectable performance. The read speed is up to 125MB/sec with writing peaking at 70MB/sec.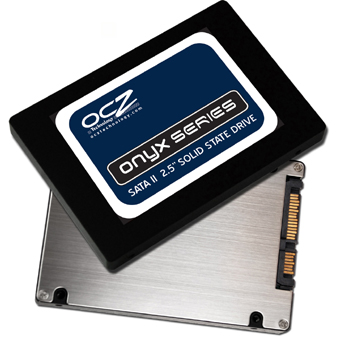 There is a 64MB cache and some form of wear-levelling, described opaquely as "unique performance optimisation to keep the drives at peak performance over the long term". There is a three-year warranty and a 1.5 million hours MTBF (Mean Time Before Failure) statistic.
If we compare it with OCZ's Vertex range we find a 30GB MLC vertex costs about $130 from an e-tailer and delivers up to 250MB/sec read and 180MB/sec write speed. It too has a 64MB cache and the SATA II interface. Assume the Onyx's sub-$100 price point is actually $99.99 and you're getting half the read speed and less than half the write speed for a $30 saving.
The lower the Onyx's street price goes the better this deal gets.
WD's recently introduced SiliconEdge Blue product has its lowest capacity point at 64GB, reads at up to 256MB/sec and writes at up to 170MB/sec, and is priced at $279 for the 64GB product.
At the other end of the scale is SuperTalent's SuperSpeed USB 3.0 SSD. which is expected to come in around $70 for 64GB. It has a 125MB/sec peak writing speed and a write speed up to 50MB/sec. There's a question mark over whether we need both SATA II and USB 3.0 for SSD interfaces, and if one predominates which one will it be?
The Onyx and SuperSpeed products are Ladas compared to WD's Porsche, but both are still faster than a hard drive. How will Onyx compare to SuperSpeed? It will be interesting to see what the product reviewers say. ®
Original post:http://www.theregister.co.uk/2010/03/12/ocz_onyx/