A Better defrag
PerfectDisk 10 is a nifty new program that I've been testing out extensively over the past few days. Essentially, it is a defragment program, and one might say "Well, Windows already comes with a way to defrag my hard drives, how much more can this do?" PerfectDisk 10, however, is the defrag equivalent to a Harvard student on a caffeine high before his finals. This program far exceeded any hopes I formerly had of any defrag software.
PerfectDisk 10 Professional is the version I've been working with, but each edition does virtually the same thing, with the only major exceptions being various versions are designed for larger servers, businesses, etc.  When I first installed PerfectDisk, it gave the options of running the defrag on a certain time schedule (whether I was using the computer or not), only when the computer is showing the screen saver, or when the computer is idle. I chose the idle option first, and subsequently allowed it to run one full time. The process was quick, much quicker than the basic Windows Defragmenter, and the data it reported to me was shown in easy-to-understand, concise maps, keys, and graphs. Everyone likes graphs: they make life easier.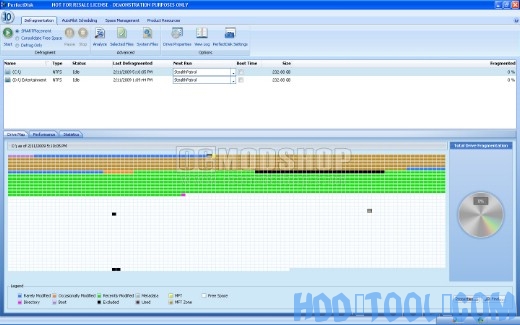 Key Features
Keep your computer running like new. PerfectDisk 10 Professional's industry-leading defragmenting features speed up everything you do, from browsing the web to downloading music and editing pictures. Plus, you'll see faster machine boot times and fewer software crashes and hangs.
Patented SMARTPlacement – A Smarter Defragmenting Process
PerfectDisk 10 Professional's patented SMARTPlacement feature is the most sophisticated defragging solution available. It identifies the files you use most and then organizes them according to your unique usage patterns. This comprehensive process yields faster subsequent defrag passes, quicker computer boots, slower rates of fragmentation, reduced resource consumption and improved performance of desktops and laptops.
Complete Free Space Consolidation
Get the largest piece of consolidated, contiguous free space possible. PerfectDisk 10 Professional's exclusive Space Restoration Technology ensures that new files are created contiguously. This combined with industry-leading SMARTPlacement defrag features means optimal performance of desktops and laptops.
AutoPilot Scheduling
Defragment your systems according to your unique operations and needs. Daily, weekly, or when the screensaver is on. AutoPilot Scheduling let you defragment your PCs and laptops according to your unique needs.
Defrag During System Idle Times with Automatic StealthPatrol
Work uninterrupted. Helping your office work at optimum efficiency, PerfectDisk 10 Professional's new StealthPatrol feature lets you schedule defrags only during computer idle times.
Single-pass Defrag
Unlike typical defraggers, PerfectDisk 10 Professional completely defrags your virtual drives (all files and metadata) and consolidates free space in just one pass – no matter how large or fragmented the system. With revolutionary minimal-free-space requirement, you can defrag an entire drive with as little as 1% free space.
Selected Files Defrag
PerfectDisk 10 Professional innovative Selected Files Defrag feature gives you complete control over the files you defrag – from a single file, to selected files, to the entire drive.
Full-Scale Central Management Options
Manage defragmentation seamlessly across your entire enterprise. Add the PerfectDisk 10 Enterprise Console (sold separately) for enhanced deployment, scheduling, reporting and virtualization capabilities – all accessed through a simple administrative interface.