How to fix Extend Volume disabled in Windows PC and server
Most of the computer users encountered the low disk space issue, especially for system C drive. Windows Updates, programs and many other types of files write into C drive every day, so of course it will become full. If it happens in Windows XP, you have to start from scratch to reinstall Windows. Maybe Microsoft found this defect, so it added the ability to shrink and extend volume in Disk Management from Windows Vista. It is a good start but most of the disk space issue still cannot be fixed. When C drive is running out of space, it cannot be better to shrink D and expand C drive, right? Unfortunately, after shrinking volume D Extend Volume option is disabled for C drive, of course you cannot extend C drive with this function.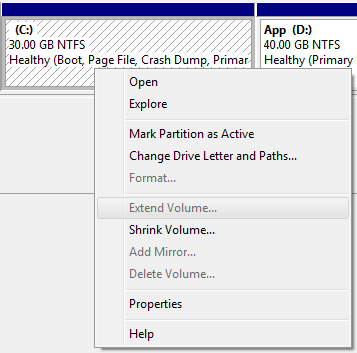 In this article, I'll explain why Extend Volume is disabled in Windows 10/8/7/Vista and Server 2016/2012/2008 (R2). In addition, I'll show you 1 step method when Extend Volume is unavailable in Disk Management.
Extend Volume option is disabled in Disk Management
There may be several situations that cause Extend Volume option disabled and I'll explain one by one.
1. No Unallocated space
Unallocated space is part of the disk space that not used by any volume, it can be used to create new volumes. The theory of extending partition is by combining the Unallocated space.
Some people who are not familiar with computer usage do not know about this. They see the Extend Volume function from somewhere and begin to extend a volume directly. In this situation, Extend Volume of course is disabled.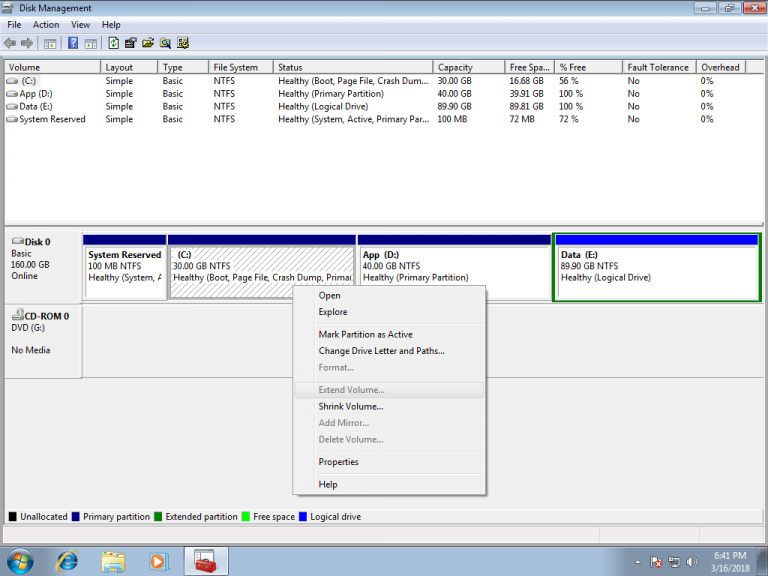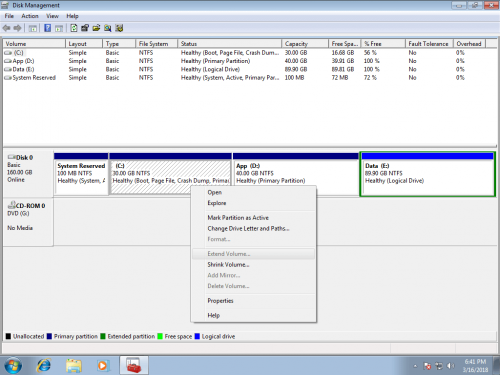 2. No adjacent Unallocated space
To most of the computer users, they know how to shrink and extend a drive in Disk Management. In most cases, they want to expand C drive, so they shrink the adjacent volume D to get some Unallocated space.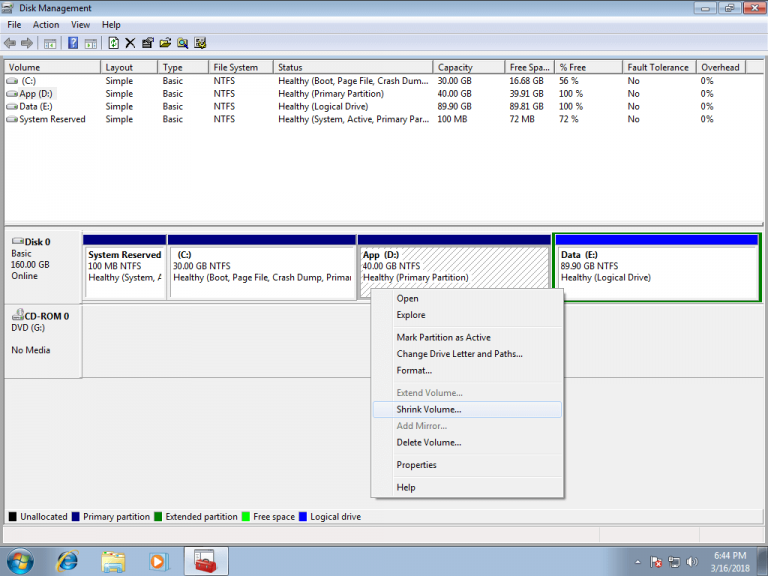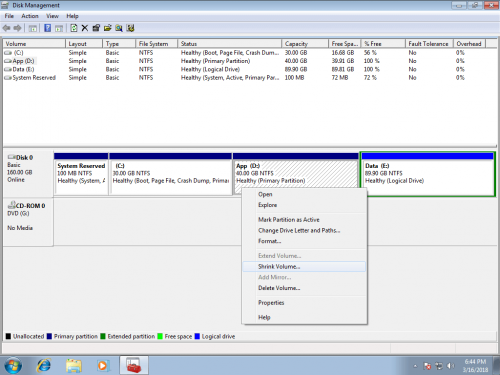 However, Disk Management still do not allow to extend C drive.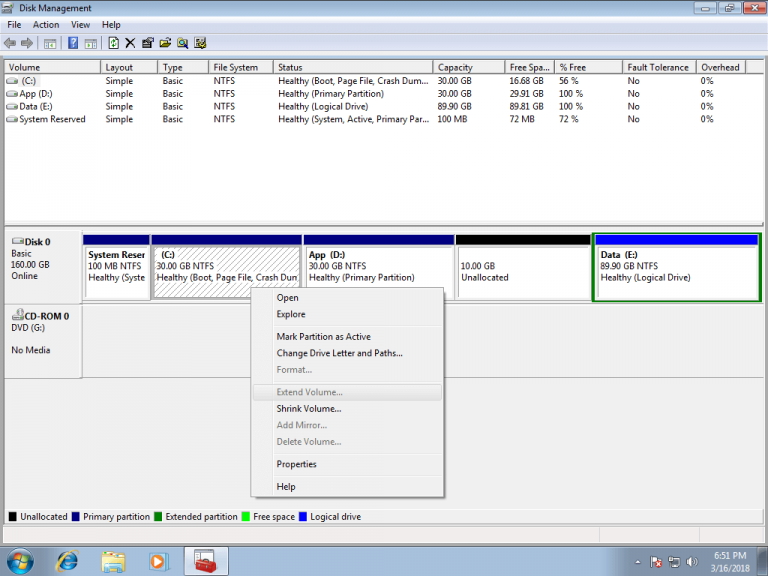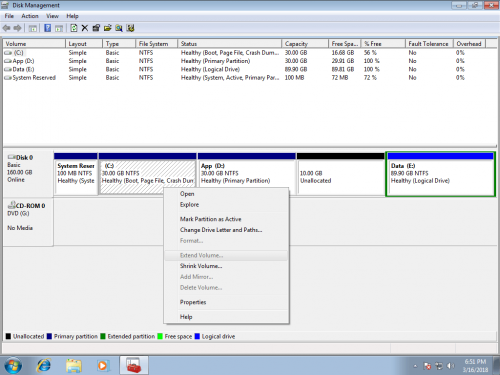 3. Cannot get Unallocated space
As Extend Volume still doesn't work, some people wonder whether it is possible to delete drive D to get adjacent Unallocated space. It works but I do not suggest, because all Windows services and programs running from D stop working after deleting it.
Actually, you cannot get adjacent Unallocated space even if you delete volume D in some situations, especially in Windows 7,8 and Vista, for example: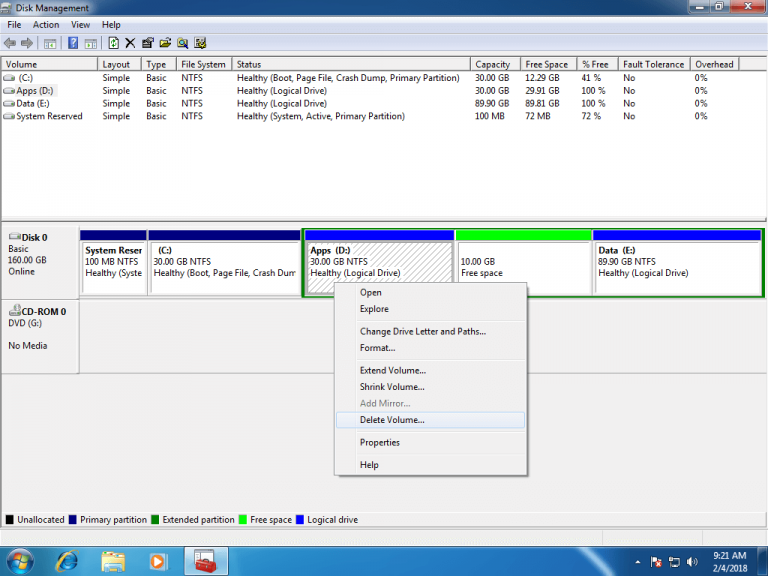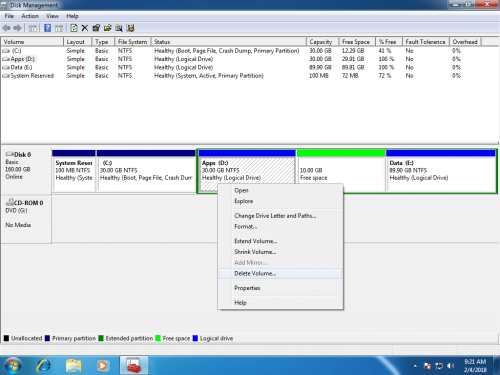 Have you found the difference with the screenshots in section 2? The disk space of D displayed as Free instead of Unallocated after deleting. In this situation, extending C drive is disabled, too.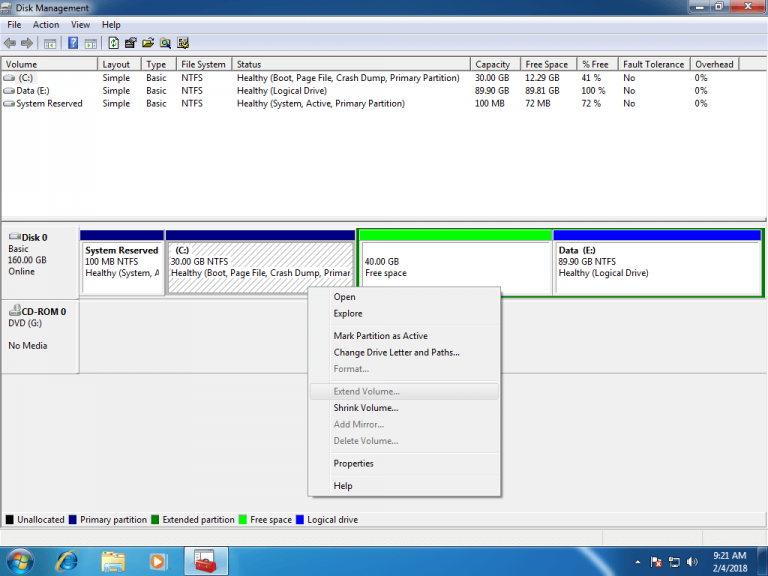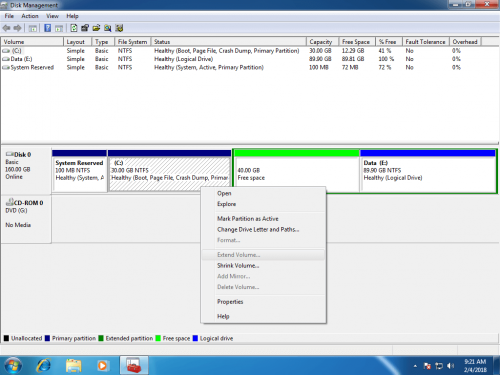 If you want to convert the Free space to Unallocated, you must delete another Logical drive E and the entire Extended partition.
Then what are the possible reasons that cause Extend Volume disabled for C drive?
Why Extend Volume is disabled for C drive
Here I listed 3 most common reasons why Extend Volume doesn't work:
FAT32 partition cannot be extended, Extend Volume is only valid for NTFS or RAW partitions.
Only when there is adjacent Unallocated space on the right side, you can extend a volume.
If the adjacent volume D is Logical partition, you have to delete it and all other volumes in the Extended partition.
It is really troublesome, right? Luckily, there is an easy way to get out of this trouble, you just need to move partition rightwards.
1 step to fix Extend Volume disabled in Windows PC and server
Download
NIUBI Partition Editor, right click volume D and select "
Resize/Move Volume
":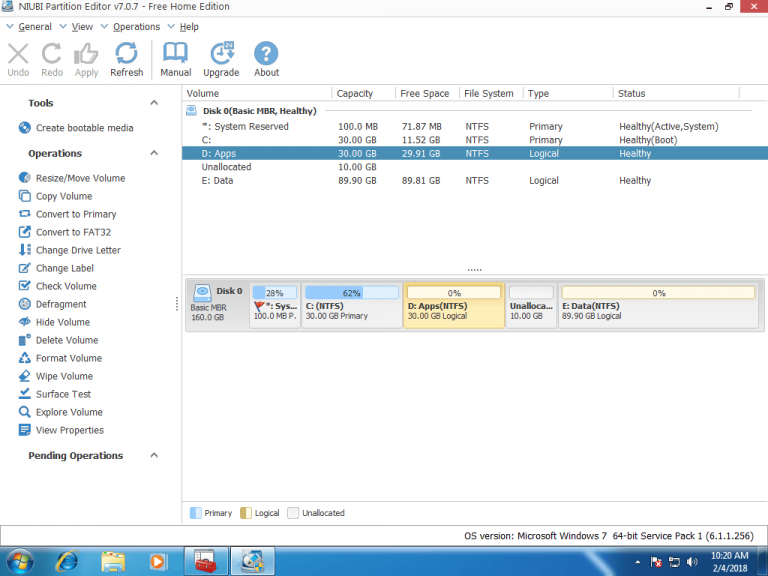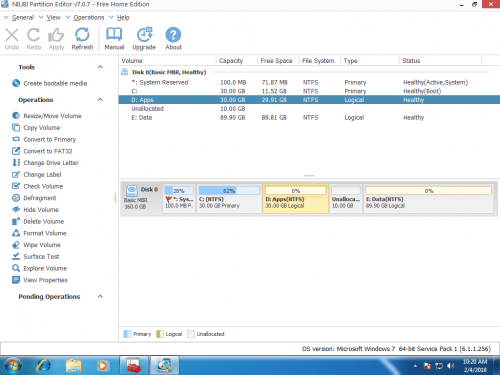 In the pop-up window, you'll see volume D and the Unallocated space: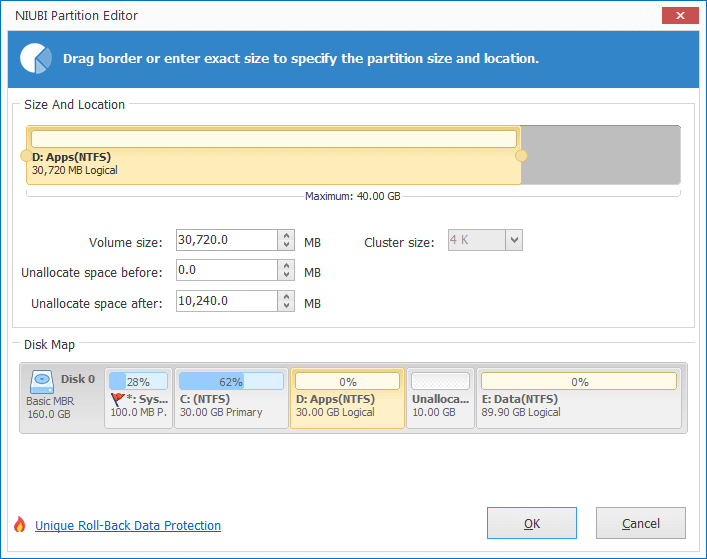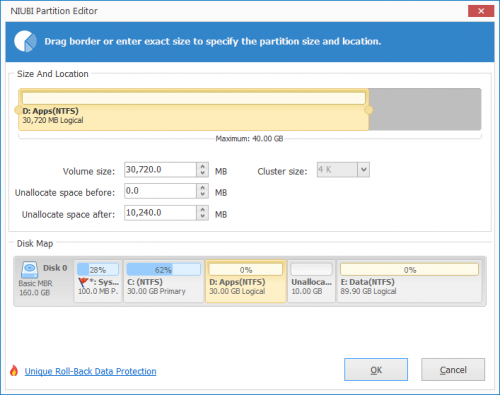 Drag the middle position of D rightwards to move it:

Unallocated space will be moved before drive D: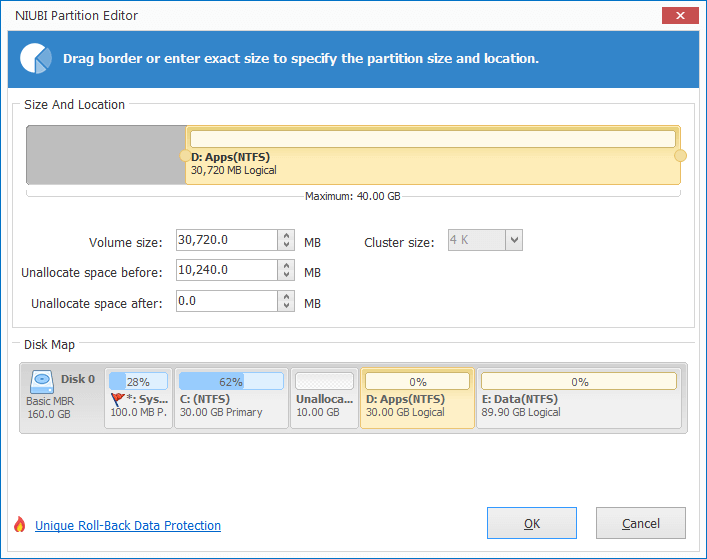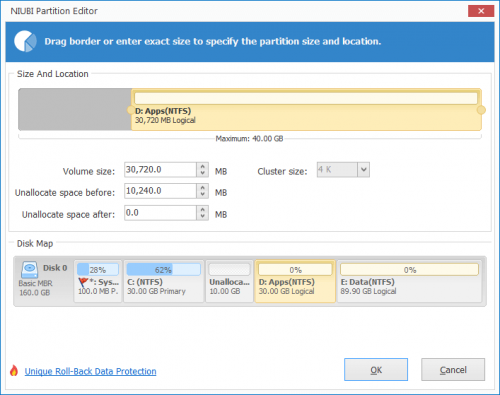 You may either extend C drive in Disk Management or with this free partition software.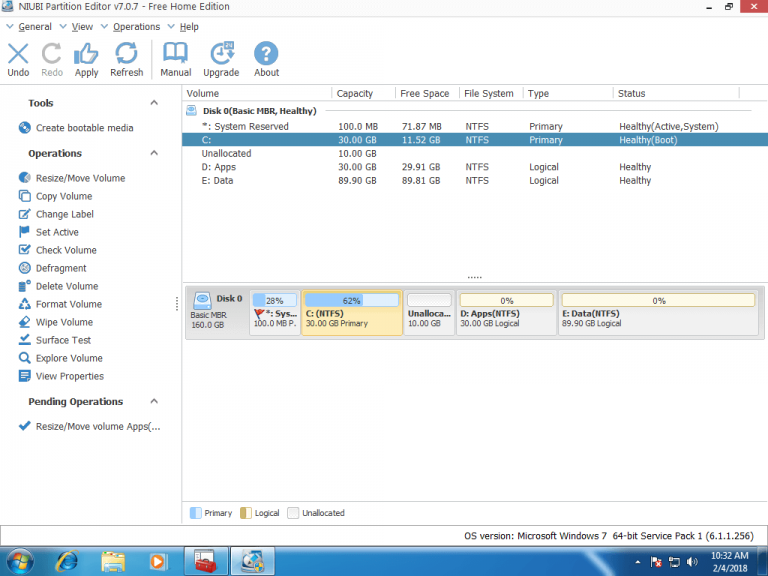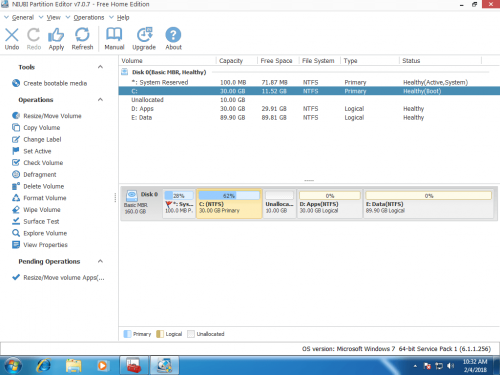 To expand C drive with NIUBI Partition Editor: right click C drive and select "Resize/Move Volume" again, drag the right border rightwards to combine the Unallocated space in the pop-up window.

In conclusion: Windows Disk Management is not a good choice to resize a partitioned drive, because it has many limitations. I suggest you 3rd-party Windows partition software. However, not every software can complete this task well. Have you heard of disaster causing by some partition software?
In fact, there is risk of system damage or/and data loss when resizing volume with partition software. All parameters of related disk, drive and files should be modified correctly, so any slight error would cause data loss. Besides software related error, some hardware issue such as power failure destroy your system and data, too.
NIUBI Partition Editor is the only software that can ensure 100% system and data safe. Its unique 1 Second Rollback technology is able to automatically roll back the computer to the status before resizing in ONE second, if any software or hardware issue occur. This technology is tremendous innovation and very important for both Windows Server and PC to protect data. This is the reason why NIUBI Partition Editor is recommended by many professional editors as the safest partition tool in the market.
For Windows 10/8/7/Vista/XP users, the free edition is 100% free for home usage.