Best disk partition software for Windows Server 2012
The same with other Windows PC or Server Operating System, the most common issue in Windows Server 2012 is low disk space of C drive. It is easy to understand, Windows Updates, programs and many other types of files write into C drive every day, C drive will become full sooner or later. It seems that Server 2012 has became the most popular Windows Server Operating System, because more and more people ask me about the disk space issue in this platform such as: is it possible to expand C drive without reinstalling Windows, is there a way to resize volume on Server 2012 without losing data, which is the best partition software for Windows Server 2012. So in this article I'll introduce which is the best tool to resize partition and manage disk drives on Windows Server 2012 (R2), as well as the video guide to resize Server 2012 partition safely.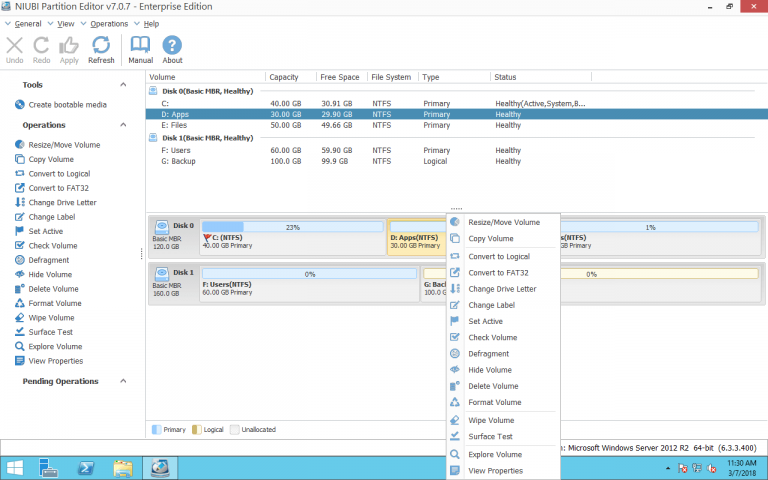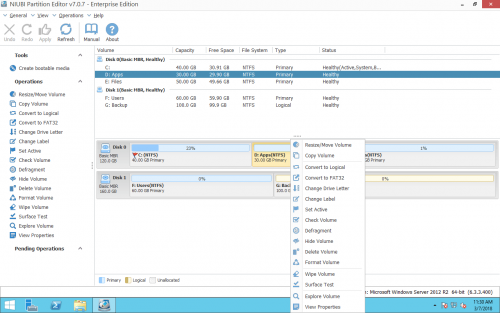 What's inside of the server partition software
Resize disk volume
NIUBI Partition Editor can resize existing disk partitions, extend a drive by shrinking other one, move partition, merge partitions and combine Unallocated space without losing data. Within an hour to several minutes, the disk volumes will be resized without doing anything else, Operating System, program and all settings keep the same. This is the fastest way to fix low disk space issue on a drive.
Partition management
With NIUBI Partition Editor you can set partition Active to specify boot device, copy partition to back up or migrate data, Create new volume with Unallocated space, format volume to reuse as new, delete single or all volume in a disk, explorer partition to identify file and structure, add or modify partition label to easier recognize this drive, change drive letter of partitions, etc.
Optimize System
It is able to fix file system error, scan partition/disk/Unallocated space to check bad sectors, defrag partition to improve data read/write speed, initialize new disk, view detailed disk/partition properties, etc.
Convert Disk/Partition
Convert Logical partition from/to Primary, convert GPT disk to MBR, convert NTFS partition to FAT32, all conversion can be done in a short time and keep data intact.
Ensure Data Security
You can hide partition from Windows Explorer or My computer, so others cannot see this partition. Set disk read-only attribute, so nobody can write or modify your files. Wipe disk, partition or Unallocated space, so your sensitive data will be erased and nobody can recover them even with professional data recovery software.
Bootable Media
You can create bootable CD/DVD or USB disc to resize volume or do other disk partition management without an Operating System.
The safest server partitioning software
There is potential risk of losing data while resizing disk partitions, because the parameters of all related disk, volume and files should be modified. Any one incorrect parameter will cause system boot failure, partition corruption or data loss. Actually, besides software related error, some hardware issue such as low RAW, high CPU usage or power failure occur while resizing could damage your system and data, too. Data is most important to a server, so you'd better select a reliable and safe partition software for Server 2012.
Some server administrators do not pay enough attention and found it is too late when damage occur. Every server is protected by some backup program, but it cannot do everything, for example: when system or a drive was damaged, it would spend several hours or even a whole day to restore, check data integrity and finish other operations. It is no doubt a disaster if a server offline for such as long time. In addition, if the backing up is not in real time, some data will be lost.
Because of the unique 1 Second Rollback technology, NIUBI Partition Editor can ensure 100% data intact. If any software or hardware issue occur during partition resizing, It can automatically roll back the server to the status before resizing in ONE second. In this case, nothing will be changed or lost.
NIUBI Partition Editor is the safest partition software for Windows Server in the market.
The fastest partition software for server
The volumes for extending and shrinking should be in the same hard disk, some operations such as shrink D to expand C requires moving files. To use the adjacent free space of volume D, all partitioning software have to move all files in drive D rightwards, so the adjacent free space can be moved and added into C drive. During these operations, it requires much more time if there are many files in D. Thanks to the unique file-moving algorithm, NIUBI Partition Editor complete the file moving and partition resizing 30% to 300% faster than ANY other tools. In some conditions such as very low RAW/high CPU or large amount of files, it could be 5 times faster. This is strictly tested. If possible, you may compare it with other tools in same condition with a timer.
Who likes to use a program that runs for a long time, especially when the operations require server rebooting to execute?
Other benefits of this partition software
Extend NTFS partition online
The built-in Hot Resize technology can extend NTFS partition in Windows without rebooting. Nowadays, most partitions of local hard disk is formatted as NTFS, so close other running applications and open files/folders in volume D, you can shrink D and expand C on Windows Server 2012, keeping it runs smoothly.
Virtual Mode
Different with Windows Disk Management, all operations you do won't be executed immediately, instead, it works in virtual mode and list the operations as pending, so you can preview, cancel or redo any operations before clicking Apply to execute. It is very useful, especially for the people who are not familiar with partition resizing.
Multiple Storage supported
NIUBI Partition Editor is compatible with Windows Server 2016, 2012, 2008, 2003 and Small Business Server 2012, 2011, 2008, 2003. It supports all types of local and removable hard disk, all types of hardware RAID, VMware/Hyper-V virtual machines, as well as USB disk and memory cards.
How to resize Server 2012 partition
It is very easy to resize volume with this partition software for Windows Server 2012, watch the video:
Download
this partition software for Server 2012 and check how it works freely.