Merge C and D or E drive in Windows 10
This article introduces how to combine C: and D: drive in Windows 10 (32/64 bit) without losing data. With disk partition software, you can resize and merge C, D, E or any other drives easily.

The same with previous versions, Windows 10 L'unità C esaurisce lo spazio, because many types of files are writing into C drive continuously. Nobody likes to start from scratch, so some people search by Google or ask in technical forum to get the answer "whether it is possible to merge C and D drive together".
By merging drive D into C, free space in it will be also transferred to C drive. This is indeed a way to increase C drive free space. However, there is an issue if you installed programs in D drive: all shortcuts of the programs stop working even if you move all files to other partition. In this case, the best idea is ridimensionamento della partizione del disco instead of merging. Then you won't lose drive D and everything keeps intact.
With professional partition tool, you can merge C and D drive, or combine D and E drive (two adjacent partitions) by only several clicks. If you want to merge drive E into C, it requires more steps.

 There is potential data loss risk when modify disk partitions, so remember to back up and use safe program.
As the safest Windows partition manager, NIUBI Partition Editor provides innovative technologies to ensure system and data intact including:
1 secondo Rollback – If any software error or hardware issue (such as power outage) occur, it automatically reverts the computer to original status in a flash like nothing happened.
Modalità virtuale – the operations you do will be listed as pending and real disk partitions won't be modified until click Apply to confirm.
Annulla a volontà – if you started any incorrect operations, you can cancel them at any progress without losing data.
It is also much faster because of its advanced file-moving algorithm.
Come combinare l'unità C e D
Scaricare
NIUBI Partition Editor, you'll see all disk partitions on the right and available operations on the left side.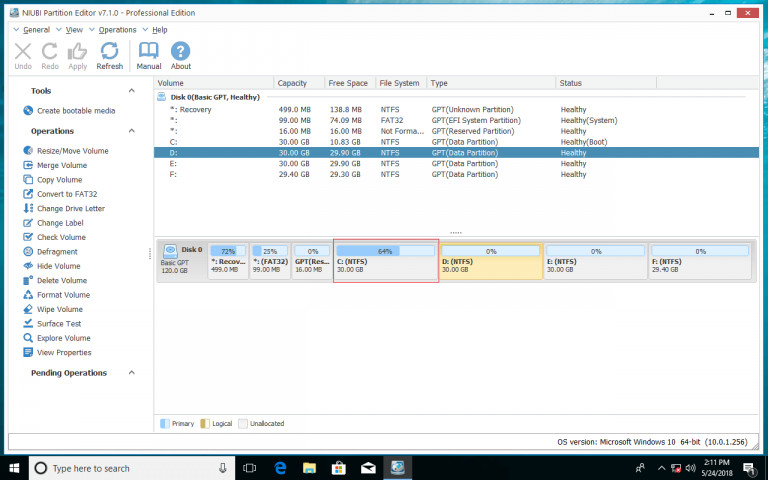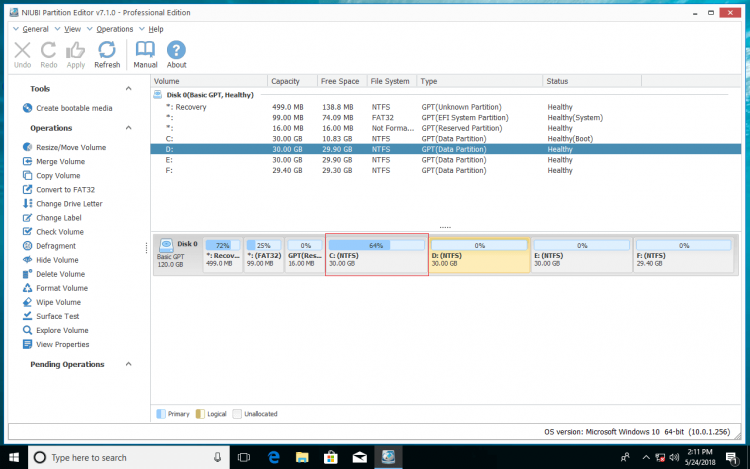 Two steps to merge C and D drive in Windows 10:

 Right click C or D drive and select Merge Volume, in the pop-up window, select both C and D drive (position 1) and then click the drop-down box to select destination drive (position 2).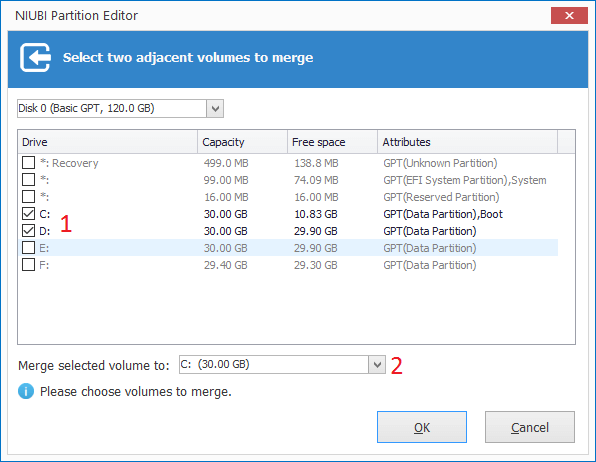 Nota: to avoid system boot failure, merge C drive to D is disabled.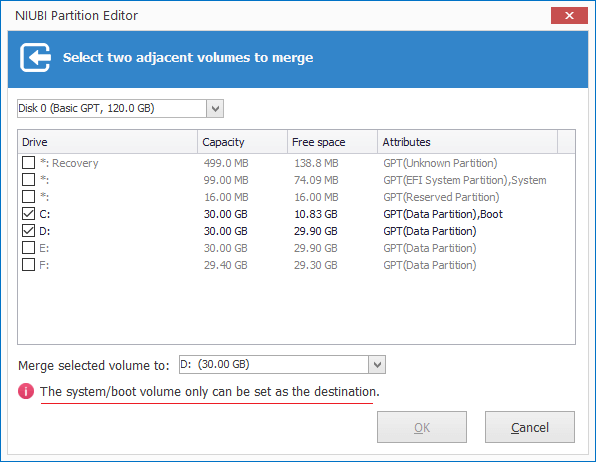 Click OK and back to the main window, drive D is merged into C. Click Apply in alto a sinistra per l'esecuzione, fatto.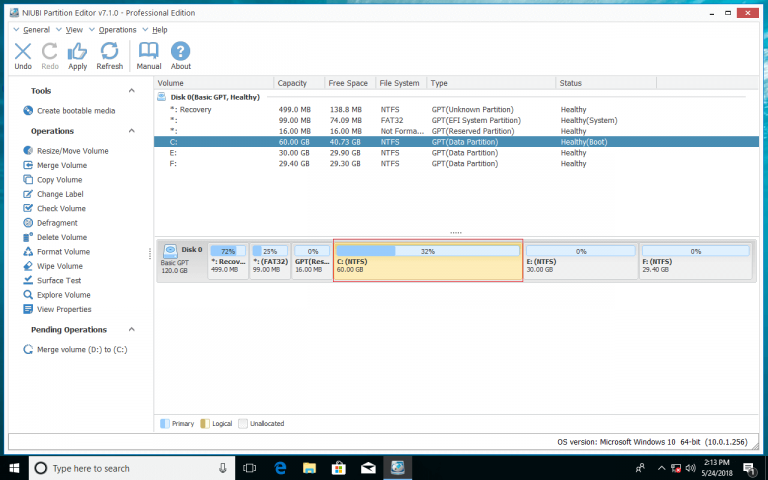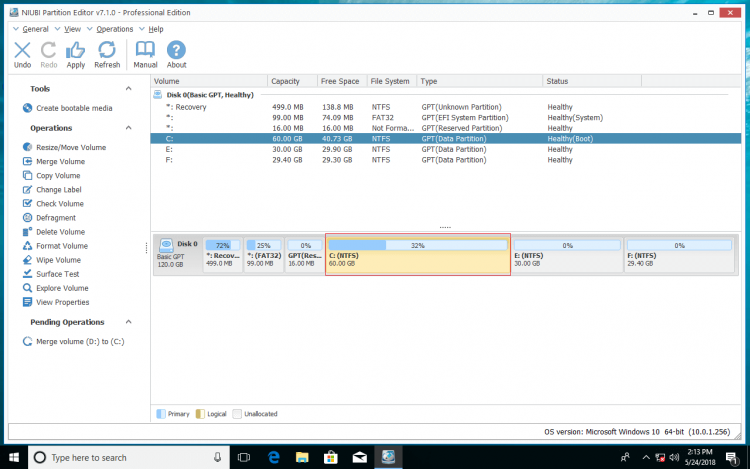 Open C drive when it complete, as you see, there is a new folder created, which is named as D to C (date time). All files in drive D are moved to this folder automatically.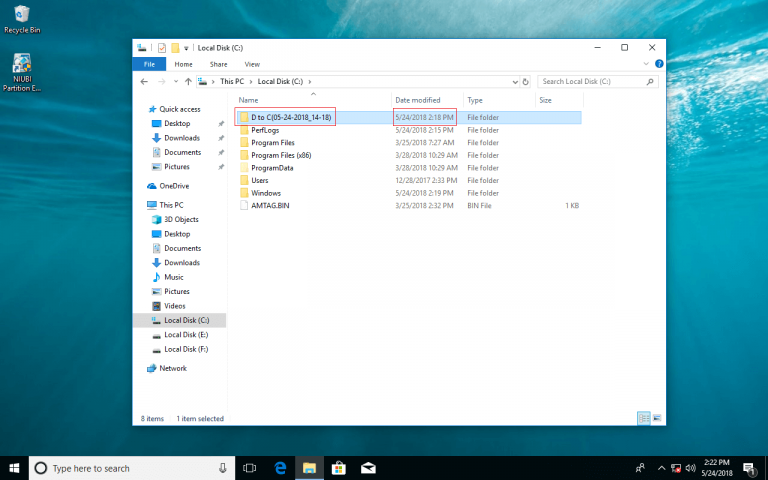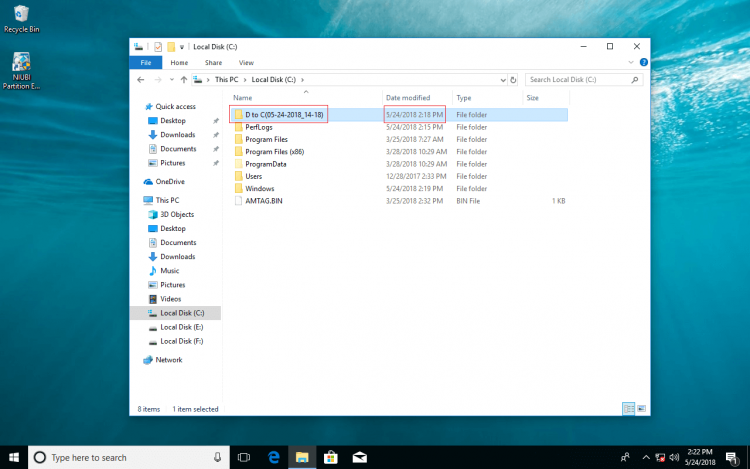 Resize volumes instead of merging
As I explained above, it is NOT a good idea to estendere l'unità C by merging D into it if programs are installed in volume D.
By resizing partitions, part of free space in drive D will be released and converted to Unallocated space, and then add Unallocated space into C drive. By this method, all files in D keep intact, Operating System, programs and everything else keeps the same. Watch the video how to do this:
How to merge C and E drive
No partitioning software can merge two nonadjacent partitions directly. If you want to combine C and E drive in Windows 10, follow the steps below:
Passo 1: transfer all files in drive E to other volume.
Passo 2: Run NIUBI Partition Editor, right click E and select Cancellare il volume.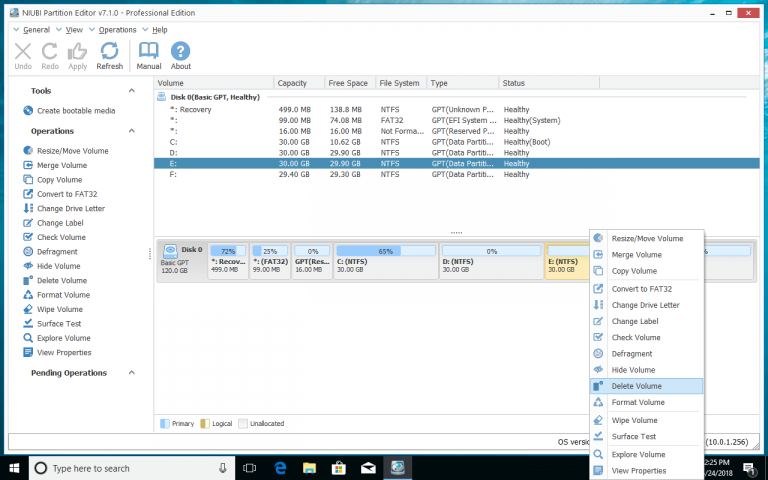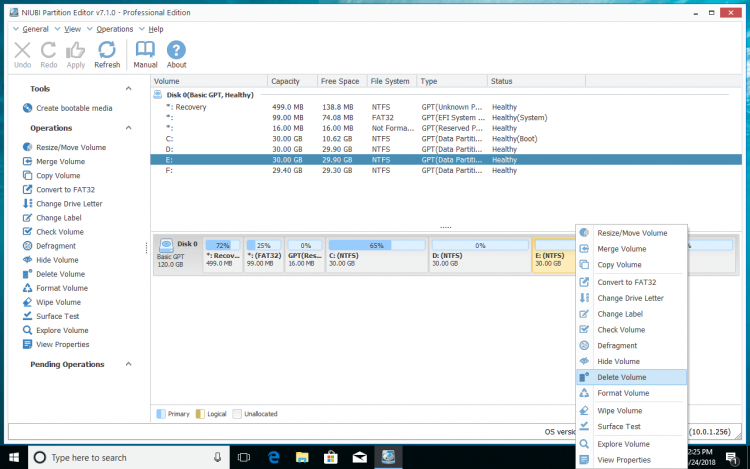 Disk space of drive E will be converted to Unallocated.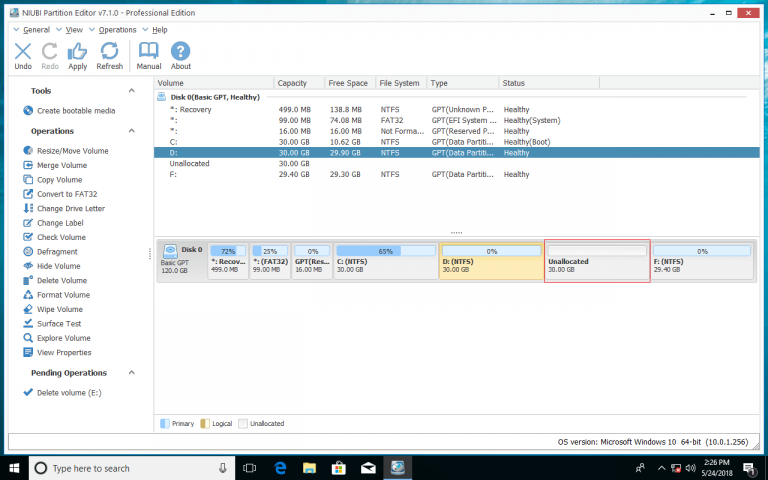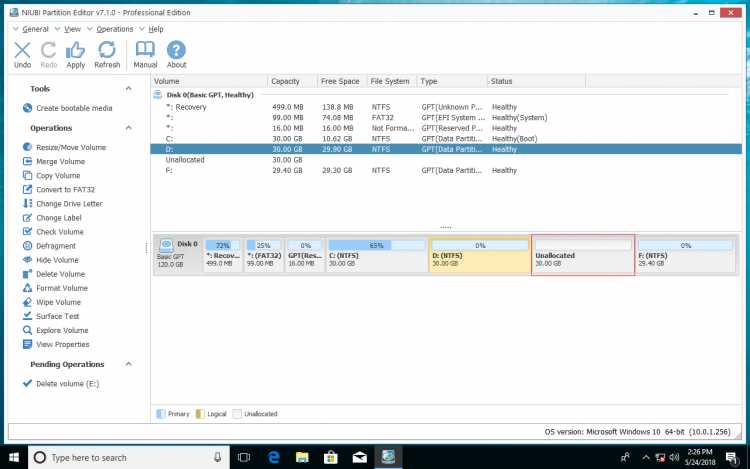 Passo 3: right click drive D and select Resize/Move Volume, trascinare la posizione centrale verso destra nella finestra pop-up.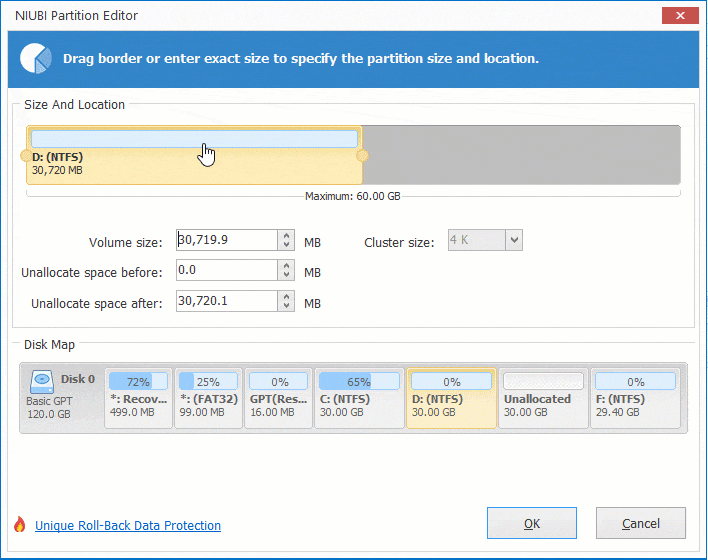 Unallocated space will be moved to the left side of D.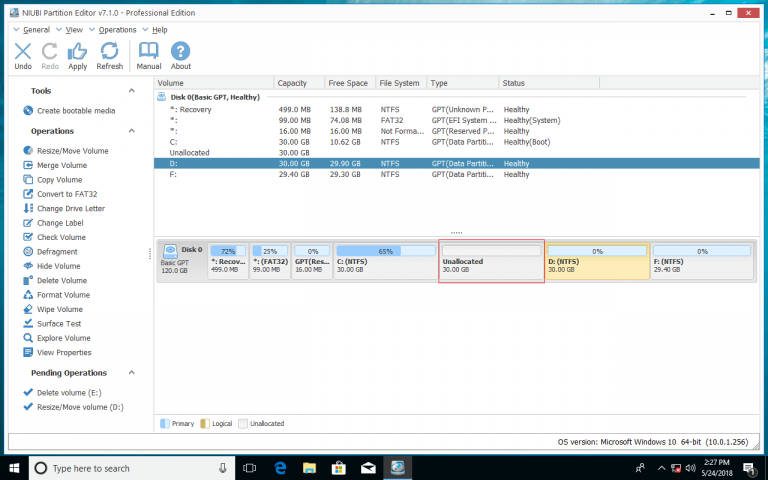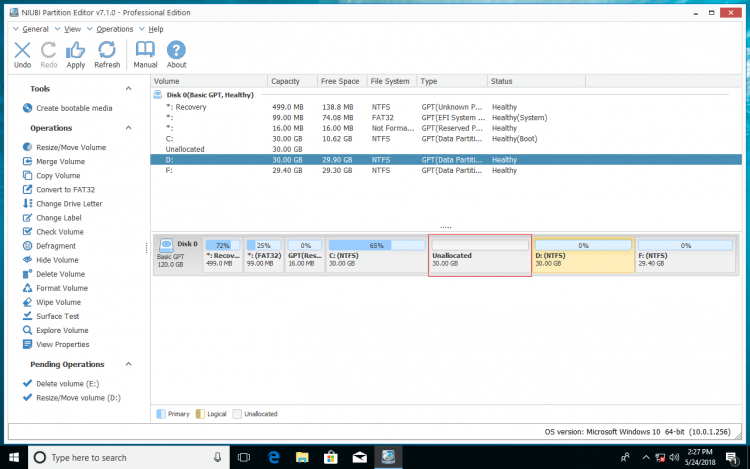 Passo 4: right click drive C e selezionare di Resize/Move Volumenuovo, trascinare il bordo destro verso destra nella finestra pop-up.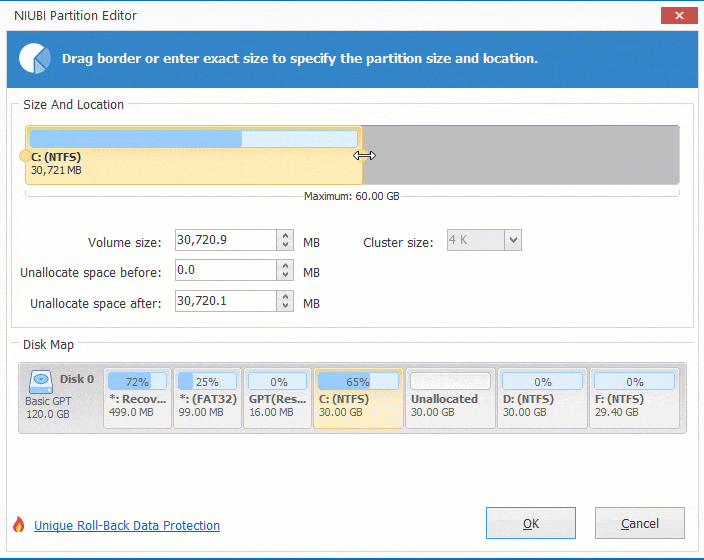 Unallocated space will be merged into C drive. The operations will be listed as pending on bottom left, click Apply da eseguire.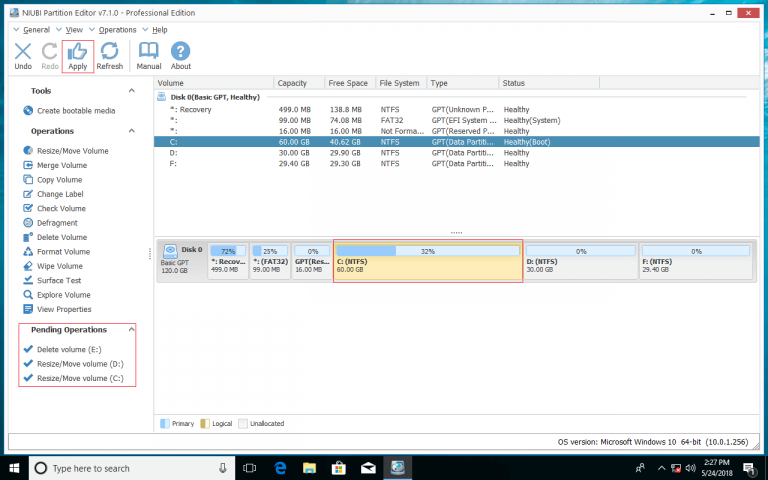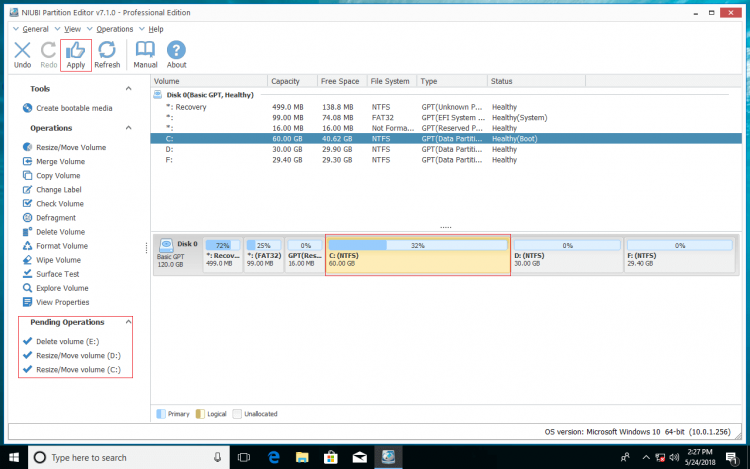 In sintesi
Se vuoi cambiare la dimensione della partizione or merge partitions in Windows 10, you'd better back up and use safe partition software. Because of the powerful data protection ability, NIUBI Partition Editor is recommended. It helps you resize and merge partitions easily and safely.