Windows Server 2012 Resize OS Partition
This article introduces how to resize OS partition on Windows Server 2012 (R2), shrink and extend OS partition volume without losing data.

Limitations to resize OS partition with DM
To manage storage device, Microsoft provides native Disk Management utility. Besides basic ability to create, delete and format partition, Disk Management (DM for short) has advanced Shrink Volume and Extend Volume to resize disk partitions. However, because of many limitations, you can't shrink and extend partition in many situations.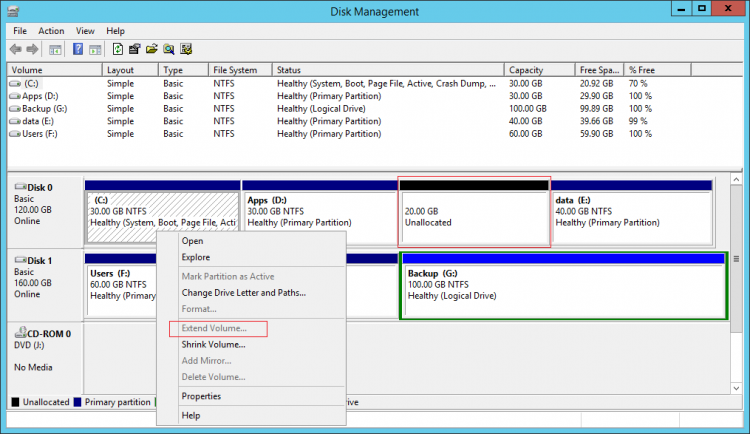 DM can only shrink a drive towards left.
DM can only shrink little space if there are unmovable files located in this partition.
DM can only extend a drive towards right with adjacent Unallocated space.
DM cannot move or merge any non adjacent Unallocated space.
If you want to shrink D and expand C drive, it is impossible with DM. As you see, Unallocated space is not next to C drive after shrinking D, so Extend Volume is disabled for C drive.
You need better utility to resize os partition for Windows Server 2012.
Refer to this article if you want to resize system reserved partition.
How to shrink OS partition on Server 2012
With server partition software such as NIUBI Partition Editor, you just need to drag and drop on the disk map. There is nothing special if you use VMware, Hyper-V or any types of hardware RAID arrays.
When shrinking a partition, Unallocated space can be generated on either side. You can easily extend a volume by combining the contiguous Unallocated space. If you want to extend a non adjacent partition, simply move Unallocated space to be contiguous on either side.
Steps to shrink os partition on Windows Server 2012 (R2):
Download
NIUBI Partition Editor and you'll see all disk partitions on the right, available operations to selected disk or partition are listed on the left or by right clicking.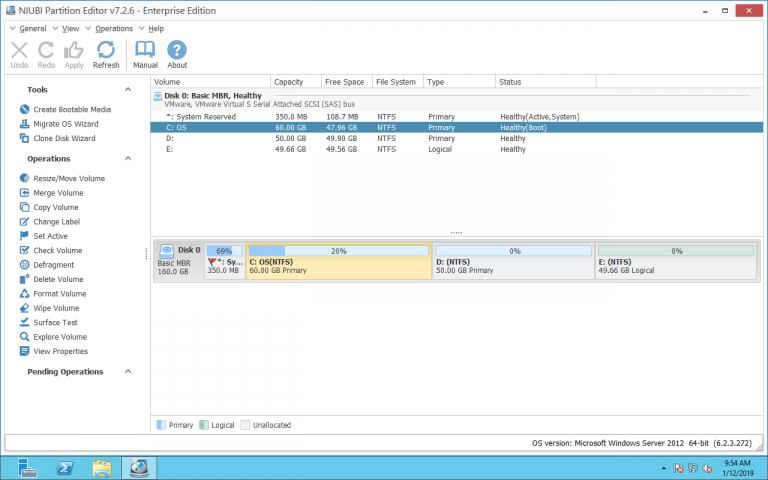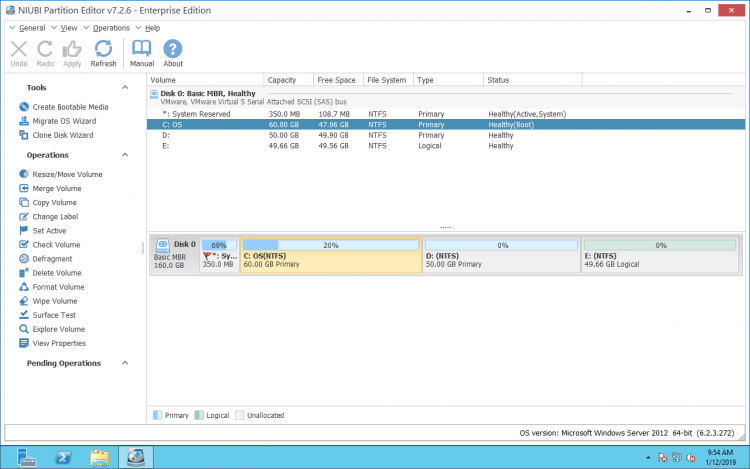 Right click the os partition C and select "Resize/Move Volume", drag right border leftwards in the pop-up window.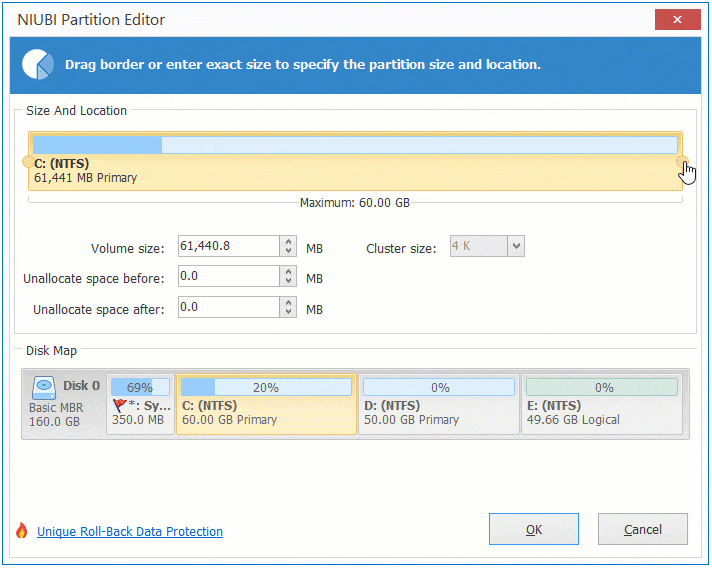 C drive is shrank and Unallocated space is produced on its right side. This Unallocated space can be used to create volume or extend D drive with NIUBI (Disk Management cannot extend D towards left).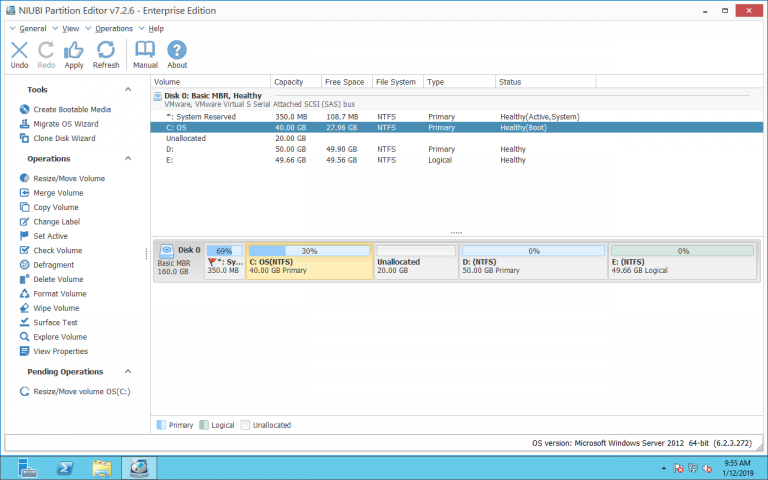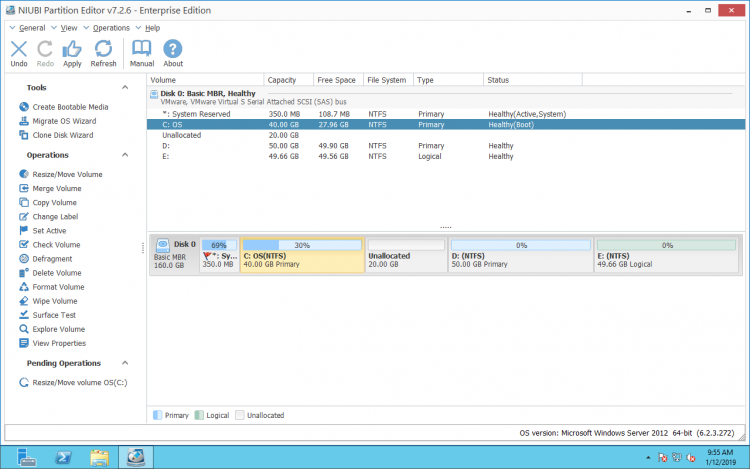 If you drag left border rightwards in the pop-up window, Unallocated space will be produced on the left side of C drive, which can be used to extend system reserved partition.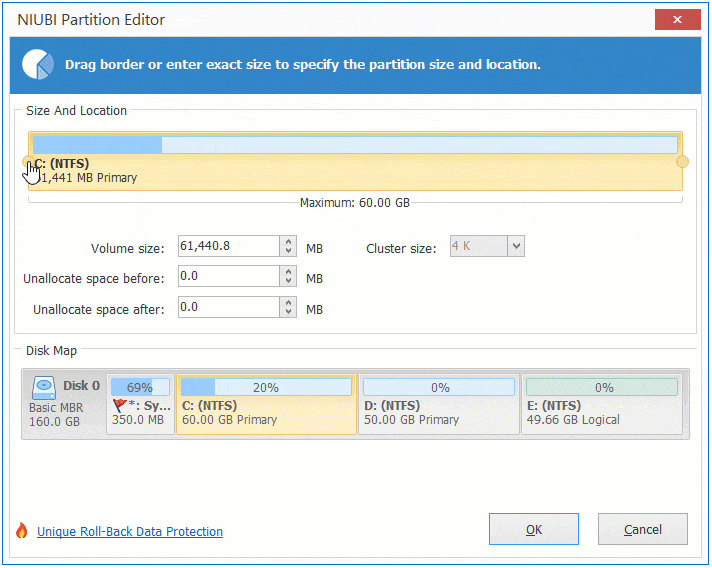 How to extend OS partition on Server 2012
Similarly, you just need to shrink D or any non adjacent drive to get Unallocated space, and then add into the os partition.
However, NO partitioning software can extend os partition by taking space from another separated hard disk. If there is no other partition or not enough free space in other partitions in the same disk, you can clone this disk to a larger one and then extend os volume with extra disk space.

 If you use VMware, you can extend this disk with VMware tool, then Unallocated space will be shown as Unallocated on the end of this disk.
Video guide to extend OS partition on Windows Server 2012:
There are many other tools to shrink and extend partition for Windows Server 2012, 2008, 2016, etc. But comparing with these software, NIUBI Partition Editor has more advantages, for example:
Unique 1 Second Rollback technology to protect OS and data. If any software or hardware issue occur during these operations, it is able to automatically reverts server to original status in a flash.
Virtual Mode to avoid mistake. All operations will be listed as pending and real disk partition won't be modified until click Apply to confirm.
Unique Cancel-at-will technology enables you cancelling the incorrect but ongoing operations without damaging data.
Advanced file-moving algorithm helps resize partition much faster.
Unique Hot-Resize technology helps shrink and extend most of partitions on the fly.
Besides resizing and moving partition, NIUBI helps you clone, convert, defrag, wipe, scan, set read-only attribute, etc.