If you want to resize partition, you may bring partition magic in mind, but what a pity, partition magic has been stopped selling. As the first and famous partition management software, partition magic is well known and widely-used. Some users tried their best to search free partition magic. Don't worry and I'll introduce some free partition magic software.
Firstly, I want to introduce partition magic to the people who hasn't heard or aren't familiar with partition magic.
What is Partition Magic?
Partition Magic is a computer program for hard disk drive partitioning originally made by the PowerQuest corporation but now owned by Symantec. The program runs on Microsoft Windows operating systems (only 2000 and XP, not Vista) or from a bootable CD-ROM and enables creation and modification of partitions. Existing partitions can be resized without loss of data.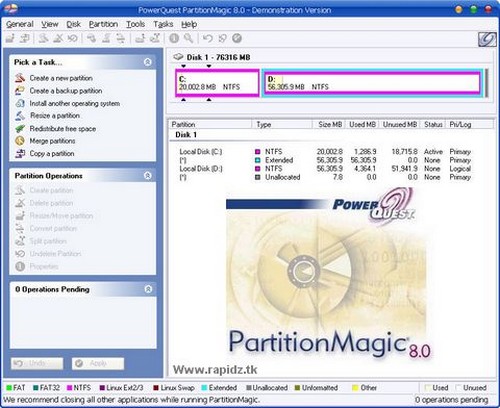 Details about Partition Magic
Partition Magic is capable of resizing NTFS or FAT (16 or 32) partitions without data loss, and can copy and move partitions, including to other disks. It also has various other features, including being able to convert between FAT16, FAT32 and NTFS, modify the cluster size of FAT16/32 and NTFS filesystems, and merge adjacent FAT or NTFS filesystems (all without data loss, though some NTFS-only metadata is lost on conversion to FAT). Additionally, it has somewhat limited support for ext2 and ext3 partitions.
Partition Magic releases 1–3 were offered both in OS/2 and Windows versions. Symantec's Partition Magic version 8 only supports Windows.
Free partition magic
After partition magic die away, computer users still need a tool to resize or manage partitions. It is much better if there is a professional and free partition magic. After searching in Google, you may find many tools, including commercial and free partition magic software. Then how to choose a best partition magic?
Reliability – no one want to use a software which corrupt your system or partition, or cause data losing. Before downloading to running, you may check the review of the professional editors and the real customers.
Easy to use – no one want to use a software which is complex and you have to read all help file, or take long time to operate. You may check the screenshots on official site or by search engine before using it.
Powerful – with a toolkit, you can do more and better things, then install less software on your computers.
Different people have different choices, for top partition magic alternative, you may refer another article. In this article, I'll introduce one of the top partition magic alternative listed – EASEUS Partition Master, which has updated to version 5.0.1
Free partition magic new feature
This free partition magic downloaded more than 40,000 per week on download.com, by the enhanced feature – Partition Recovery Wizard. You can recover files from all conditions. Besides resizing partition, you can copy disk and partition, recover files, a complete solution to solve your hard drive problem.
Note: This free partition magic is free for home users, the disadvantage is that it only supports 32bit operating system.