Today's hard drives feature jaw-dropping amounts of space. But no matter how big your drive, you'll be amazed at how quickly application installs, browser caches, and temporary files can eat up your free space and clutter your system. Sooner or later you'll see the Windows low disk space warning.
Symptom of Low Disk Space
Windows XP and Server 2003 displays the low disk space warning as "You are running out of disk space on Local Disk (C:). To free space on this drive by deleting old or unnecessary files, click here."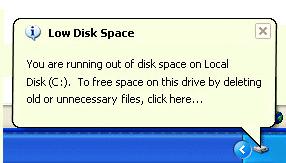 The risks of no space in C drive
No matter you are PC or Windows Server users, you need to solve disk out of space problem immediately, as it will cause many problem, such as:
System is running extremely slow.
You cannot install any applications or Windows update again.
System may be crash if there is no free disk space.
You may consider free up some space with Disk Cleanup function by clicking on the Low Disk Space popup. This tool will scan your drives and look for files that you can safely erase. Another option is to remove some applications, but don't try to delete Windows files and those files that you are not familar with.
Generally, these tools cannot help you, as they can only free up a little free space, so this low disk space warning will pop up later. The best idea is to extend the boot partition, that is to say, shrink another data partition and get some unallocated space, and then extend the boot partition. As many Server users want to know which tool is better and how to extend boot partition in Windows 2003 Server, so in this article, I'll share my experience, hope it could help the people that have the same problem.
How to extend boot partition in Windows 2003 Server?
Different with Windows 2008 Server, you cannot extend or shrink partition under Disk Management, but there are still two choices for Server 2003 extend boot partition: Diskpart command line or third party Server partition software. Diskpart Command line is provided by Microsoft and it is free, but due to many disadvantages, few people use this utility to extend Server 2003 boot partition. For more about this, please refer how to extend Server 2003 partition with Diskpart. With professional Server partition software, you can easily resize, merge, extend partition on Windows Server, you just need to drag and move on its disk map, and all operations can be previewed and cancelled.
Extend Server 2003 boot partition with Server partition software
As the best Partition Magic Server alternative, Partition Assistant Server is an ALL-IN-ONE Windows partition solution and reliable disk management toolkit. It performs needed hard disk partition maintenance and minimizes server downtime to increase the efficiency of Windows-based system administration. With Hot Resize feature, you can extend NTFS boot partition in Windows 2003 without rebooting Server.
Steps to extend boot partition in Windows 2003
Check disk partition layout under Disk Management. (Right-click 'My Computer' > 'Manage' > 'Storage' > 'Disk Management'.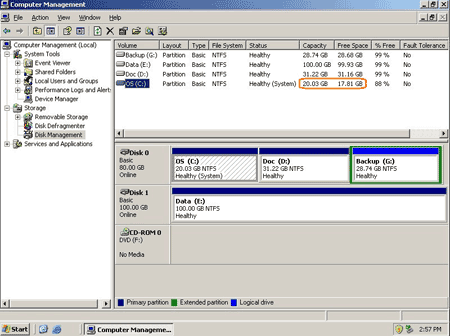 Step 1: Launch Partition Assistant Server, you'll see all disks and partitions that connected to your Server and free space, used space and other properties of each partition.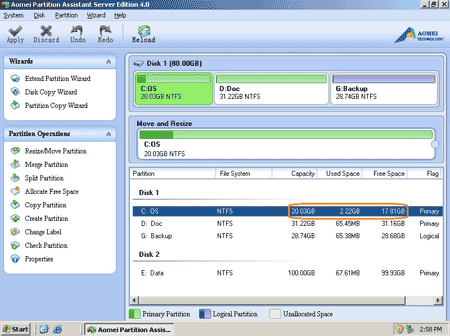 Right-click the partition you want to shrink and select 'Allocate Free Space', or click the feature shortcut on left 'Partition Operations' panel.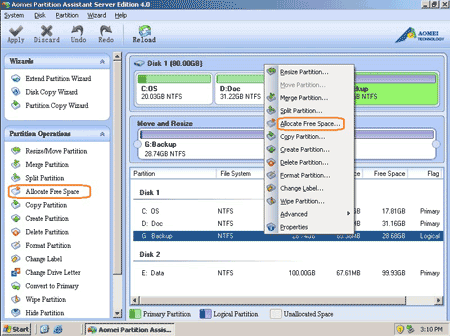 Step 2: In the pop up window, select how much free space to shrink, and which drive to add free space to.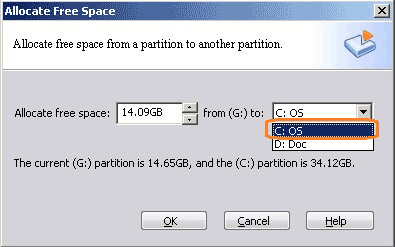 After click OK, 14.09GB free space has shrank from G: and added to C drive.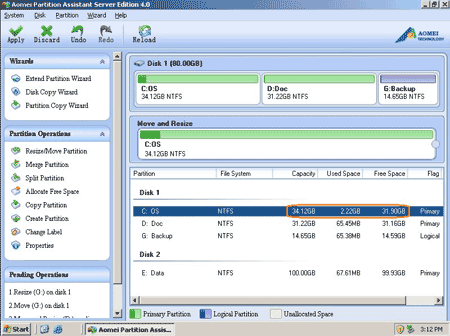 Click 'Apply' on top left to proceed resizing operation.

In the pop up window, you'll see all pending operations.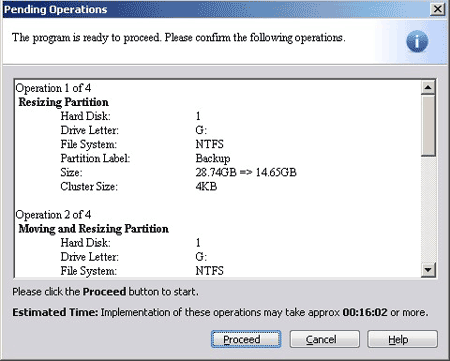 If there is no mistake, click 'Proceed', after several minutes, partition resizing completed. Check in disk management.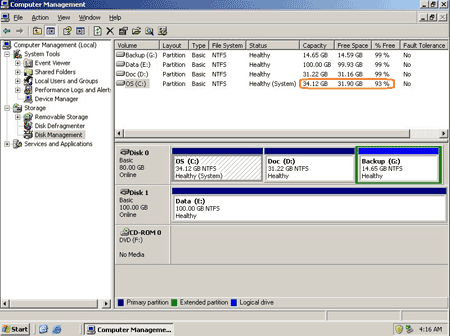 Please note: This server partition software is commercial (no free to Server), if you need this tool, you have to purchase, download this server magic trial and check how it works.