Today's hard drives feature jaw-dropping amounts of space. But no matter how big your drive, you'll be amazed at how quickly application installs, browser caches, and temporary files can eat up your free space and clutter your system. Sooner or later, you'll find that the system C drive is running out of space on your Windows 2008 Server. If there is low free disk space in the C drive, it will be marked as red.

To solve this problem, you may consider free up space with Windows Cleanup utility, but generally, it can only free up a little free space. It is dangerous to delete Windows files or those files that you are not familiar with.
The best way to solve this problem is to resize or merge partitions to extend the system C drive. There is no need to delete, format partitions or rebuild the Server. To resize partitions, please refer how to resize partition in Windows 2008 Server. In this article, I'll tell you how to merge partitions in Windows 2008 Server without losing data.
How to merge Windows Server 2008 partitions?
Windows Server 2008 improved the ability of Disk Management and added new Shrink and Extend feature, but no Merge features. So to merge partitions in Windows Server 2008, you need to search third party Partition Magic Server software.
Partition Magic Server Edition is an ALL-IN-ONE Server disk management toolkit for Windows Server 2000, 2003, 2008 and Windows XP, Vista, Windows 7 (32 and 64 bit). As Server Magic alternative, It performs basic and advanced hard disk partition maintenance, for example, resize, merge, shrink, extend system and data partition without losing data, etc. It also provides data protection and disaster recovery.
How to merge partitions in Windows 2008 Server without losing data?
Launch Partition Magic Server, you'll see all disks and partitions that connected your computer.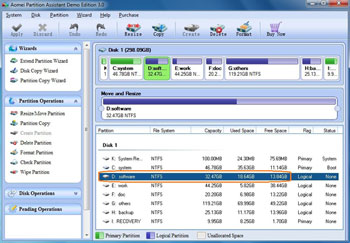 Step 1: Backup the files of drive D to other partitions and delete it.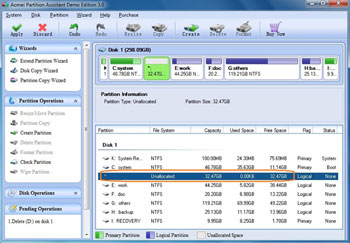 Step 2: Select drive C, drag the right border rightwards to hold the Unallocated space that deleted from Partition D.
Step 3: You'll find that the space of Partition D is added to drive C, click Apply button to proceed.
Some products have Merge feature to merge partitions directly, but this is not safe, you'd better merge partitions step by step.
Benefits to merge Server 2003 partitions with this Partition Magic Server
Enhanced data protection technology helps you resize, merge partitions without data loss.
Disk/Partition Copy feature helps you backup or migrate data to another disk without reinstalling Windows.
Changes made on partitions can be previewed before applying to avoide incorrect operations.
Easy to use, no professional assistance is needed.
Plenty of useful features help you better maintain your Server and improve its performance.