Windows Server low disk space
Today's hard drives feature jaw-dropping amounts of space, especially for Windows Server, you can create TBs storage with hardware RAID, but no matter how big your drive, you'll be amazed at how quickly application, Windows updates, browser caches, system restore points and temporary files eat up your free space. When there is little free space in system C drive, Windows Server pop up an alert about low disk space like below:
Windows 2003 Server low disk space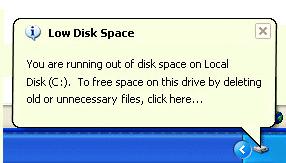 Windows 2008 Server low disk space

When Windows pop up this alert, you cannot install Windows updates and other applications, system runs much slower, the worst is system crash if extremely low free space is left. You should fix this low disk space problem as fast as possible, as no one wants to see system crash, in that case, you have to start over and keep Server under downtime for a long time.
To solve this problem, many people try to free up disk space, but different with Home PC, it is not the best idea, because it costs such a long time, and has potential risk of losing data. The most time-saving and easiest way is resizing Server partition. That is to say, shrink other data partition and get some free space and then extend the system C drive with the Unallocated space, so no need to delete, format partition or rebuild the Servers, save time and easy to go.
Ensure data safety when resizing Server partition
The data security is most important for Windows Server, so you should select a reliable partition resizing software to resize Server partition, as no one wants to see boot failure or data loss after doing this.
Based on the built-in enhanced data protection technology, Partition Magic Server is not only reliable itself, but also integrated with the Disk & Partition Copy Wizard to ensure 100% data security. It is highly recommended by many professionals and editors, besides, many Fortune 500 companies, Governments, Universities select it to maintain their Servers.
How to resize Server partition?
– It is extremely easy to resize Server partition. With the absolutely user-friendly interface, the functions are easy to get access to, you just need to drag and move on the disk map to resize Server partitions.
– Any operations you do on the Server will be listed in the "Operations Pending" for you to preview before applying to hard disk.
– You can extend the Server system partition without restarting if it is NTFS.
Steps to resize Server partition without deleting or reformatting
Step 1, Launch Partition Magic Server, you'll see all disks and partitions that connected to your Server and free space, used space and other properties of each partition.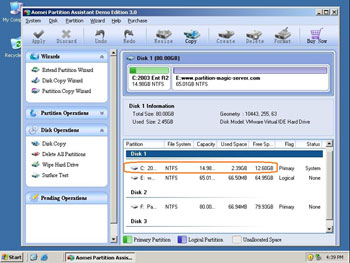 Right-click the data partition and select "Resize", in the pop-up window, drag the left border rightwards to shrink it.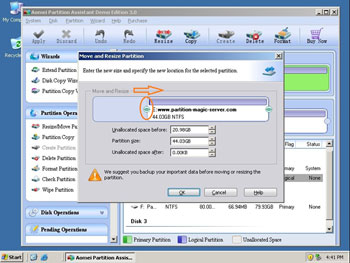 There will be some Unallocated space behind the system partition.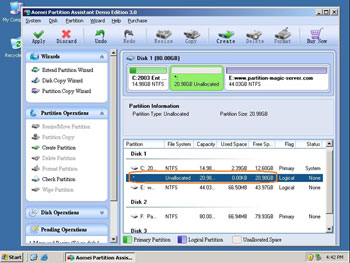 Step 2, Right-click the system partition and select "Resize", in the pop-up window, drag the right border rightwards to hold the Unallocated space.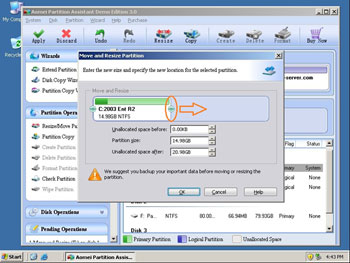 Click "Apply" to proceed, done.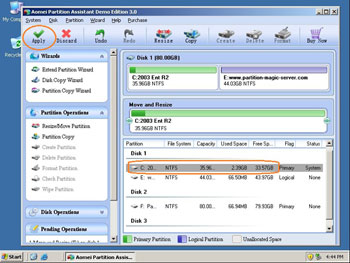 Now you have a "new" Server that can be used for a long time again.
For enterprise users, Unlimited Edition allows unlimited usage within your company to save time and money.
Benefits to resize Server partition with this Partition Magic Server
It is not only a partition resizing tool, but also adn All-in-one Partition Solution – All your partition and disk maintenance requirements can be fulfilled.
Enhanced Data Protecting – No Data Loss
Hot Resize – Extend NTFS system partition without rebooting
Easy to use & user-friendly interface & works fast