VMware are so popular with the public since it supports any operations like the really machine. However VMware often encounter the partition size or disk size problem since it is extremely large and it will become larger when installing with operating systems and store files.
Can you resize VMware Windows 2003 partitions after you have set the partition? The good news is with Partition Magic Server software you can easily resize Windows 2003 Server partition for physical disk partition or VMware virtual disk partitions without data loss.
How to resize Windows 2003 partition in VMware
If there is free space in other data partition on the same virtual disk, you just need to shrink the data partition to get some free (Unallocated) space at the end of the system partition, and then you can easily extend the system C drive.
If the entire virtual disk is too small and no free space in other data partition, or there is only C drive in the virtual disk, you need to extend the VMware virtual disk before resizing partition.
Steps to resize VMware Windows 2003 partition
Step 1, Install Partition Magic Server to VMware and launch it you'll see all disks and partitions that connected to your Server and free space, used space and other properties of each partition.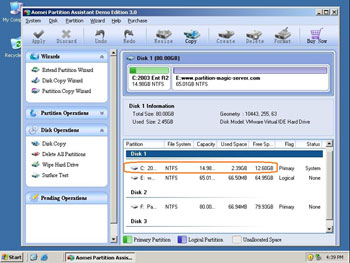 Right-click the data partition and select "Resize", in the pop-up window, drag the left border rightwards to shrink it.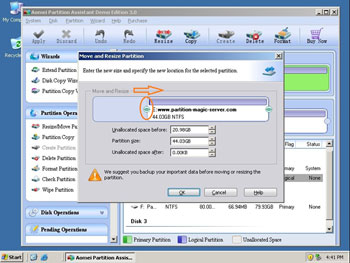 There will be some Unallocated space behind the system partition.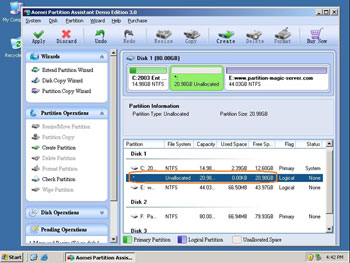 Step 2, Right-click the system partition and select "Resize", in the pop-up window, drag the right border rightwards to hold the Unallocated space.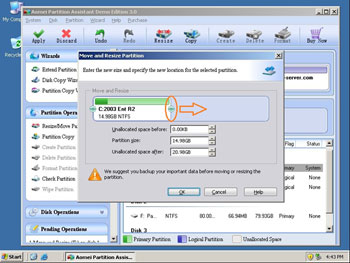 Click "Apply" to proceed, done.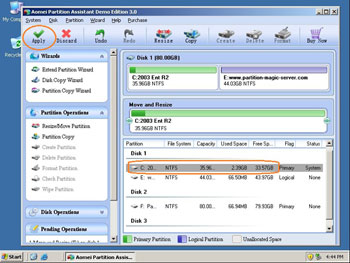 Now you have a "new" Server that can be used for a long time again.
For enterprise users, Unlimited Edition allows unlimited usage within your company to save time and money.
Why this is the easiest and fastest way to resize Windows 2003 partition in VMware?
You just need to install the application, drag and move on the disk map to resize partitions. After several minutes, you'll have a "new" Server. No other operations are required.
Some professionals introduce the way to resize VMware virtual disk partition with vmkfstools or VMWare Converter, either of which is not good enough because of many disadvantages, such as:
1. Expand process is very slow
2. VMWare Tools might need to be reinstalled
3. Will create a new (many GB) copy of your VMware virtual disk and reduce the physical partition free space.
4. You need to remove copied virtual disk or change the disk slot, too difficult to many users and may lead to data loss or boot failure. In conclusion, to a Server especially production Server, the data security and time is most important. With Partition Magic Server, you can resize Windows 2003 partition for VMware fast, easily and safely.
See full features or download free trial to check how easy it is to resize Windows 2003 partition in VMware.