Does your system C drive of your Server 2008 run out of space? Do you receive the warning of partition low disk space? Do you want to increase partition size in Windows 2008 Server? Do you know how to increase partition size on Windows 2008 Server with deleting or formatting partitions? In this article, I'll tell you how to solve this problem with Partition Magic Server software fast, safely and easily.
Increase partition size in Windows 2008 Server
After searching by Google you may find the similar problems, for example,
– "I need to increase the size of the system partition of a Windows 2008 server. Does anyone know of a tool to do this because Partition Magic doesn't work on server OS's?"
– "I am running Windows Server 2008 R2 (64x). Currently the basic drive it split into two partitions. I want to decrease the size of the secondary partition and add it to the boot partition. Both are set up as NTFS. Is there a way to do this??
– "We have a Win 2008 server whose drive C we now deem too small. Is there a way to increase the C partition without re-installing the operating system?" There is little free space on the system partition, the Server runs much slower immediately and you cannot install any updates or application.
You need to increase 2008 Server partition size as fast as possible, as Operating System may crash if there is no free space.
Which tool to increase partition size on Server 2008?
Windows 2008 Server provides new Extend and Shrink feature under Disk Management, see how to increase Server 2008 partition under Disk Management.
In fact, these features are semi-finished, you cannot extend the system partition by shrinking a data partition. Due to the advantages of 2008 Server disk management, few people use this utility to resize partitions. With Partition Magic Server, there are no such limitations, you can drag and drop on the disk map to shrink or increase any partition size.
How to increase partition size in Windows 2008 Server ?
Step 1, Launch Partition Magic Server, you'll see all disks and partitions that connected to your Server and free space, used space and other properties of each partition.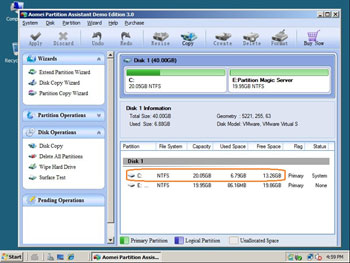 Right-click the data partition and select "Resize", in the pop-up window, drag the left border rightwards to shrink it.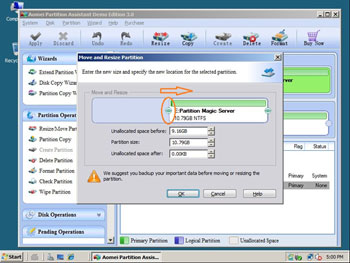 There will be some Unallocated space behind the system partition.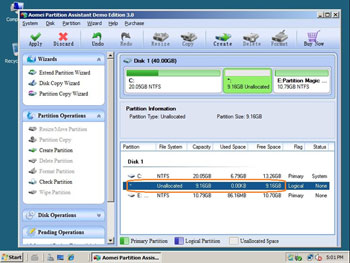 Step 2, Right-click C drive and select "Resize", in the pop-up window, drag the right border rightwards to hold the Unallocated space.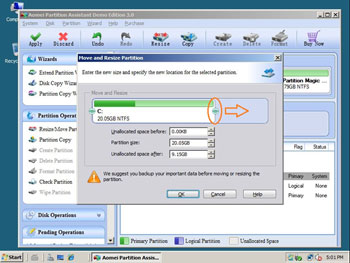 Click "Apply" to proceed, done. After several minutes, you'll have a "new" Server that can be used for a long time again.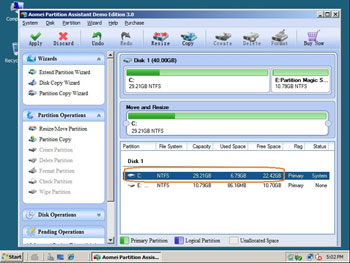 For enterprise users, Unlimited Edition allows unlimited usage within your company to save time and money.
Benefits to increase Server 2008 partition size with this Partition Magic Server
All-in-one Partition Solution – All your partition and disk maintenance requirements can be fulfilled.
Enhanced Data Protecting – No Data Loss
Hot Resize – Extend NTFS system partition without rebooting
Easy to use & user-friendly interface
Trustworthy, many Fortune 500 companies select it to maintain their Servers