Looking for Partition Magic working on Windows Server? Partition Magic Server is such magic server manager software for Windows Server 2008/2003 and Small Business Server 2011/2008/2003 32 and 64 bit.
With Partition Magic Server, you can resize partition, merge partitions, extend system and data drives without starting from scratch. Hard disk drive, hardware RAID, VMware, Hyper-V, removable USB disk and memory cards are all supported. Besides, you can clone hard disk drive or RAID array without Windows reinstalling.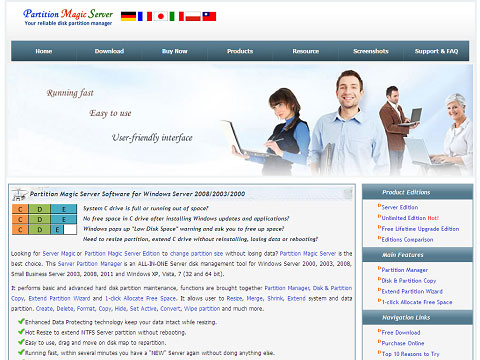 With the built-in enhanced data protection technology, you can repartition Windows Server drives without losing data.
It provides 3 ways to resize and extend system C: drive:
"Resize Partition" – manually shrink a data drive and then extend C: drive with the free unallocated space.
"Allocate Free Space" – just select which drive to take space from and then add the free space to C drive.
"Extend Partition Wizard" – shrink one or all data drives at the same time to extend C drive.
With the user friendly interface, you can easier change partition size without any assistance. If the system partition is NTFS, you can shrink and extends without rebooting server, amazing?
For the people who are not familiar with resizing partitions, Partition Magic Server provides unique online support service, so any problem can be solved in time.
System and hardware requirements
Operating Systems

Windows 8 Consumer Preview
Windows 7 (all editions, including SP1)
Windows Vista (all editions)
Windows XP (all editions)
Windows 2000 Professional SP4
Windows 2000 Server and Advanced Server SP4
Windows Server 2003 and 2003 R2 (all editions)
Windows Server 2008 and 2008 R2 SP1 (all editions)
Windows Small Business Server 2003, 2008, 2011
Windows Home Server 2011
Storage

Hard disk drive (HDD) and solid-state drives (SSD)
External FireWire (IEEE-1394) hard disk
Support for IDE, SCSI and SATA interfaces
All types of SCSI, IDE and SATA RAID controllers
Support all hardware RAID levels, such as RAID 0, RAID 1, RAID 5, RAID 10, etc.
Support Hyper-V, Virtualbox, VMware virtual disk partitions
Support removable USB flash drive, memory card, memory stick, etc.
Support MBR disk up to 2TB and GPT disk up to 4TB
Support up to 32 disks within one system
Hardware Requirements
CPU: at least with X86 or compatible CPU with main frequency 500 MHz
RAM: equal or larger than 512MB
Disk space: hard disk drive with 100 MB of available space
Others: mouse, keyboard and color monitor
Download partition magic server free trial and check how it works.