Looking for Partition Magic Server Edition working in Windows Server 2008, 2003, 2000? In fact, there is no such version, but in this article, I'll introduce other Partition Magic Server alternatives.
Can I use Partition Magic Server Edition on Windows Server?
Partition Magic is considered to be the most popular partition software, but Partition Magic doesn't support Windows Server. There is Partition Magic Server edition – Server Magic, but since being acquired by Symantec, Server Magic has not been upgraded. So it is not possible for Server Magic to extend, resize server partition under any advanced Operating System, such as Windows 2003, 2008, etc. you need to search other Server partition software, such as PMS partition magic server, Partition Assistant Server, which is compatible with Windows 2000/2003/2008.
In many technical forums, many professionals recommend Partition Assistant Server. Based on the enhanced data protection technology and copy wizard built in, it is highly recommended as best Norton Partition Magic replacement while resizing Windows server partitions. Besides, It is able to extend NTFS system partition without reboot to maximize the server performance and minimize the downtime of the server.
Benefits of this Partition Magic Server
– Resize or Merge partitions to extend system partition to solve "low disk space" problem fast and safely.
– Extend NTFS system partition without rebooting Server or interrupting your work.
– Disk Copy to backup data or migrate disk (RAID array) to another without reinstalling Windows.
– Changes can be previewed before applying to hard disk, avoiding incorrect operations.
Features of this Partition Magic Server
As Partition Magic Server alternative, Partition Assistant Server Edition allows you to Resize Partition, Merge Partitions, Copy Partition, Copy Disk, Create, Delete, Format, Active, Hide, Convert partitions etc. quickly and easily. And the most attractive feature is that data on your disks can be completely untouched during the process of repartitioning Windows Server drives.
How to resize partitions with Partition Wizard Server?
With its absolutely user-friendly interface, the functions of this Partition Magic Server are easy to get access to, no matter whether you've got experience in using Symantec Partition Magic or not. You just need to drag and move on the disk map to shrink a data partition and then extend the system partition with the Unallocated space.
Moreover, any operations you do on it will be listed in the "Operations Pending" column and no changes will take place on your partitions before you click "Apply". What you operated on this software before applying is just a simulator for you to see how the changes will affect your partitions. So if you are not sure about your operation, just close this partition software and nothing will be changed.
Are you still looking for the perfect partition magic server edition? Partition Assistant Server is your choice.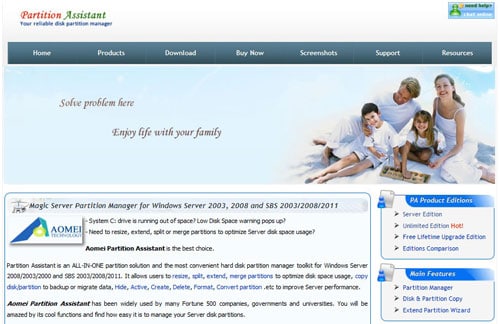 You may download the demo of Partition Magic Server Edition freely and see how it works magically for your Servers.
Related Resources

For enterprise users, Partition Assistant Unlimitied Edition allows unlimited usage within your company to save time and money.