Looking for Partition Magic Server Edition works on Windows Server 2008/2003/2000 32/64 bit? In fact, Partition Magic Server Edition – Server Magic is not compatible with Server 2003/2008, but in this article you'll get another solution.
What is Partition Magic?
Partition Magic is a computer program for partition management from Power Quest corporation, which was acquired by Symantec in 2003. The program runs on Microsoft Windows Operating Systems or from a bootable CD-ROM. Partition Magic is compatible with Windows NT, 98, ME, 2000, and XP desktop editions. With Partition Magic, you can resize partition, merge partition without data loss. It is the first and considered to be the most popular partition software, but this famous partition software is no long for selling.
Partition Magic Server Edition
Server Magic is the Server edition of Partition Magic from PowerQuest. Server Magic works like Partition Magic and the only difference from Partition Magic is that it runs under Server Edition of Windows NT and 2000. But since being acquired by Symantec, Server Magic has not been upgraded. So it is not able to extend, resize server partition under any advanced Operating System, such as Windows 2003, 2008, etc. So you need to search Server Magic alternative for Windows Server 2003/2008.
Partition Magic Server Alternative
Partition Magic Server Edition is a magic Server Partition Manager and ALL-IN-ONE Server disk management toolkit for Windows Server 2000, 2003, 2008 (32 and 64 bit). It performs basic and advanced hard disk partition maintenance, for example, resize, merge, shrink, extend system and data partition without losing data, etc.
The unique and most important features of this Partition Magic Server Alternative
Enhanced Data Protection technology, with which you can merge, resize partition without data loss even when power off or hardware problem occurs. With its Hot Resize feature, you can extend NTFS system partition without reboot to avoid Server downtime. Due to its security, stability, easy to use, fully functional and cost-effective, Partition Magic Server is recommended as the Best Partition Magic Server alternative for Windows Server by many professionals and editors.
Other benefits of this Partition Magic Server alternative
Changes made on partitions can be previewed before applying to the hard disk to avoid incorrect operations.
Easy to use, just dragging and drawing on the disk map to resize, merge partitions.
Trusted product, many Fortune 500 companies select it to maintain their Servers.
30-day Money Back Guarantee.
Free lifetime Technical support and after-sale service & Fast Live Support.
For enterprise users, Partition Assistant Unlimited Edition allow unlimited usage within your company to save time and money.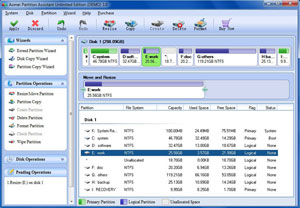 Download the free trial of these Partition Magic Server alternatives and check how they work for your Windows Server.