Partition Magic for Windows 2003 Server
Still search Partition Magic for Windows 2003 Server? Just forget it, because Symantec abandoned this great application on October, 2011 leaving a statment they no longer offer Norton Partition Magic.
In fact, Partition magic isn't compatible with Windows Server 2003 and 2008, to resize partition in these editions, you need other tools, such as Acronis Disk Director Server, PMS Partition Magic Server and Partition Assistant Server. They are similar with Norton Partition Magic and with either of each, you can resize partition, merge partitions, extend/expand, copy partitions, etc.
Acronis has longer history supporting Windows Operating systems and files systems, it provides partition management, partition recovery and partition editor features. However, it cannot support large disk drives, and it is much more expensive ($609 each). Here, I want to recommend Partition Assistant Server to resize, merge, copy, format partitions and better maintain your disk partitions.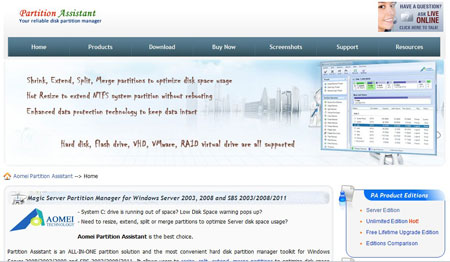 Unique features of this partition magic software include:
Hot Resize, if the partition is NTFS, you can extend the Windows Server partition without rebooting computer to avoid downtime.
Enhanced Data Protection, even if power off or hardware problem occurred when you resize partitions, no data will loss if you reboot the computer, no other Server partition software has this ability.
As the best replacement of Partition Magic, Partition Assistant Server provides tons of powerful features helping you optimize disk space usage and improve server performance. Learn full features.
How to resize Windows 2003 Server partitions?
The task to resize a server 2003 partition is very easy, even for a beginner, no matter you have experience using partition magic or not. To help you easier, Partition assistant provides multi-ways to resize partition meeting the different disk partition configuration, see detailed steps how to resize server 2003 partitions.
Try this Partition Magic software for Windows 2003 Server
Download trial of this windows 2003 partition magic software and check how easy it is to resize and manage your server disk partitions.