About PowerQuest
PowerQuest was a software company that produced utility software. It was acquired by Symantec in 2003. PowerQuest's market focus was on management of computer data storage, especially file systems and disk partitions. Their products included Partition Magic, Server Magic, and Drive Image.
PowerQuest Corporation is a global provider of automated deployment and recovery solutions for corporations and individual users. Based on the company's Virtual Volume Imaging (V2i) technology and Active State Management (ASM) architecture, PowerQuest products and services simplify the management of storage throughout the technology lifecycle.
About Server Magic
Server Magic is the Server edition of Partition Magic from PowerQuest. It has the ability to check, format, delete, resize and copy volume sets on Windows Server.
Server Magic works like Partition Magic and the only difference from Partition Magic is that it runs under Server Edition of Windows NT and 2000. But since being acquired by Symantec, Server Magic has not been upgraded. So Server Magic is not able to extend, resize Server partition under any advanced Operating System, such as Windows 2003, 2008 Server.
---
PowerQuest Server Magic Alternative
Since Server Magic is not available for Windows Server 2003, 2008, then how to choose right software to resize or extend your Server partitions without losing data? Luckily, there are PowerQuest Server Magic Alternatives for Windows Server 2008, 2003. As the best Server Magic alternative, Partition Magic Server Edition is the best valued and ALL-IN-ONE Server disk management toolkit for Windows Server 2000, 2003, 2008 32 and 64 bit.
It works as Server Magic alternative with powerful functions to manage disk partition space and improve Server performance. You may perform basic and advanced partition operations on your Servers, for example, resize, merge, shrink, extend system and data partition without losing data, etc.
Comparing with PowerQuest Server Magic, Partition Magic Server supports more Operating Systems. It is compatible with Windows Server 2000/2003/2008 and desktop 2000/XP/Vista/Windows 7 (32/64) bit systems. Hardware RAID, internal/external hard drive, removable storages are also supported.
---
Unique and most important features of this Server Magic Alternative:
Enhanced Data Protection technology helps you merge, resize partition without data loss even when power off or hardware problem occurs.
Hot Resize feature helps you extend NTFS system partition without reboot to avoid Server downtime. Due to its security, stability, easy to use, fully functional and cost-effective, Partition Magic Server is recommended as the Best Server Magic alternative by many professionals and editors.
How to resize partition, extend C: drive with this server magic
Check disk partition layout under Disk Management. (Right-click 'My Computer' > 'Manage' > 'Storage' > 'Disk Management'.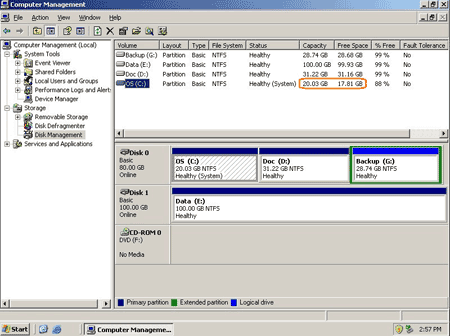 Step 1: Launch Partition Assistant Server, you'll see all disks and partitions that connected to your Server and free space, used space and other properties of each partition.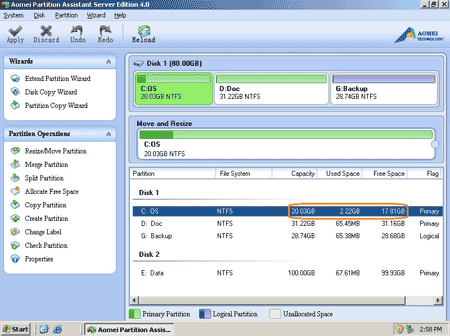 Right-click the partition you want to shrink and select 'Allocate Free Space', or click the feature shortcut on left 'Partition Operations' panel.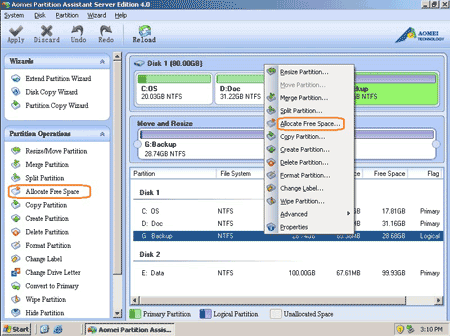 Step 2: In the pop up window, select how much free space to shrink, and which drive to add free space to.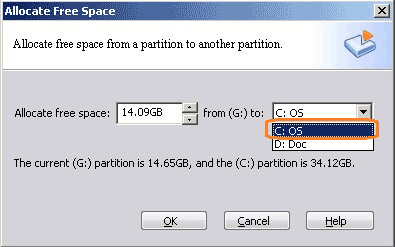 After click OK, 14.09GB free space has shrank from G: and added to C drive.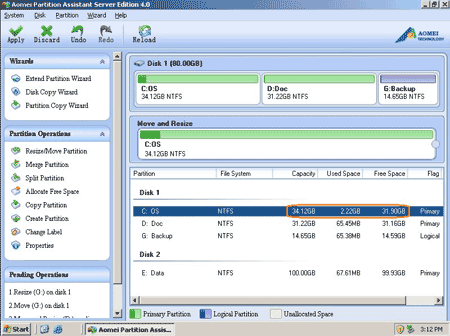 Click 'Apply' on top left to proceed resizing operation, after several minutes, partition resizing completed. Check in disk management.