What is NTFS File System?
NTFS (New Technology File System) is the standard file system of Windows NT, including its later versions Windows 2000, Windows XP, Windows Server 2003, Windows Server 2008, Windows Vista, and Windows 7.
NTFS provides performance, security, reliability, and advanced features that are not found in any version of the file allocation table (FAT) file system. For example,
NTFS guarantees volume consistency by using standard transaction logging and recovery techniques. If a system fails, NTFS uses its log file and checkpoint information to restore the consistency of the file system.
NTFS also provides advanced features, such as file and folder permissions, encryption, disk quotas, and compression. Comparing with FAT file system, NTFS has many advantages, so NTFS partition is widely used, especially for system partition.
However, either NTFS or FAT partition will run out of space. Operating System runs much slower, even crash if there is little free space in the system partition, so you need to resize the NTFS partition as fast as possible.
How to resize NTFS partition on Server 2003?
For most Windows Server users, resizing Windows Server partition is not an easy work to do but a hard task, which makes most of the people turn help from the professionals. In fact, it is very easy to resize NTFS partition on Server 2003. You can resize partition with Partition Magic Server software by yourself, you just need to drag and move on the disk map to resize partitions, all operations can be previewed and cancelled. The aim is to gather free space from other data partition for the system boot partition.
Which tool to resize Server 2003 NTFS partition?
In technical forums, many professionals recommend Partition Magic Server. Based on the enhanced data protection technology and copy wizard built in Partition Magic Server Edition, it is highly recommended with its excellent advantages while resizing Windows server partitions. Besides, It is able to extend NTFS system partition without rebooting to maximize the server performance and minimize the downtime of the server. That is to say, if your Server system partition is NTFS, you can resize Server partition without downtime.
Partition Magic Server is an ALL-IN-ONE partition solution and the most convenient hard disk partition manager toolkit including Partition Manager and Extend Partition Wizard for Windows 7/XP/2000/Vista and Server 2008/2003/2000 (32 bit and 64 bit).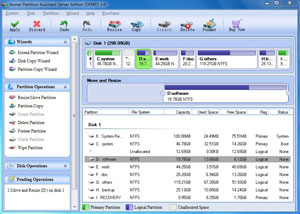 It allows users to Resize/Move Partition, Extend System Drive, Merge Partition, Split Partition, etc. It supports all hard drives recognized by Windows such as IDE, SATA, SCSI, Hardware RAID, USB external disks, Fire wire disks etc. With Hot Resize feature, you can resize Server 2003 NTFS partition without rebooting.
How to resize Server 2003 NTFS partition?
– It is extremely easy to resize NTFS partition in Windows 2003 Server. You just need to drag and move on the disk map to shrink an existing data partition to get some Unallocated space, and then extend the NTFS boot partition with this space. No need to delete, format partitions or rebuild the Server.
– Any operations you do on the Server will be listed in the "Operations Pending" column and no changes will take place on your partitions before you click "Apply".
Step by step tutorial to resize Server 2003 NTFS partition
Step 1, Launch Partition Magic Server, you'll see all disks and partitions that connected to your Server and free space, used space and other properties of each partition.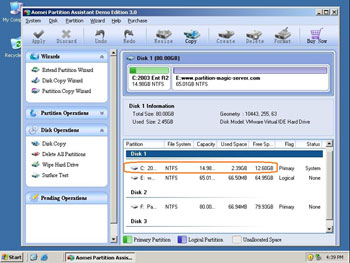 Right-click the data partition and select "Resize", in the pop-up window, drag the left border rightwards to shrink it.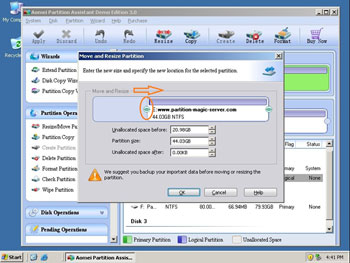 There will be some Unallocated space behind the system partition.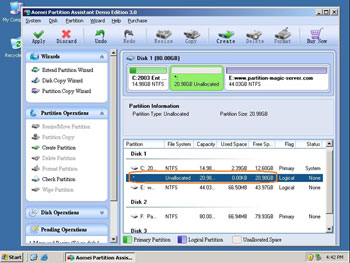 Step 2, Right-click the system partition and select "Resize", in the pop-up window, drag the right border rightwards to hold the Unallocated space.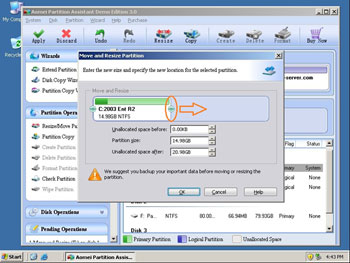 Click "Apply" to proceed, done.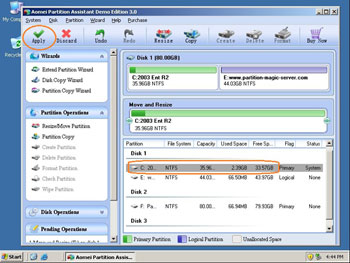 Now you have a "new" Server that can be used for a long time again.
For enterprise users, Unlimited Edition allows unlimited usage within your company to save time and money.
Download the free trail and check how easy it is to resize Server 2003 NTFS partition without data loss or restarting your Server.