To many Server administrators, it is not an easy task to resize Windows 2003 Server partition, as Windows 2003 Server doesn't provide a built-in tool. Considering Server data security, you have to select a reliable partition software, then which one is better? After selecting a Server partition software, you have to check out the user guide, related videos, attentions, etc. if it is too complicated. Relax, with Partition Magic Server software, you cannot believe how easy it is to resize Window 2003 Server partition.
Ensure data security when resizing Windows Server 2003 partition
The security and stability are undoubtedly the most significant aspects for Server computers since a Server computer usually stores the most important classified and daily-used files. However, even a slight error on server computer might directly leads to boot failure or data loss.
Partition Magic Server is not only reliable itself with built-in Enhanced Data Protection but also integrated with the Disk & Partition Copy Wizard to ensure 100% data security.
How to resize Windows 2003 Server partition
– It is extremely easy to resize Windows 2003 Server partition. You just need to drag and move on the disk map to shrink an existing data partition to get some Unallocated space, and then extend the system partition, no need to delete or format partitions.
– Any operations you do on the Server will be listed in the "Operations Pending" column for you to preview.
– If your system partition is NTFS, you can extend it under Windows witout rebooting.
Steps to resize Windows Server 2003 partition without deleting or formatting
Step 1, Launch Partition Magic Server, you'll see all disks and partitions that connected to your Server and free space, used space and other properties of each partition.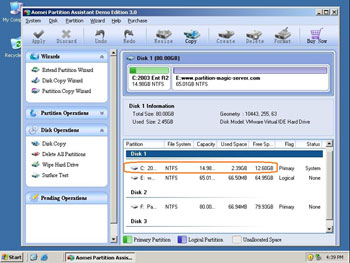 Right-click the data partition and select "Resize", in the pop-up window, drag the left border rightwards to shrink it.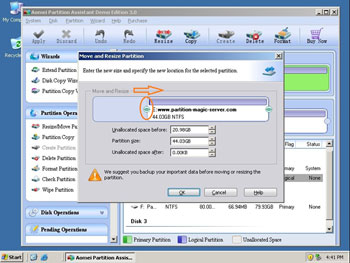 There will be some Unallocated space behind the system partition.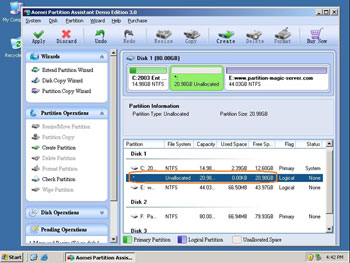 Step 2, Right-click the system partition and select "Resize", in the pop-up window, drag the right border rightwards to hold the Unallocated space.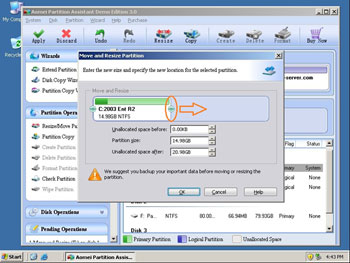 Click "Apply" to proceed, done.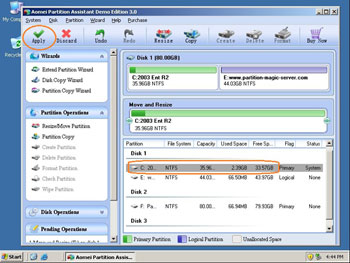 Now you have a "new" Server that can be used for a long time again.
For enterprise users, Unlimited Edition allows unlimited usage within your company to save time and money.
Benefits to resize Windows 2003 Server partition with this Partition Magic Server
All-in-one Partition Solution – All your partition and disk maintenance requirements can be fulfilled.
Enhanced Data Protecting – No Data Loss
Hot Resize – Extend NTFS system partition without rebooting
Easy to use & user-friendly interface & working fast
Trustworthy, many Fortune 500 companies select it to maintain their Servers