Short introduction about Partition Magic and Server Magic
What is Partition Magic?
Partition Magic is a computer program for partition management from Power Quest corporation, which was acquired by Symantec in 2003. The program runs on Microsoft Windows Operating Systems or from a bootable CD-ROM. Partition Magic is compatible with Windows NT, 98, ME, 2000, and XP desktop editions. With Partition Magic, you can resize partition, merge partition without data loss.
What is Server Magic?
Server Magic is the Server edition of Partition Magic from PowerQuest. It has the ability to check, format, delete, resize and copy volume sets on Windows Server. Server Magic works like Partition Magic and the only difference from Partition Magic is that it runs under Server Edition of Windows NT and 2000. But since being acquired by Symantec, Server Magic has not been upgraded. So it is not possible for Server Magic to extend, resize server partition under any advanced Operating System, such as Windows 2003, 2008, etc.
Server Magic Alternative
Since Server Magic is not available for Windows Server 2003, 2008, then how to choose right software to resize or extend your Server partitions? Luckily, there are several Server Magic alternatives for Windows Server 2008, 2003, such as Acronis Disk Director Server, Partition Wizard Server, Partition Assistant Server, etc.
In other articles, I have introduced Acronis Disk Director Server, Partition Wizard Server and other tools. In this article, I want to introduce Partition Assistant Server.
Partition Assistant Server
Partition Assistant 3.0 Server Edition is a server partition manager specially designed for Windows Server 2003/2008/2000. Moreover, system administrators and advanced users can use it to manage both server and non-server hard disk partition to maximize server performance. The partition manager server software is widely being used by small-medium sized enterprises, college labs, institutions, government sectors, security organizations, public associations etc.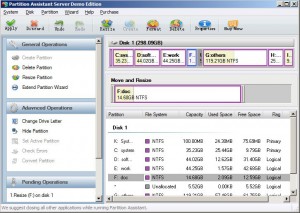 This partition manager server edition can process advanced partition operations without data loss, including Extend Partition Wizard, Resize and Move Partition, Extend System Drive, Repartition, Merge, Split Partition etc, with all hardware RAID supported.
Key Features:
# Extend NTFS system partition without restarting computer.
# Resize and Move partition to optimize disk space management.
# Extend Partition Wizard help you step by step expand the size of your selected partition.
# Merge two or more partitions into a larger one.
# Split one partition into two or more.
# Create, Delete and Format partition.
# Convert file system from FAT to NTFS.
# Wipe permanently sensitive data to anti-recovery.
# Set Active flag to a primary partition.
# Check for the file system error, or disk bad sectors.
# Change drive letter or partition label.
# Support all hardware RAID.
# Repartition by drag & drop mouse on a disk panel.
# Support resizing NTFS and FAT32 file system.
# Support Windows 2000/XP/Vista/Windows 7 and Server 2003/2008/2000 (Both 32 bit and 64 bit).
# Visually demonstrate your disk/partition configuration to preview changes before apply.
# Support the disk with the maximum capacity of 2TB, and up to 32 hard disks within one system.
New Features:
# Clone/Copy Disk, Clone/Copy Partition
# Wipe hard drive, Wipe Partition.
Please note: Partition Assistant Server edition is commercial, you need to purchase the full version.
Partition Assistant Unlimited Edition allows unlimited usage within your company to save time and money.