When your C drive running out of space, what will you do?
A lot of people including Microsoft engineer will tell you that you need to start over. That can ruin a perfectly good weekend. However as alternative you can join thousands of happy admins that successfully used Partition Manager Server to enlarge that small C: drive. Even if you don't know much about servers and partitions you can do it.
Some years ago I used Partition Magic the popular partition software published by PowerQuest. The product worked well for some time until the company changed ownership. While it was a good utility but there was something missing – server support. Furthermore, Partition Magic is no longer for selling.
Fortunately, there are partition manager server, besides Paragon Partition Manager server, there are other similar partition manager for Windows Servers, for example, Acronis Disk Director Server, Partition Magic Server and Partition Assistant Server, etc. All partition manager servers support Windows Server 2000, 2003 and 2008, including 32bit and 64bit. Though Windows Server 2008 has been released for a long time, many people still use Server 2003, so a good partition manager server 2003 is useful.
How to resize partition with Partition Manager Server software
Step 1, Launch Partition Magic Server, you'll see all disks and partitions that connected to your Server and free space, used space and other properties of each partition.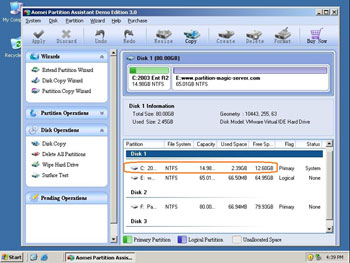 Right-click the data partition and select "Resize", in the pop-up window, drag the left border rightwards to shrink it.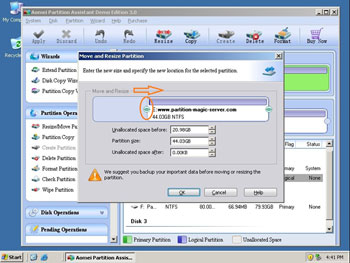 There will be some Unallocated space behind the system partition.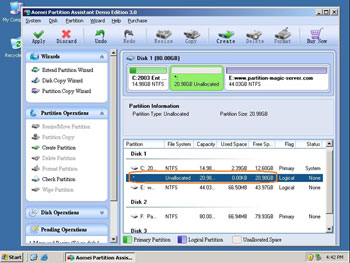 Step 2, Right-click the system partition and select "Resize", in the pop-up window, drag the right border rightwards to hold the Unallocated space.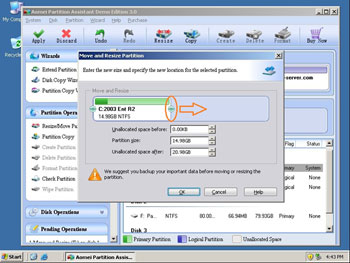 Click "Apply" to proceed, done.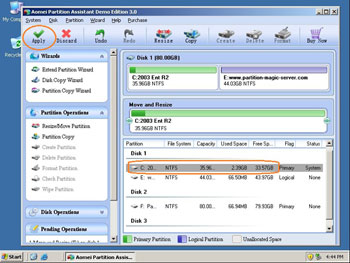 Now you have a "new" Server that can be used for a long time again.
For enterprise users, Unlimited Edition allows unlimited usage within your company to save time and money.
Enhanced data protection technology helps you resize, merge partition without data loss, even when power off or hardware problem occurred.
Hot Resize feature helps you extend NTFS partition without reboot to suspend Server running.
Disk and partition copy feature helps you backup data or migrate to another disk without reinstalling Windows.
Changes made on partitions can be previewed before applying to the hard disk.
With user-friendly interface, no professional assistance or experience in using Partition Magic is required.