Server partition resizer overview
The most common partition problem for computer users is that the Windows system partition runs out of space, the Windows system partition needs to be expanded.
Furthermore, increasing volumes of information requires companies to make better use of their hard drive space, so the need to reasonably resize partitions is more important than ever. But for most users, changing partition structure requires Windows operating system reinstallation and format.
With this Server partition resizer, you can easily resize partitions on Windows Server 2008/2003/2000 without data loss, fast and easily. It is not only a Windows Server partition resizer, but also a disk management toolkit to better manage and maintain Serves.
Ensure data security with this Server partition resizer
Any operations with hard drives are critical, and reliability of performance is one of the most important requirements when choosing partition software. This Server partition manager is not only reliable itself with built-in Enhanced Data Protection but also integrated with the Disk & Partition Copy Wizard to ensure 100% data security. It is highly recommended by many professionals and editors.
Key features of this Server partition resizer
This flawless hard disk management functions are brought together: Partition Manager, Partition Recovery, Disk & Partition Copy and Dynamic Disk Conversion. It allows user to Resize, Merge, Split, Extend system and data partition. Create, Delete, Format, Copy, Recover, Repair partition, etc. With its Hot Resize feature, you can extend NTFS system partition without rebooting.
How to resize partition with this Server partition resizer?
– It is extremely easy to resize Windows Server partitions. Just drag and move on the disk map to shrink an existing data partition to get some Unallocated space, and then you can easily extend the system partition, no need to delete or format.
– Any operations you do on the Server will be listed in the "Operations Pending" column for you to preview.
– If the system partition is NTFS, you can extend it without rebooting.
Step 1, Launch Partition Magic Server, you'll see all disks and partitions that connected to your Server and free space, used space and other properties of each partition.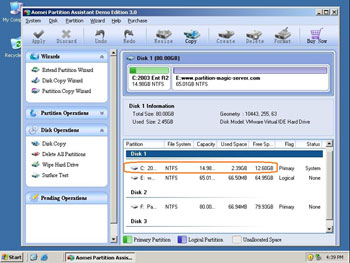 Right-click the data partition and select "Resize", in the pop-up window, drag the left border rightwards to shrink it.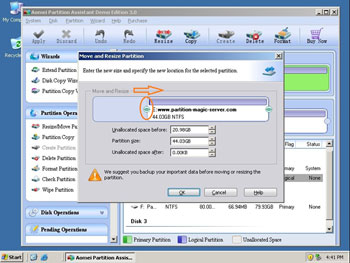 There will be some Unallocated space behind the system partition.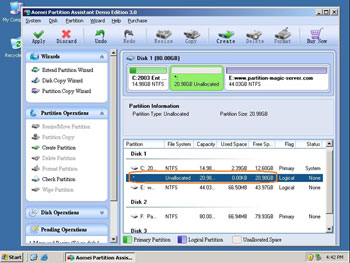 Step 2, Right-click the system partition and select "Resize", in the pop-up window, drag the right border rightwards to hold the Unallocated space.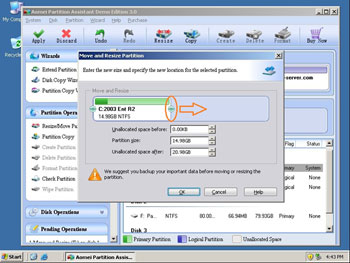 Click "Apply" to proceed, done.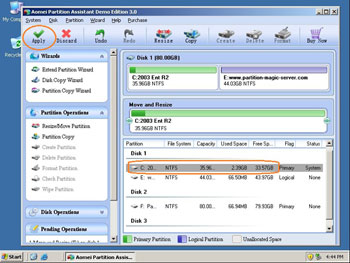 Now you have a "new" Server that can be used for a long time again.
Benefits of this Server partition resizer
All-in-one Partition Solution – All your partition and disk maintenance requirements can be fulfilled.
Enhanced Data Protecting – No Data Loss
Hot Resize – Extend NTFS system partition without rebooting
Easy to use & user-friendly interface & working fast
Trustworthy, many Fortune 500 companies select it to maintain their Servers
For enterprise users, Unlimited Edition allows unlimited usage within your company to save time and money.