If you deleted partition inattentively or the partition lost due to virus, application error or other reasons, you can recover the lost partition directly. This is different with recovering data from lost partition. With partition recovery software, you can restore the lost partition easily.
Unfortunately, there was no free partition recovery software yet, but this article will introduce top 5 partition recovery software, you may choose the one that suit to your problem.
Absolute partition recovery software
Among the partition recovery software, some are absolute tool that is used to recover lost partition or fix the partition that you cannot access. The other partition recovery software aren't true, in other words, these tools have partition recovery ability, in addition, they have other ability, for example, manage partitions.
Firstly, I'll introduce two absolute partition recovery tools – [email protected] Partition Recovery and Partition Table Doctor, which is the best partition recovery software for now.
[email protected] Partition Recovery
[email protected] Partition Recovery major features:
Recover deleted partitions (FAT and NTFS)
Restore deleted FAT and NTFS Logical Drives
Create Drive Image – for backup purposes
Scan hard drives and detect deleted FAT and NTFS partitions and/or Drives
Preview files and folders on deleted partition or drive, to recover proper data
Backup MBR (Master Boot Record), Partition Table, Boot Sectors
Restore MBR, Partition Table and Boot Sectors from backup if damaged
Undelete partitions (Primary and Extended)
Create and restore Raw Disk Image back to HDD
Keep this program on a bootable floppy disk due to its small size
Display complete Physical and Logical Drive information
Use it with ease: controlled by only arrows, ENTER, ESC keys
[email protected] Partition Recovery operating system platforms
DOS
Windows Me/95/98
Windows NT 4.0 Workstation/Server
Windows 2000 Professional/Server/Advanced Server
Windows XP Home/Professional
Windows 2003 Server x64 Edition
Windows 7
[email protected] Partition Recovery screenshots
Partition Table Doctor
The only real Partition Recovery software for partition recovery and partition repair. It's aimed to recover partitions which have been deleted, damaged or corrupted on hard drive (both internal and external), backup/restore, repair partitions, MBR, boot sectors, etc. It does the partition recovery and partition repair job under both Windows and DOS System; it is so far the best partition recovery and repair software.
Partition Table Doctor supports DOS, Windows 9x, ME, NT, 2000, XP, 2003.
Partition Table Doctor screenshots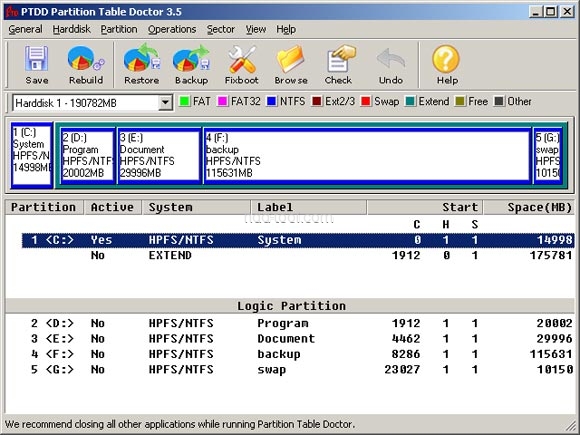 Partition software with partition recovery ability
PowerQuest Partition Magic
Acronis Disk Director
Paragon Partition Manager
To read more articles about these partition software, please read Partition Magic category.